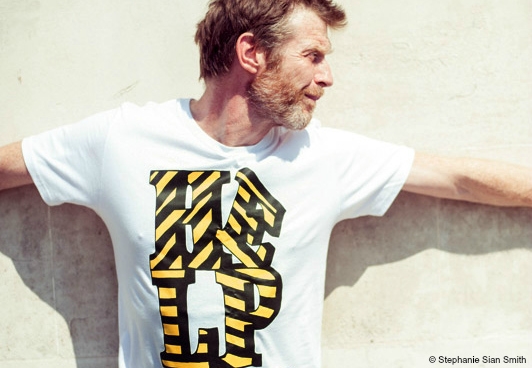 Sep 16, 2013
The Rodnik Band launches new 'HELP the Bees' t-shirt for EJF
Summer is almost over but at EJF we're determined to keep buzzing for bees into the winter months - and we hope you will too with this vibrant slogan t-shirt from The Rodnik Band for EJF's Save the Bees campaign.
The Rodnik Band has teamed up with EJF for a second time to support our work to protect Britain's bees and other pollinators from their recent decline. Launched at EJF's pop up shop last week, the pop art design, 'Help' is already a great hit with the local Carnaby Street scene and online.
Designer Philip Colbert, The Rodnik Band, has supported EJF for a number of years designing the iconic Cod Save the Sea design in 2011 which featured in The Rodnik Band's SS12 collection.
This year The Rodnik Band were inspired by bees and the troubles they're facing asking customers to simply 'HELP' the bees by purchasing this powerful t-design. Proceeds from the t-shirt will support EJF's campaign, which aims to encourage the UK government to adopt a Pollinator Action Plan to protect pollinators, raise public awareness of the importance of pollinators to the UK economy and put pressure on our leaders to ensure the recent ban on deadly pesticide Neonicotinoids is properly implemented, monitored and evaluated.
The Help t-shirt is the latest edition to a long line of organic, carbon neutral fairly traded t-shirts created by top designers such as Dame Vivienne Westwood, Katharine Hamnett CBE, Christian Lacroix, Kenzo, Giles Deacon and many more who have all supported EJF's T-shirt Project.
The Help t-shirt is currently available in EJF's Pop up shop 'JUST…BIG TREES, little bees' in Kingly Court, Carnaby Street W1B 5PW and online here.
Looking great and taking action on protecting Britain's bees has never been so easy!
You can also support us by spreading the word via twitter @EJFshop or on our facebook page
*With special thanks to Moosh, Flat Planet and Le Comptoir Libanais, fellow Carnaby Street vendors who supported the launch by providing guests with honey flavoured frozen yogurt, smoothies, elderflower presse, rose lemonade and smoothies.