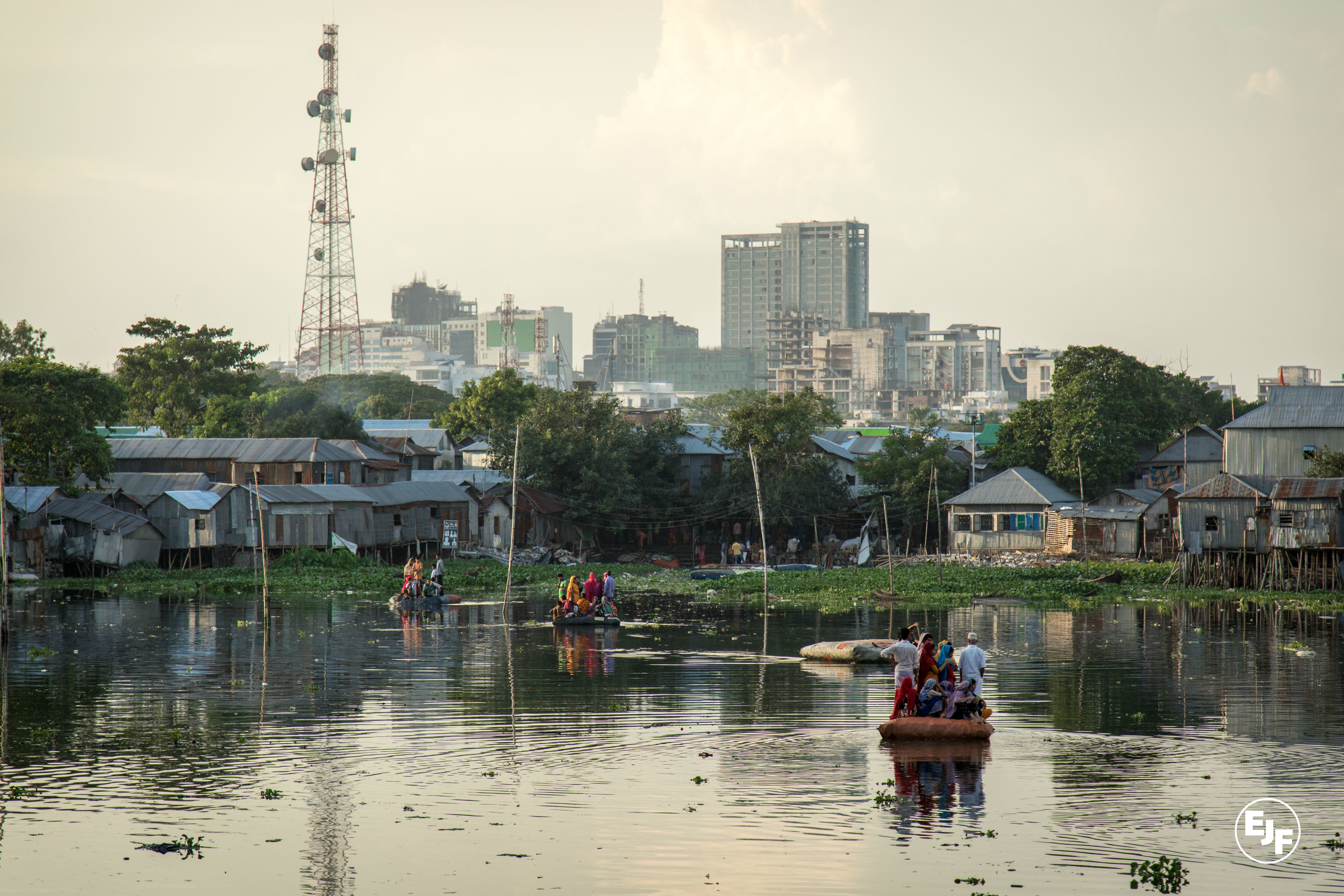 May 07, 2018
New report: Bangladesh offers clear proof of climate change as a rapidly developing humanitarian crisis
By 2050, as many as one in every seven people in Bangladesh will have been forced to leave their homes because of climate change, says a new report by the Environmental Justice Foundation (EJF), featuring first-hand testimony from those who have already been displaced.
Every year since 2008 an average of 614,000 Bangladeshi people have been forced from their homes as a result of floods and storms.
This report shows that climate change is a humanitarian as well as environmental crisis, and highlights the urgent need for international climate action and protection for climate refugees.
Bangladesh has suffered some of the fastest recorded sea level rises in the world, and this is the major cause of climate change displacement, the report finds. The country may lose around 11% of its land by 2050 to sea level rise, affecting an estimated 15 million people. This not only forces people from their homes through flooding, it contaminates drinking water with salt, causes a variety of health problems, and damages crops.
"Once this village was green with paddy fields," says Gopal Munda from Kara Mura in southern Bangladesh, who spoke to EJF in 2017. "But now the water is salty and the trees have died. We can only farm shrimp. I am devastated when I think that I will have to move."
Riverbank erosion driven by increasingly erratic rainfall under climate change is another driving factor in displacement – up to half of those living in Bangladesh's urban slums may have fled their rural homes as a result. Renu Bibi, who was forced to leave her home and move to a slum in the Mirpur district of Dhaka, said: "We lost everything to river erosion. We escaped with just our lives".
Komola Begum also had to move to a slum in Dhaka after her home was destroyed by floods. She said: "We had a small farm, we used to produce peanuts and gourd, corn and sugar cane all year round. We ate fresh food. Now I collect scraps or work as a labourer."
Steve Trent, EJF's Executive Director said: "It is countries like Bangladesh, and people like those we met, whose contributions to climate change have been among the smallest, that are now facing the worst impacts. We must act now to prevent this becoming a full-scale humanitarian crisis. The EU in particular has the opportunity to show real leadership, by investing heavily in climate mitigation and creating an international, binding agreement on legal recognition and protection for climate refugees."
Climate change is destroying livelihoods, infrastructure and communities, forcing people from their homes, towns and even countries. And while Bangladesh is particularly vulnerable to the impacts, these devastating effects are being felt around the world.
Since 2008, weather-related hazards have displaced an average of 21.7 million people each year: equivalent to 41 people every single minute. This does not include the people forced to flee their homes as a consequence of slow-onset environmental degradation, such as droughts or sea level rise.
EJF is calling for protection for climate refugees, along with highlighting the absolute priority of ending our carbon addiction, immediately reducing greenhouse gas emissions and meeting our shared international commitment under the Paris Agreement to ensure that temperature rise is kept below 1.5°C above pre-industrial levels.
Notes for editors
A copy of the report under embargo is available on request.
Read EJF's previous report Beyond Borders on climate change, migration and conflict, or watch the film.
Key facts:
99% of deaths from weather-related disasters occur in the world's least developed countries, which are responsible for only 1% of global emissions.
720 million people face falling back into extreme poverty if we fail to tackle climate change.
Each of the last three decades have been successively warmer than any preceding decade since 1850, and 2015 was the first year when temperature rise exceeded 1.0°C, compared to pre-industrial times.
Between 1985 and 2007, droughts drove a 13.7% loss in cereal production, compared to just 6.7% in losses between 1964 and 1984.
EJF was in Bangladesh from 22 September – 4 October 2017. The trip started in Dhaka, then south to Jessore, then to Satkhira, Shyamnagar, Gabura, visiting villages along the way, and finally Sundarbans.
EJF calls on all countries to rapidly and fully implement the global climate agreement agreed in Paris in December 2015 and support efforts to raise their emission reduction pledges over time in line with its goal to phase out man-made emissions and keep global temperature rise below 1.5°C on pre-industrial levels. This should be greatly accelerated public and private investment in renewables, especially in the developed world and the EU in particular.
EJF calls for governments to support a new legal agreement to guarantee the rights of climate refugees and their fair claim to our shared world. These populations currently have no support under existing legislation, such as the 1951 Geneva Convention to protect those fleeing war and persecution. The EU should lead by developing its own such definition first, to be adopted at all levels.
The EU initiate the creation of a high-profile inter-agency taskforce to coordinate the work of the multiple bodies in the Commission, such as Environment, Climate Action, Migration and Humanitarian Affairs, as well as the High Representative of the Union for Foreign Affairs and Security Policy, in order to drive a more effective, integrated approach into wider international responses to climate change.
EJF defines a climate refugee as: "persons or groups of persons who, for reasons of sudden or progressive climate-related change in the environment that adversely affects their lives or living conditions, are obliged to leave their habitual homes either temporarily or permanently, and who move either within their country or abroad."
Environmental Justice Foundation (EJF)
EJFis a UK-based charity working internationally to protect the environment and defend human rights. EJF is a charity registered in England and Wales (1088128). www.ejfoundation.org
Contact:
Daisy Brickhill - EJF Press & Communications Coordinator
daisy.brickhill@ejfoundation.org Tel: +44 (0)7871946911
SIGN UP FOR OUR EMAILS AND STAY UP TO DATE WITH EJF'S NEWS AND EVENTS
By subscribing to our newsletter, you ensure that you will stay up-to-date with latest news on our work and our campaigns, as well as how you have been part of achieving those goals. We carefully select what goes into our emails so that you will only receive relevant and interesting news about our campaigns. We will let you know when we have exposed a critical environmental issue or uncovered human rights abuses. We will ask you to get involved when your actions can make a difference, and we look forward to inviting you to our events.