The production of cotton - or White Gold - is a lucrative business. Tens of millions of tonnes of cotton are produced every single year for an industry worth billions of dollars. But cotton is also one of the dirtiest and thirstiest crops on the planet, consuming high levels of pesticides and water. Our demand for cheap cotton is fuelling severe human rights abuses and causing an environmental catastrophe.
Since 2004, EJF has worked to raise awareness of the environmental and human rights abuses in the global cotton industry.
Using Uzbekistan as an example of worst-practice in cotton production, EJF uncovered widespread environmental and human rights abuses in the cotton industry, including state-sponsored forced child labour in the annual cotton harvest. As a result of a major boycott we led, which was supported by major industry players, we were successful in pressuring the Uzbek Government to sign two International Labour Organization Conventions on child labour. In the past decade, the use of forced child labour has drastically reduced.
Following our success with retailers, EJF also called on all governments, the European Union and other trading partners to ensure traceable supply chains and to help secure an end to forced child labour in Uzbekistan.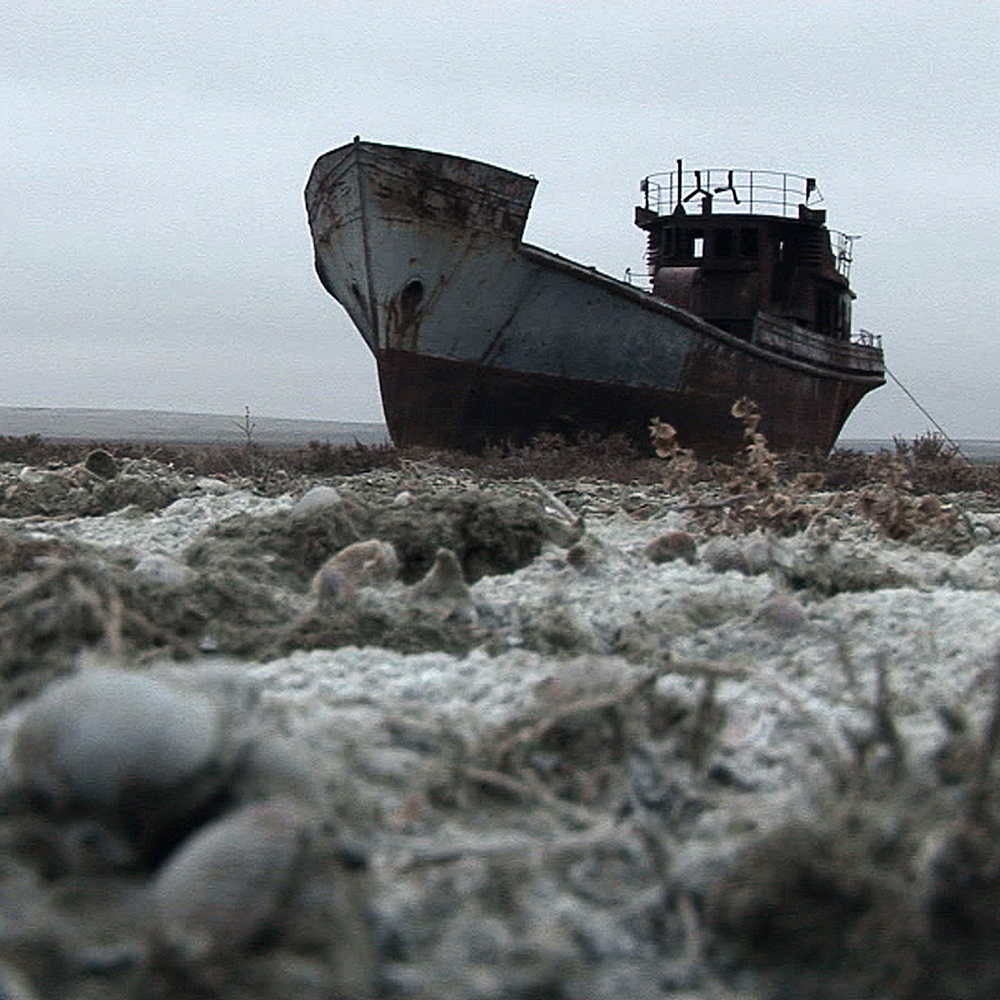 The idea that the sea was disappearing was impossible to imagine. But it started retreating in the early 70s and all the fish died.
Uzbekistan farmer
The Uzbekistan case study
EJF first entered Uzbekistan in 2005. What we found there was one of the most exploitative enterprises in the world.
Each year, the country's billion dollar cotton industry was responsible for massive environmental destruction - including the draining of the Aral Sea - and was being propped up by State-controlled forced, child labour.
EJF investigators documented children as young as seven handpicking the cotton for days on end; they were doing this not to help their parents' meagre income on family farms, but because the brutal and corrupt government shut schools across the country and told them and their classmates to go to the fields. Beginning in the sweltering heat of late summer and ending as the first snows of winter set in, these children were forced to undertake back-breaking work in harsh conditions for little or no pay.

Cotton and the Aral Sea
Only 50 years ago, the Aral Sea stretched across an area of 66,000 km2 and was surrounded by smaller lakes, marshes and wetlands. In just a generation it has shrunk to 10% of its former volume. The primary source: cotton. Almost 20,000 litres of water are withdrawn for every kilogram of cotton harvested.

Award winning investigations
In our report, and award-winning film, White Gold: the True Costs of Cotton we shone an international spotlight on the Uzbek government's endemic use of forced labour. Each harvest, hundreds of thousands of children would be removed from school, forced to pick cotton for little to no money, left at risk of violence and exposed to dangerous pesticides.

In 2008, the Uzbek government signed two ILO Conventions on child labour.
In 2008, EJF's follow-up investigation Still in the Fields, revealed that, despite signing two ILO Conventions, the Uzbek government was still using child labour, sparking international condemnation and the formation of a retail coalition calling for an end to Uzbek cotton in supply chains whilst child labour continued.
By 2016, far fewer children under 16 were documented labouring in the cotton fields of Uzbekistan. But, teenagers and young adults continue to live at the mercy of human rights abuses in the cotton industry.
Many students say: "We are like slaves. We are tired, we want to go home, we are hungry, we are cold." But they cannot go.
Galima Burkharbaeva, independent journalist exiled from Uzbekistan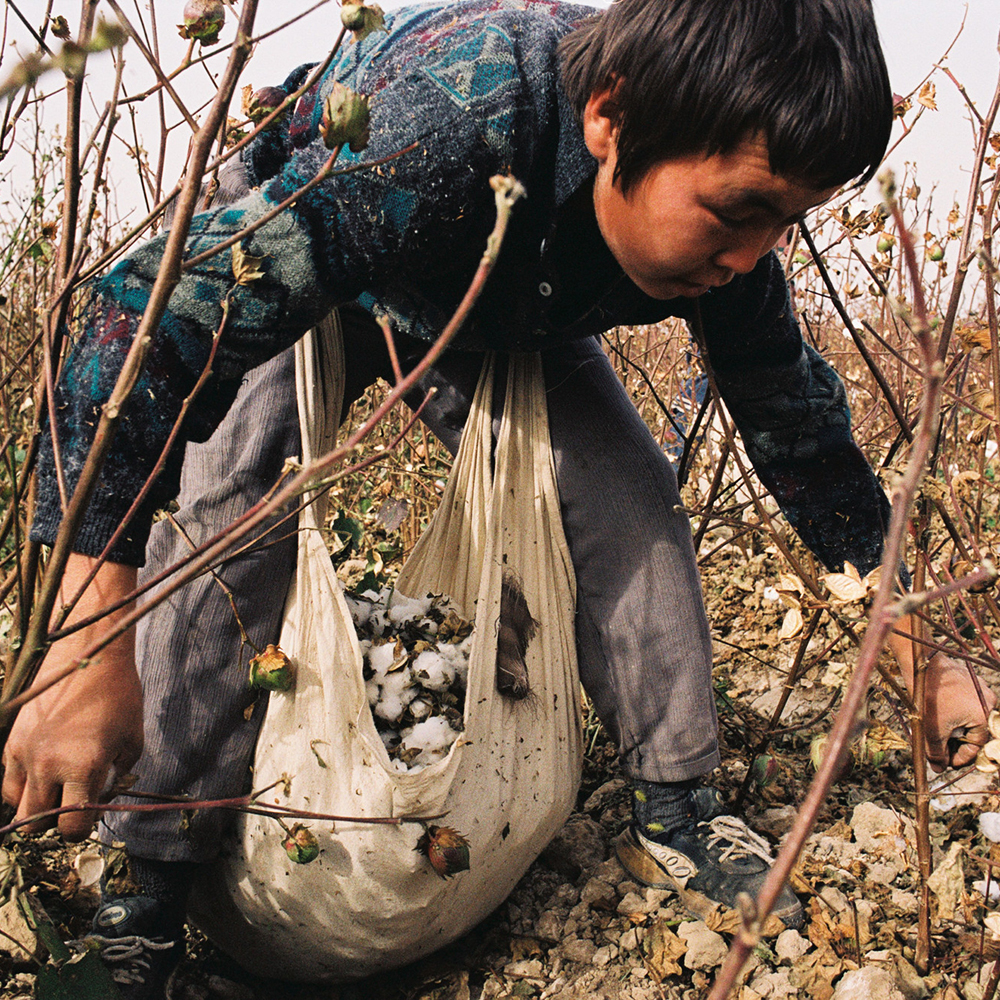 A showcase of best practice
As part of our Cotton Campaign, in 2006, EJF launched its own organic, fairly-traded and climate neutral t-shirt line.
Working with high-profile celebrities and designers - including Katharine Hamnett, Christian Lacroix, Luella, Vivienne Westwood, Lily Cole and Jenny Packham - we aim to show that sustainable cotton can be fashionable and affordable.
Offering bespoke designs, with a carbon footprint 90% lower than a conventional, non-organic t-shirt, all of the profits from our sales go back into EJF projects and campaigns uncovering and combating environmental and human rights abuses across the globe.
"There is no such thing as cheap clothing. Someone, somewhere is paying the real price." - EJF Executive Director, Steve Trent