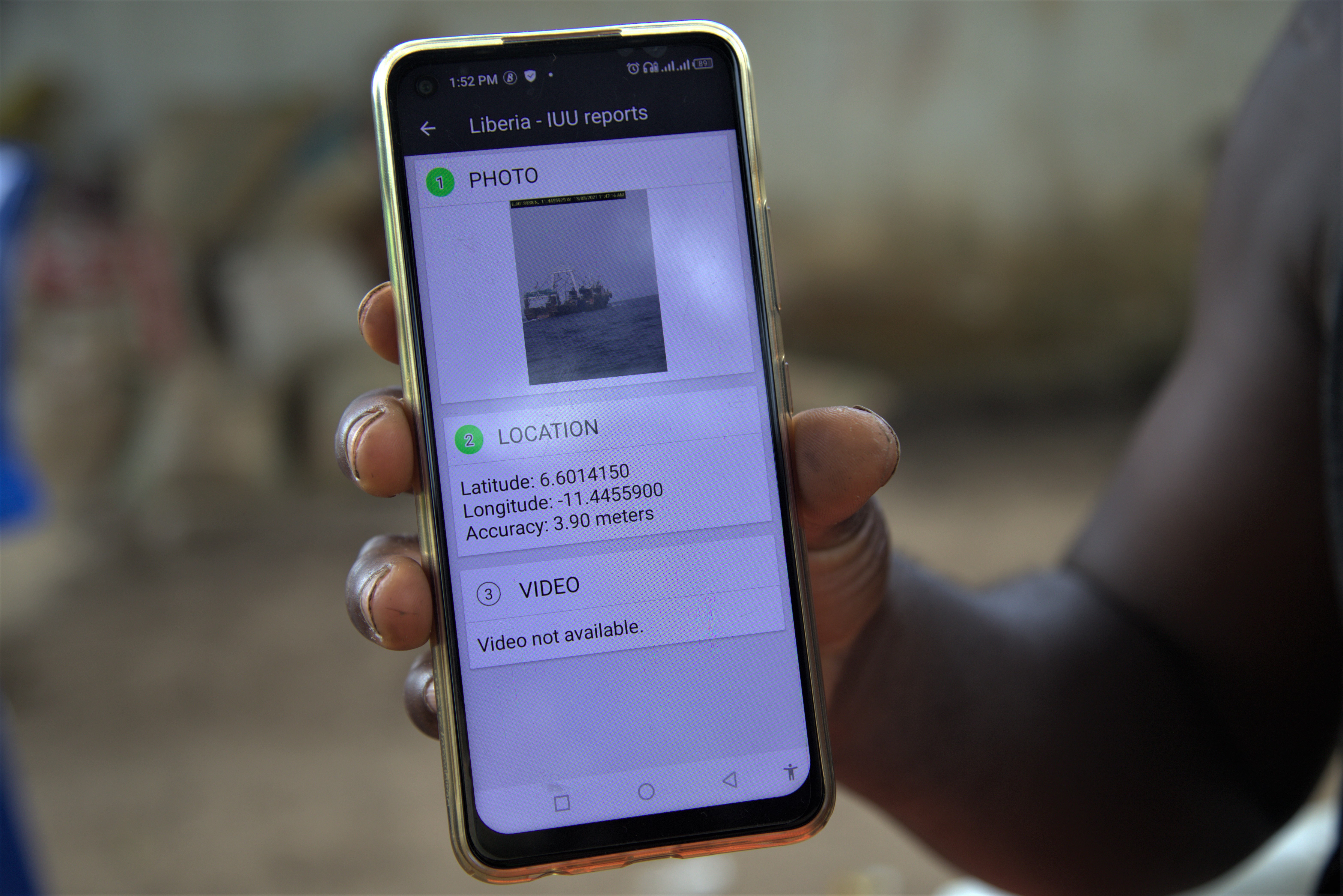 May 14, 2021
Liberian fishers use EJF app to report illegal trawlers
"NGOs have been coming and going, but Environmental Justice Foundation has really done well for us. Their Collect App has really done it!"
These are the words of Emmanuel Appleton, a fisherman in Robertsport, Liberia. He continues:
"No plenty talking and no way for the trawlers to lie because the app has made it simple [for us] to photograph and report them."
A father of five children, Emmanuel subsists on fishing, paddling out in his canoe every day. However, over the last two years he has experienced a stark decline in the amount of fish, with some varieties even entirely absent from his catch nowadays. Some days, he spends more than 12 hours fishing but is unable to catch even a kilogram of fish for his family to eat.
Emmanuel is acutely aware of the need to protect his livelihood from illegal fishing. The pinch of such illicit activity is felt throughout his community with a marked decline in their quality of life. The lack of capacity and technology to deter illegal fishing is a constant source of frustration.
EJF has been working with fishers like Emmanuel to help them protect their livelihoods – and a key tool is our newly developed smartphone app. When a vessel is spotted illegally fishing, or damaging canoes or gear, the user simply opens the app and takes a photo of the boat with its name or identification number showing and records the location. The app does the rest, uploading the report to a central database where the evidence can be used by the government to catch and sanction the perpetrators.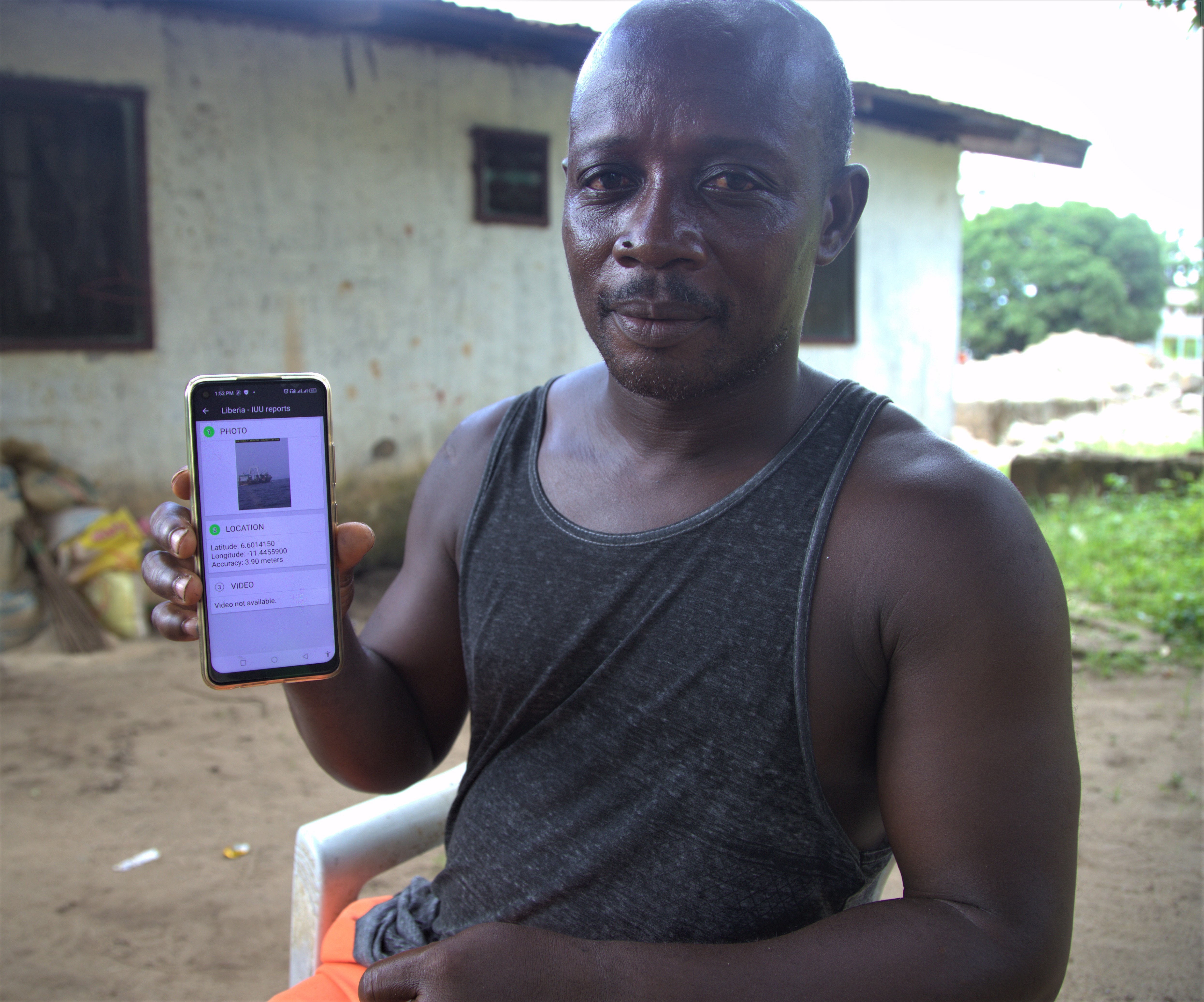 Emmanuel is no stranger to the dangers of illegal, unreported and unregulated fishing. He and many other fishers have been plagued by the illegal fishing which has damaged fishing nets and gear as well as causing economic hardship for them and their communities.
Though the national government is making efforts to curtail illegal fishing, some trawlers have been evading the system, remaining hostile in their refusal to abide by the laws, and persisting with their illegal practices. Financial constraints have been a major impediment to the government's monitoring and enforcement of laws governing the waters.
80% of Liberians rely primarily on seafood for protein, and fishing communities rely solely on fishing for their livelihoods. Illegal fishing threatens not just the food security of people in Liberia, but also the very existence of fishing communities.
The EU has recognized the need to protect coastal communities from predatory trawlers, and is part-funding the EJF's efforts working in partnership with National Fisheries and Aquaculture Authority (NaFAA) of Liberia to support coastal communities. We work in four counties in Liberia to help communities monitor and report illegal fishing, partly via the app. The four-year project aims to create effective community co-management associations to secure legal and sustainable fisheries in Liberia.

In February this year, when Emmanuel's fishing net was damaged by a trawler, he had the power to monitor and accurately report that violation by using the Collect App to capture geo-tagged photographs of the trawler and send the report to the appropriate authorities.
Smiling, he displays the photograph taken of the trawler on his phone, saying: "At least now I got evidence. Last year by this time, I could not do anything. I just used to look on helplessly and hopelessly as the big boats destroyed my nets."

Emmanuel has reported his sightings of trawlers twice since he was trained in the use of Collect App in December of 2020. As a beneficiary of the Communities for Fisheries project, he feels empowered to actively engage in protecting his environment, and is optimistic that his action will provide the government with the evidence necessary for punitive measures to be meted out against any trawlers found guilty, deterring them, and thus helping to eradicate illegal fishing which the Liberian government has committed to doing.
"I really tell EJF thanks for installing the Collect App on my phone to help me monitor and protect our territorial waters," Emmanuel chuckles.