This report focuses on one particular result from climate change – the negative impact on food security and how this factor contributed to the desperation and anger that manifested itself against the Al-Assad regime in Syria.

The Syrian war has resulted in more than 470,000 deaths. 6.6 million people have been internally displaced and nearly five million people are residing in camps in Turkey, Jordan and Lebanon as well as an estimated 1.2 million seeking refuge in Europe.
Whilst the war was not solely a result of climate change, the intertwining effects of drought, rural to urban migration, and the increasing unrest due to a lack of government measures to avoid water scarcity, unemployment and growing inequality, are clear.
Illegal 'saiko' fishing costs Ghana tens of millions of dollars in revenue and threatens food security and coastal livelihoods.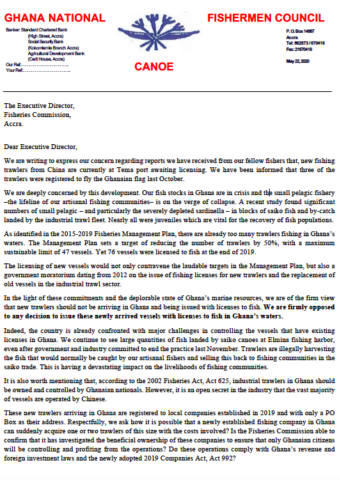 Open letter opposing new trawler licences from the Ghana National Canoe Fishermen Council
Ghana's National Canoe Fishermen Council lays out its opposition to granting new trawlers licence to fish in Ghana's waters. Over capacity in the industrial fleet is threatening jobs and food security, it says.
Three new trawlers have arrived in Ghana from China and have been registered to the Ghanaian flag, despite a moratorium on new fishing vessels. The government's own Fisheries Management Plan states that 48 trawlers are the most that the fishery can sustain, yet 76 trawlers were licensed at the end of 2019. Ghana's National Canoe Fishermen Council has written an open letter to the Fisheries Commission opposing any decision to grant these vessels licences to fish in Ghana's waters.