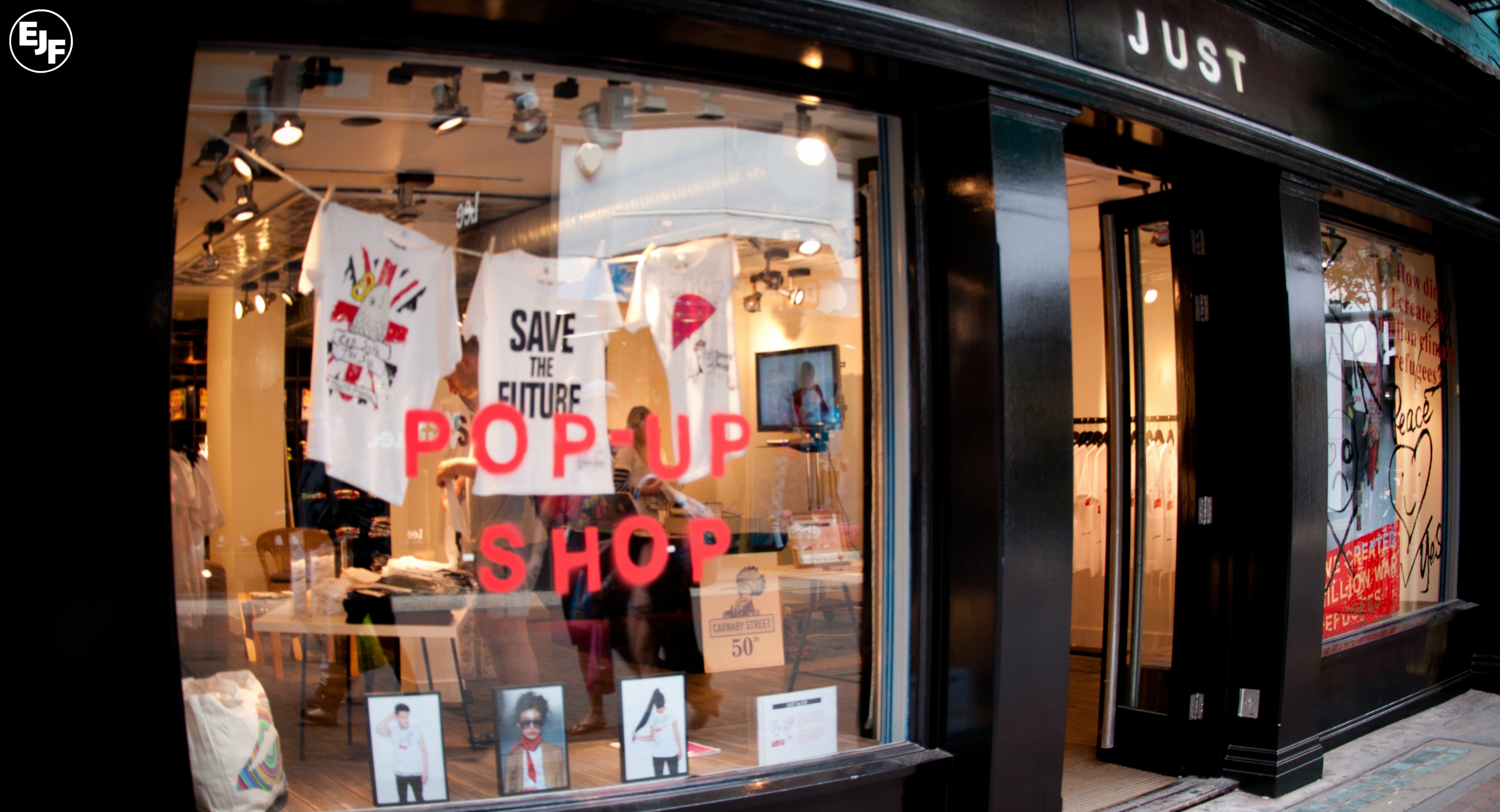 Jan 04, 2013
6 more weeks for EJF's pop up shop on Carnaby Street
EJF is excited to announce that our pop up shop 'JUST' is staying open until February 15th.
We are extremely grateful to Shaftesbury Carnaby and EA Shaw for enabling us to stay open for another 6 weeks. EJF's pop up shop 'JUST' at 46 Carnaby Street sells designer, fairly-traded, organic t-shirts created by top designers such as Vivienne Westwood, Katharine Hamnett, Giles Deacon, Christian Lacroix and many more.
All proceeds from the t-shirts go to the charity and help us to campaign internationally for environmental justice. This is fashion that doesn't cost the earth and its helping to raise awareness of the abuses in the cotton industry, the issues of climate change and the need to eradicate illegal fishing in West Africa.
EJF's latest collaboration has been an exclusive Vivienne Westwood War/Peace t-shirt which has been designed to raise awareness of EJF's No Place Like Home campaign for climate refugees. Featured in Vivienne Westwood's Red Label Collection AW12/13 the t-shirts have helped raise over £22,000 for EJF's work to help protect and assist climate refugees who are forced to flee their land and homes due to the affects of climate change.
At JUST you can shop with a guilt-free conscience and green your wardrobe this winter, as all the products on sale are eco-friendly, ethical and fair-trade with many recycled or vintage pieces. Alongside the t-shirts you can find ethical jeans from Monkee Genes, hand-crafted jewellery from the charity Cool Earth, organic chocolate from Original Beans, vintage inspired fashion from Tara Starlet and bespoke ocean-themed organic clothing from The Rodnik Band.
Paolo Nutini, Davina McCall, Kimberly Wyatt, Max Rogers, and The Rodnik Band have all already visited our pop-up shop, so make sure you don't miss out on JUST while it's still open for a limited time only.
Come Visit EJF's unique ethical shop and bag the latest must-have charity item! If you can't make it to Carnaby Street, take a look at our online shop and get inspired: www.just-for.co.uk
SIGN UP FOR OUR EMAILS AND STAY UP TO DATE WITH EJF'S NEWS AND EVENTS
By subscribing to our newsletter, you ensure that you will stay up-to-date with latest news on our work and our campaigns, as well as how you have been part of achieving those goals. We carefully select what goes into our emails so that you will only receive relevant and interesting news about our campaigns. We will let you know when we have exposed a critical environmental issue or uncovered human rights abuses. We will ask you to get involved when your actions can make a difference, and we look forward to inviting you to our events.