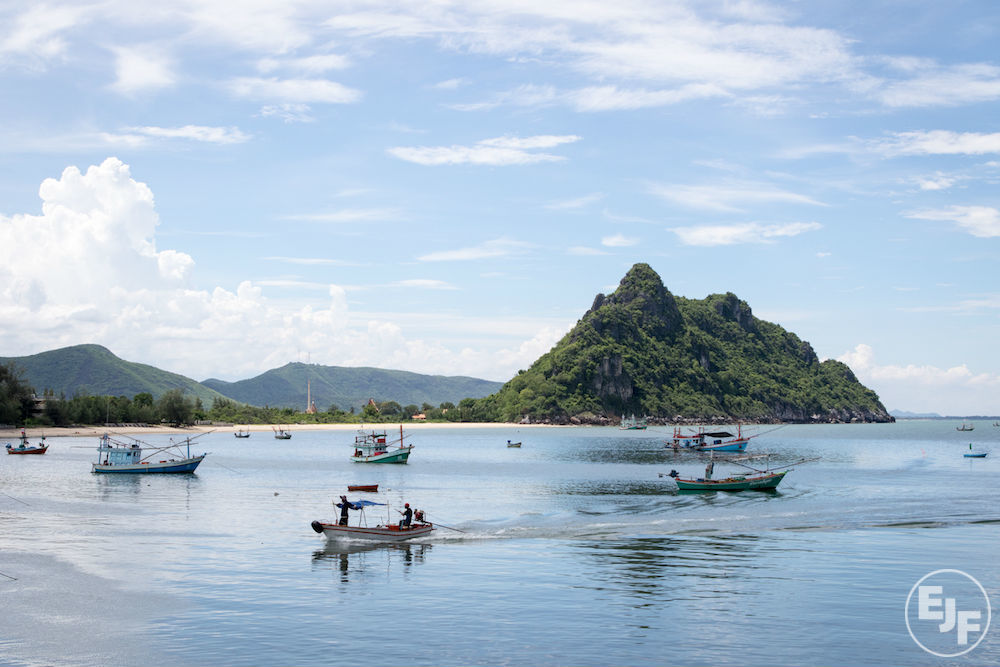 Jan 09, 2019
As EU lifts warning, EJF cautions that Thailand must continue fighting illegal fishing and abuse at sea
The European Commission announced today that it will be lifting the 'yellow card' it placed on Thailand's seafood industry. The Environmental Justice Foundation (EJF) has worked closely with the Royal Thai Government since 2015 on tackling illegal, unreported and unregulated fishing. Although there has been significant progress, important gaps remain, the organisation says.
The commission's yellow card is a formal warning for the fishing industry that can lead to import bans to the EU. This is a serious issue in Thailand, where seafood exports run to millions of tonnes, and in 2016 alone were worth US$ 5.8 billion.
There have been significant and substantial improvements in Thailand's monitoring, surveillance, and enforcement capabilities, EJF has found. On-the-ground investigations have shown good progress, including innovative efforts such as the use of covert patrol vessels to combat non-compliance among vessel operators and intercept illegal fishing boats.
Thailand has also shown crucial regional leadership in becoming the first country in Asia to ratify the Work in Fishing Convention C188, which sets basic standards of decent work in the fishing industry. It is vital that ratification of the convention proceeds as planned at the end of January.
However, EJF has also found lingering shortcomings that prevent Thailand's fishing industry from becoming truly ethical and sustainable.
"Thailand has made significant progress in ensuring that fishing vessels are compliant with new fisheries legislation through the use of monitoring technologies, inspection regimes, and undercover enforcement efforts. The country must now implement measures that will drive home this change to showcase Thailand as a regional and international leader in sustainable fisheries management," said Executive Director of EJF Steve Trent, following a meeting with Thailand's Deputy Prime Ministers Prawit Wongsuwan and Chatchai Sarikulya in September 2018.
Addressing the over-capacity of the Thai fishing fleet is paramount to stabilising fish stocks. EJF commends recent progress in identifying fishing vessels that could be phased out, however, it is crucial that the Royal Thai Government commits to a time-bound vessel decommissioning programme.
The 'Port in Port out' (PIPO) network has the potential to be a powerful tool to combat both illegal fishing and associated labour abuses. All fishing vessels above 30 gross tonnes must report to their local PIPO centre before and after every fishing trip, for inspections by the authorities. However, EJF has observed some worrying shortcomings in the inspections, such as failure to provide translation for migrant crew, meaning they may be unable to give effective evidence in interviews.
Without the threat of sanctions from the EU, strong political will is needed to entrench the positive progress already made and ensure its long-term success. This would help establish the country as a regional and international leader in ethical seafood production. EJF remains committed to working closely with the Royal Thai Government to bring about these reforms and preserve existing reforms as quickly and as thoroughly as possible.
"EJF also praises the outstanding leadership of the European Commission in combatting illegal fishing in Thailand and across the world. Without the extensive, bold and progressive efforts initiated by the EU Commission and a small dedicated team there, much and possibly most of the progress we have seen in addressing highly damaging illegal, unreported and unregulated fishing would not have been realised. Europe can be rightly proud of the leadership it has shown," concluded Trent.