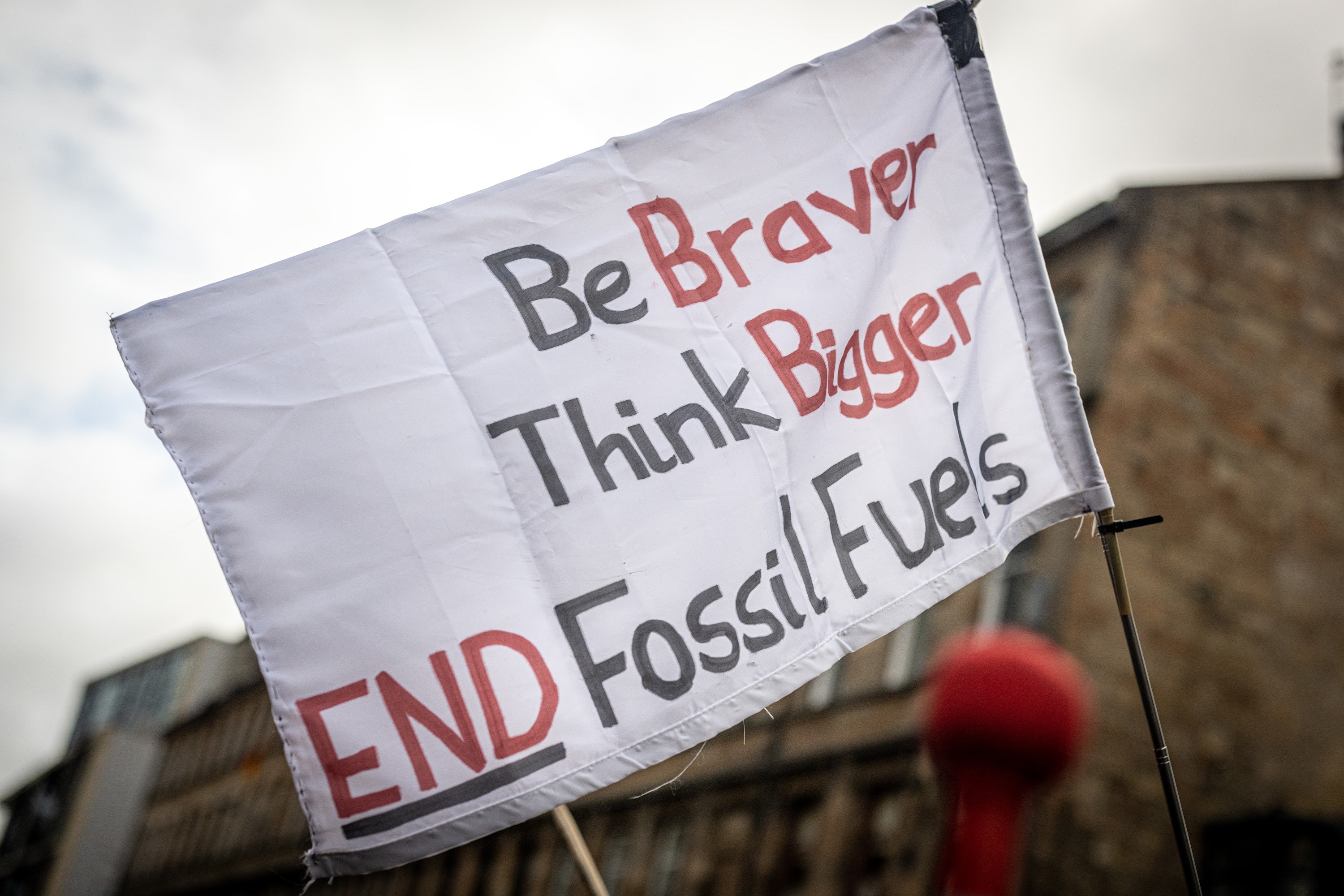 Nov 16, 2021
Beware of fake solutions from COP26: net zero is a cheap trick
The outcomes of COP26 in Glasgow show that we are still failing to take the ambitious steps needed to avert climate catastrophe. However, the actions of world leaders are more important than their words at a conference, and all the solutions they need to end this crisis are available now.
There was some progress made at COP26. It has not always been the case that every nation accepts that the climate is changing because of human activity, understands the need for urgent action, and, despite some temporary opposition, accepts that our available carbon budgets are rapidly declining. The recognition of the need to make deeper cuts this decade, and the explicit mention of the need to "phase down" coal, are both historic steps forward.
However, they are historic steps forward because progress, particularly among wealthy nations, has been so slow in the past. If your house were on fire because of a blaze your neighbour started, would you be appreciative of them coming out and formally recognising the need for water only as the flames started to spread to theirs? Would you be happy if they called a local arsonist for advice, as 27 countries did by including fossil fuel lobbyists in their official national delegations?
The simple truth is that this COP did not deliver the meaningful, whole-of-society transformation that we need to avoid the worst impacts of the climate crisis. Nations have instead agreed to review their emissions reductions targets at COP27 next year in Egypt, a process which should have happened in Glasgow. This means the Paris Agreement target of limiting global heating to 1.5C is theoretically still alive, because nobody confirmed it dead this year.
The last-minute switch from a "phase out" to a "phase down" of coal, and an agreement to "phase out inefficient fossil fuel subsidies" – as if any system where taxpayers' money is used to fund the planetary emergency could be efficient – was frustrating for many at COP26. However, even without strong language in the COP text the action we need can and must be taken now, regardless of what the Glasgow Climate Pact says.
Three key actions they could begin now are an immediate end to fossil fuel subsidies; a rapid phase out of fossil fuels, including an immediate end to new oil, gas and coal projects; and ambitious, time-bound, public finance for the transition to renewable energy.
This would give us a fighting chance of sticking to 1.5C, which is fundamentally important. It could prevent millions of people being killed, forced from their homes or experiencing increasing food and water insecurity. It could keep ecosystems like coral reefs and rainforests – the former of which we will almost entirely lose at 2C of heating – functioning and supporting people and wildlife alike.
In November 2019 - two years before these talks - the UN warned that global emissions needed to fall by 7.6% each year between 2020 and 2030 to keep the 1.5C target alive. We already know that we cannot afford any new oil and gas projects for 1.5 to survive.
Just before COP26, the UN found that we were instead on course for a rise in emissions of approximately 16% by the end of the decade. The 7.6% annual emissions cuts we need every year to 2030 are the figures that world leaders should be explicitly referencing, and proving annually that they are achieving.
Compared to this, pledges for net zero by mid-century is a cheap trick to avoid confronting reality. It's a false concept of technological salvation which gives a free pass for fossil fuel companies, big agriculture, and the financial institutions bankrolling extinction to forge ahead with business as usual all in the hope that questionable offsets and technology which does not yet exist can fill the gap.
Carbon offsets – continuing pollution in one place and reducing it elsewhere – have a chequered history. COP26 explicitly recognised one problem with these offsets, the use of a single offset towards multiple climate targets, known as double counting.
However, the offset mechanism agreed under Article 6 of the Paris Agreement does not include the critically important free, prior and informed consent needed to protect the human rights of Indigenous peoples and local communities affected by carbon offset projects; described by some Indigenous people as neocolonial land grabs. This environmental injustice is already having an impact, such as a hydroelectric dam project in Panama which is displacing Indigenous communities and flooding cultural, religious and historical sites.
World leaders must face the reality of the climate crisis and commit to urgent action for real zero now, beyond the weak deal that eventually came out of Glasgow. They do not need a COP to recognise that decisive action on climate is not a 'cost': it is an investment, not just in our future, but in our survival. Such investment would represent the greatest cost-saving of human history.
World leaders do not need an international summit to understand that we need real action and real solutions now, not far off empty pledges and creative accounting. They already know that just 100 companies are responsible for 71% of greenhouse gas emissions since 1988, and should be the prime targets for urgent and far-reaching emissions reductions to keep 1.5C alive.
We already have the solutions. What we need now is the political will to protect people and the planet. COP26 failed to provide it – but climate action does not end when the conference does, and we will continue demanding action and accountability for a safe and sustainable future for all.