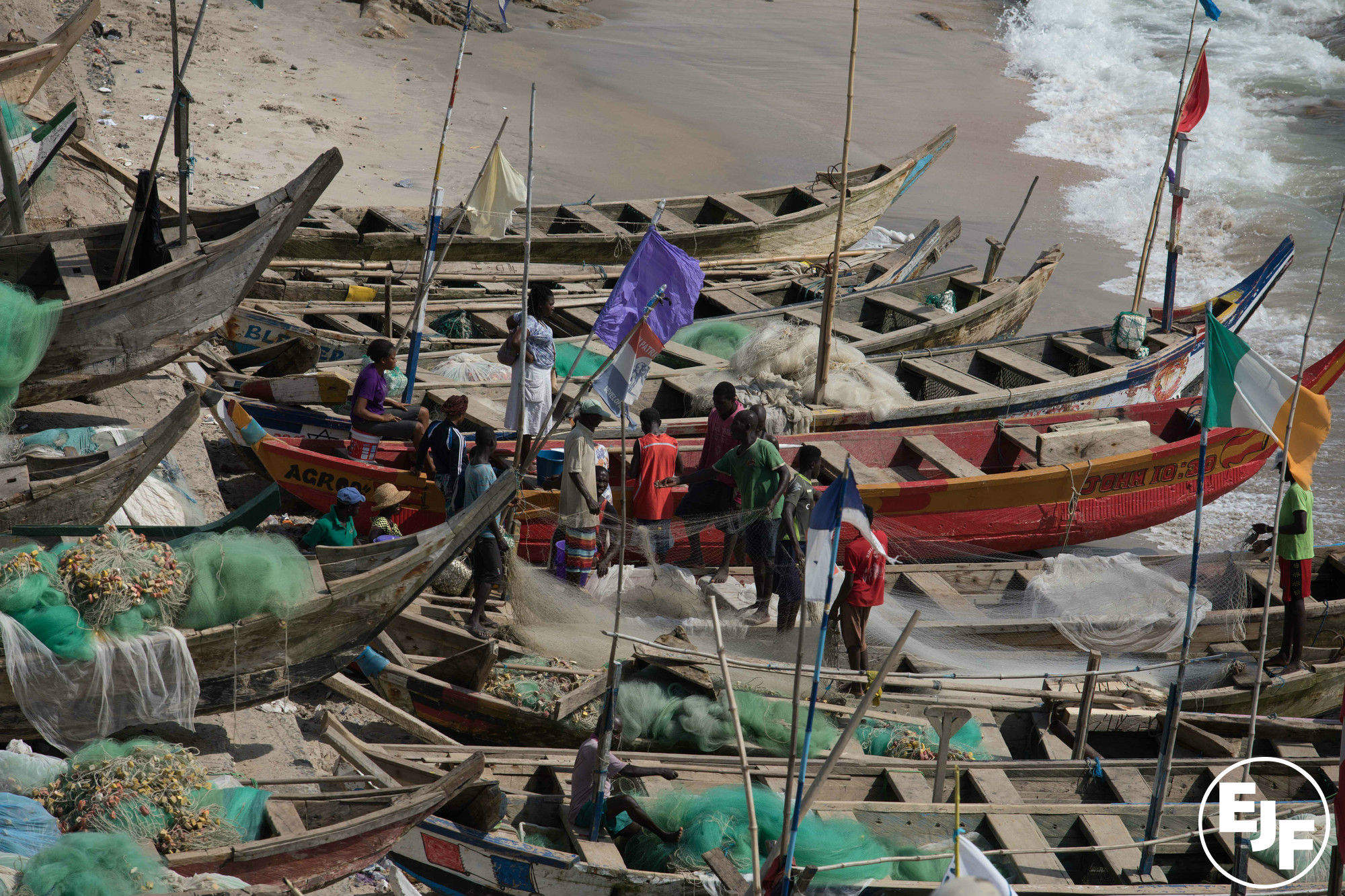 Jun 05, 2020
Canoe fishers and NGOs urge Ghana's president to crackdown on illegal 'saiko' fishing
An open letter from the Ghana National Canoe Fishermen's Council and eight NGOs has called on Ghana's President to intervene to end the damaging illegal fishing practice known as 'saiko'. This practice is driving crucial fish stocks to the point of collapse and endangering Ghanaian livelihoods, nutrition and national security.
Saiko is a severely destructive form of illegal fishing, where industrial trawlers target the staple catch of canoe fishers and sell this fish back to local communities at a profit. It takes jobs, threatens food security and endangers Ghana's economy.
Trawlers are able to hoover up vast quantities of 'small pelagic' fish such as sardinella – the main catch of the local canoe fishers and a crucial part of the nation's diet. Researchers predict their total loss within under five years unless urgent action is taken.
"If this menace is not urgently addressed and measures instituted to permanently eradicate it, the source of income for over 2.7 million Ghanaians will be lost," says the open letter. It highlights that saiko provides jobs to no more than 1,500 individuals whereas canoe fisheries provide 140,000 jobs to fishers alone, and many thousands more as fishmongers – the majority of whom are women – traders, canoe carvers, input suppliers and fish carriers.
In 2017 alone the saiko trade took around 100,000 tonnes of fish, worth over US$ 50 million when sold at the landing site. Saiko is costing Ghanaians millions of dollars annually and threatening coastal livelihoods.
The letter also highlights the risk of unrest and threats to national security: "The loss of jobs amongst the youth will contribute to the rise of social vices and crime within the fishing communities and our wider society. The collapse of the people's fish will further undermine your government's vitally important "Planting for Food and Jobs" agenda."
"We note, with urgency, that any hope of saving Ghana's fisheries from collapse is contingent on ending the saikomenace without delay," says the letter. "We note also that in the context of the global COVID-19 pandemic, safeguarding livelihoods and food security has acquired an even more pressing urgency."
EJF's own director, Steve Trent commented: "Ending saiko will be a marker of the President's leadership. It will be of great importance to the people and Ghanaian nation, delivering an overwhelmingly positive legacy for the President. It will enhance food security and safeguard jobs; it will stimulate the economy and boost the well-being of the nation. The fishing industry, from law-abiding trawler operators to small-scale canoe fishers, is in favour of eradicating the crime of saiko fishing. Only the criminals who run this illegitimate, destructive business are opposed."
SIGN UP FOR OUR EMAILS AND STAY UP TO DATE WITH EJF'S NEWS AND EVENTS
By subscribing to our newsletter, you ensure that you will stay up-to-date with latest news on our work and our campaigns, as well as how you have been part of achieving those goals. We carefully select what goes into our emails so that you will only receive relevant and interesting news about our campaigns. We will let you know when we have exposed a critical environmental issue or uncovered human rights abuses. We will ask you to get involved when your actions can make a difference, and we look forward to inviting you to our events.