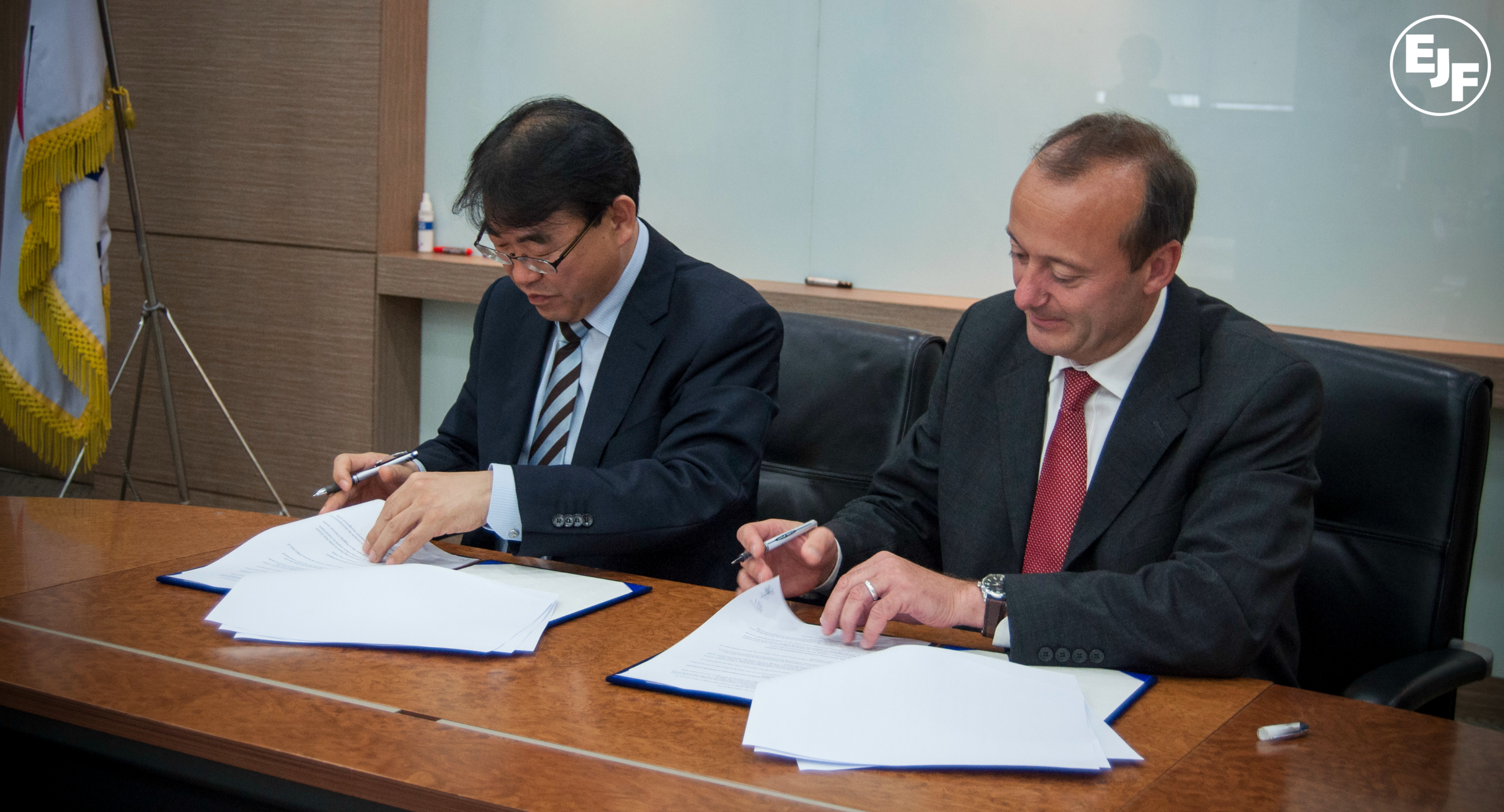 Jul 27, 2014
EJF and Republic of Korea sign ground-breaking MOU formalising joint initiative to combat IUU fishing
The Memorandum of Understanding, signed on 17 June 2014 in Seoul, is a positive step towards effective measures to curb IUU fishing activities which are detrimental to marine biodiversity, and the livelihoods and food security of coastal communities.
This ground-breaking initiative to collaborate on the eradication of IUU fishing follows EJF's documentation of a high number of Korean-flagged vessels operating illegally in West Africa since 2010, particularly in Sierra Leone where EJF operates a Community Surveillance project to report IUU fishing activities in the inshore areas reserved for local fishers.
"EJF welcomes the opportunity to work with the Government of the Republic of Korea to introduce new and effective measures to combat IUU fishing in West Africa. I believe the Republic of Korea has the potential to become both a regional and global leader in the international fight against illegal fishing. Our future cooperation can, if successful, make a life-changing, positive difference for coastal communities in West Africa and contribute to the sustainability of the marine environment and biodiversity on a global basis." Steve Trent, EJF's Executive Director
Global losses due to IUU fishing are estimated to be between US$10 billion and US$23.5 billion per year. By depleting fish stocks, IUU fishing severely compromises the food security and livelihoods of vulnerable coastal communities dependent on fish as their main source of protein and income.
West Africa has been particularly susceptible to IUU fishing due to a combination of poor flag State performance, a lack of effective port controls, weak monitoring of fishing by coastal States, and the lack of an effective Regional Fisheries Management Organisation (RFMO) for many fisheries. West Africa's fish stocks are at grave risk, with 48 per cent of its assessed stocks fished at biologically unsustainable levels, and over a third of catches estimated to come from illegal fishing activities.
In recent months, the Republic of Korea has been strengthening its Monitoring, Control and Surveillance (MCS) capacity and reinforcing sanctions against IUU fishing activities.
The Fisheries Monitoring Centre commenced its operation on a trial basis on 28 March 2014 and began its full operation on 23 May 2014. Now 100% of Korean-flagged fishing vessels have Vessel Monitoring Systems (VMS devices). The Republic of Korea's Distant-Water Fisheries Development Act is also being re-amended to ensure that operators are not able to avoid sanctions for illegal fishing offences.
The MOU between EJF and the Ministry of Oceans and Fisheries will help to support the Republic of Korea's new initiatives to combat IUU, with a special focus on introducing new, effective mechanisms for vessel monitoring and other key flag State obligations.