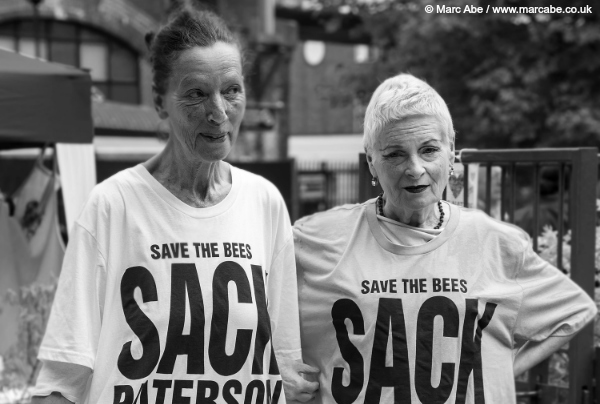 Jul 08, 2014
EJF at Urban Outdoors festival featuring Vivienne Westwood & Katharine Hamnett
Fashion fans were treated to a taste of environmental activism from two of the UK's most iconic designers last weekend in the first of what could be many 'Urban Outdoors' festivals.
At the Urban Outdoors festivals, held at Castlehaven Community Centre, Camden, fashion royalty Dame Vivienne Westwood and Katharine Hamnett joined forces to promote valuable environmental messages to the London community, encouraging locals to oppose fracking, fight against pesticide use and begin living more sustainably.
Representing her activism group 'Climate Revolution', Vivienne gave an enlightening speech about a variety of topics spanning inherently faulty agricultural systems to the seemingly never ending quest to deplete the land of precious fossil fuels using damaging new technologies such as natural gas drilling (or, fracking). She then led a troupe of excited fans on a bike ride around Camden in the name of clean travel. Her presence at the event drove fans towards our EJF stall in search of her War/Peace T-shirt design in support of our No Place Like Home campaign for climate refugees, which a number of her admirers purchased on the day.
Katharine Hamnett also addressed the crowd with a thought-provoking take on the use of Glyphosate pesticides in London Boroughs, highlighting their effects on human and environmental health and calling for their use to be banned. Katharine continued on to address issues of neoncotinoid usage, urging attendees to support a permanent ban throughout the UK. On the day, the queen of the straightforward political slogan gained much attention around her new 'Sack Paterson' t-shirt. EJF is proud to stock Katharine Hamnett's 'Save The Future' limited edition t-shirt, available exclusively through our Just For range.
EJF's volunteers were selling our bee-themed designer t-shirts, doing bee-themed face painting for children and talking to festival goers about how they could help to SAVE THE BEES by growing flowers and plants for bee habitat, building bee hotels and not using any chemical treatments in their gardens.