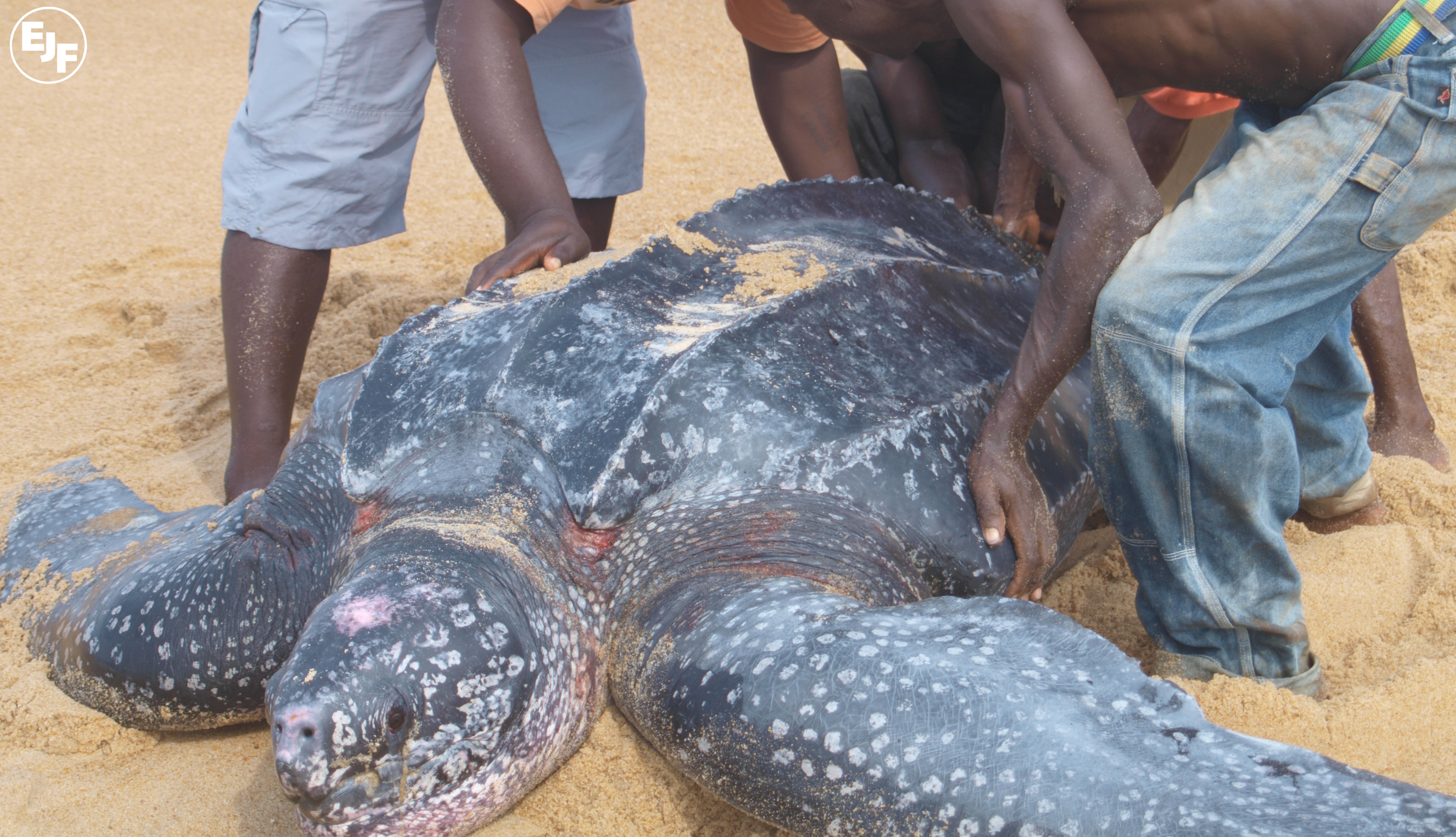 Feb 07, 2014
EJF called to rescue a leatherback turtle
When local fishers feared for the safety of a vulnerable leatherback turtle, they called our EJF team out to a fishing community 30 minutes outside Robertsport, a town in Northern Liberia where EJF works with the fishing community to stop illegal fishing and promote the protection of sensitive marine species.
The leatherback turtle, a species listed as vulnerable, had been seized when she came to shore to nest. She was fully mature and at least 30 years old. In proceeding months, local fishers had participated in meetings that explained the importance of sea turtles to the marine environment and the Liberian laws that protect them. The worried fishers phoned EJF's Biodiversity Officer in Robertsport, Godwin Kennedy, for support. He travelled to the site and immediately called for the turtle to be released by those holding it.
This was the second leatherback released by EJF into the sea in the past year. In 2014 we are working to expand our engagement of local communities, meeting a greater number of fishers in more widespread areas of West Africa to explain the vital importance of turtles and other threatened marine species to the ecosystem upon which many West Africans depend for their food security and their livelihoods.
EJF's biodiversity programme is partly funded by the EU.
SIGN UP FOR OUR EMAILS AND STAY UP TO DATE WITH EJF'S NEWS AND EVENTS
By subscribing to our newsletter, you ensure that you will stay up-to-date with latest news on our work and our campaigns, as well as how you have been part of achieving those goals. We carefully select what goes into our emails so that you will only receive relevant and interesting news about our campaigns. We will let you know when we have exposed a critical environmental issue or uncovered human rights abuses. We will ask you to get involved when your actions can make a difference, and we look forward to inviting you to our events.