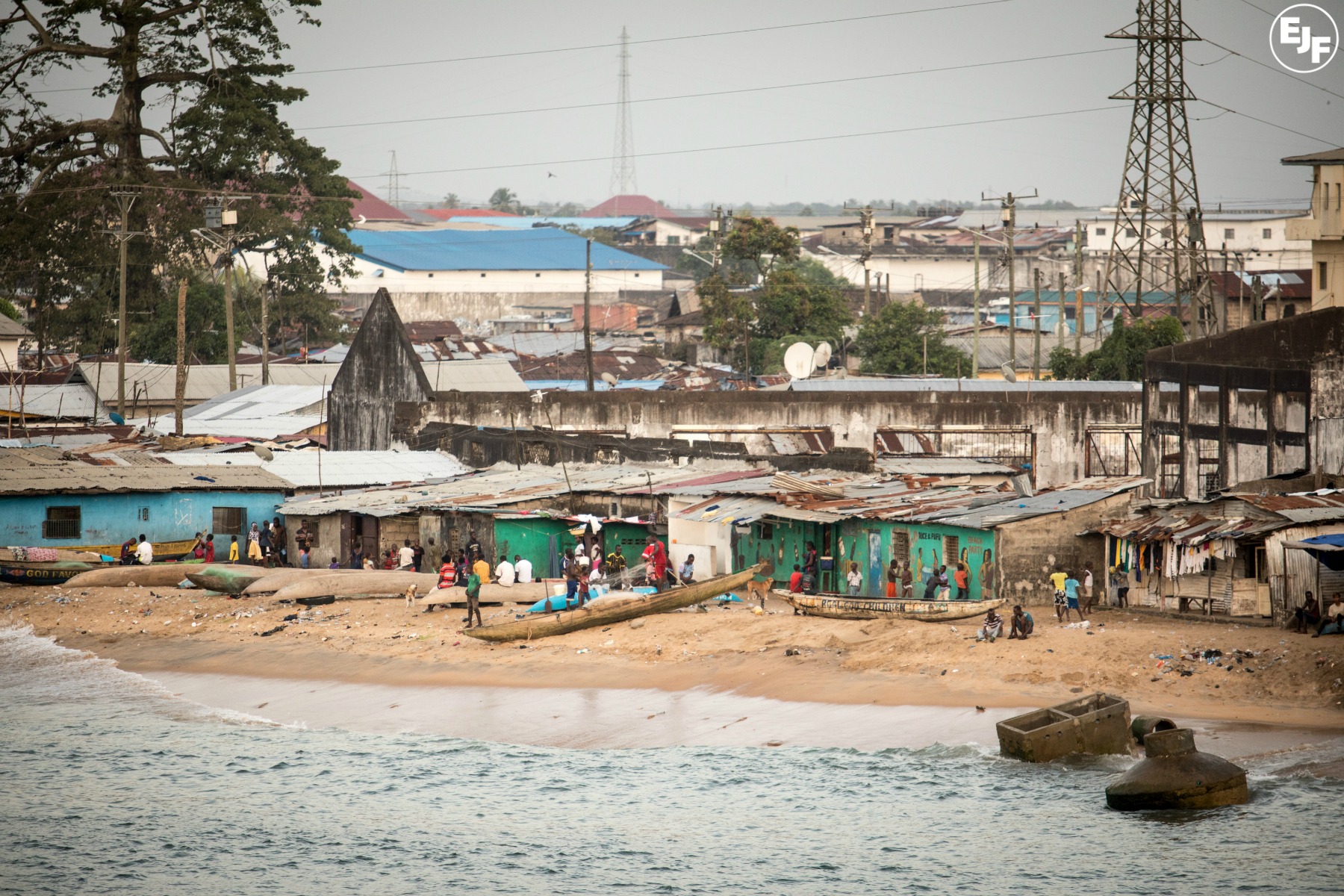 Feb 23, 2017
EJF calls on Liberian government to safeguard inshore exclusion zone
The Environmental Justice Foundation (EJF) is, today, calling on the Government of Liberia to ring-fence its six nautical mile (NM) exclusion zone (IEZ), safeguarding its use for the artisanal fishers that rely on it for their livelihoods and supply Liberia's food market with vital fish sources.
65% of Liberia's animal protein comes from the fishing sector, with as much of 80% of the population dependant on cheap fish for their diets. In a country where over 30% of the population is already classified as undernourished, maintaining a steady flow of fish products into Liberia is vital.
Since its introduction in 2010, the IEZ has done just that, helping provide higher catch for artisanal fishers and therefore improving food security across the country and providing secure income for coastal populations. It has also seen a reduction in conflict between artisanal and foreign fishing crews, and protected the region's coastal ecosystems.
But EJF has recently learned these huge improvements are at risk as the Government of Liberia looks to either reduce, or fully eliminate, the IEZ.
11,000 fishermen operate across 114 landing sites along Liberia's 579km coastline, primarily fishing within the 6NM limit. Some 33,000 people rely on the artisanal fishing industry for their jobs and income, all of which would be put at risk by a reduction to the exclusion zone.
Meanwhile, reducing or removing the IEZ would see an almost inevitable rise of competition from foreign industrial vessels fishing in coastal waters, with much of the catch being exported to overseas markets. This would mean a drop in the level of fish being supplied to Liberia and in the availability of fish products and an increase in the price of seafood.
The Community Management Association from Robertsport, representing artisanal fisherman in the region, said:
"The IEZ has been a huge benefit for artisanal fisherman in Liberia. By stopping industrial trawlers from fishing in our coastal waters, it has meant we have seen a huge boost in fish catch and in turn an increase in our income. We, our families and the whole of Liberia depend on the IEZ for our food and our incomes and we urge the government to continue to maintain the zone and not to eliminate or reduce it."
Vital spawning and breeding grounds for many species of fish, including molluscs and crustaceans, the removal of the exclusion zone would also put the country's ocean ecosystems at risk, opening up its coastal waters to huge industrial vessels using destructive fishing methods. This would further compromise the long-term sustainability of fish stocks in Liberian waters.
"The six nautical mile limit is crucial to the well-being of hundreds of thousands of Liberians living in coastal communities and across the country. It underpins the sustainability of the fisheries that provide vital food, livelihoods and incomes. Removing the limit would threaten the very survival of these fisheries, and with them the well-being of all those who depend on them. There can be no room for short-term thinking or minority interests in this; the government must act for the welfare of the majority and protect the 6NM limit." Steve Trent, EJF Executive Director
EJF is calling on the Government of Liberia to safeguard the IEZ, protecting this vital tool for current and future generations of coastal communities.
Notes to Editors:
According to the Bureau of National Fisheries (BNF) there are approximately 3,300 canoes and more than 11,000 fishers operating from 114 fish landing sites along Liberia's 579km coastline and about 33,000 fisher folks directly dependant on marine fisheries for their employment and income. Liberia's fishing sector provides around 65% of the country's animal protein.
The 6NM IEZ was introduced by the Government of Liberia in 2010 as part of the country's Fishing Regulation. Prior to its introduction, during the 1990s and 2000s foreign vessels were able to fish up to 3NM off the Liberian coastline, often raking the seabed and destroying local ecosystems in the search for high-value commercial species such as yellow croaker, which are found close to shore. This often caused major conflict between foreign trawlers and the country's artisanal fishing fleet.
Since 2010, artisanal fishers in Liberia have reported an improved catch, increased incomes, a decrease in conflict with industrial trawlers, a reduction of the loss of equipment and an increase in safety at sea.
According to the Global Hunger Index, 31.9% of Liberia's population are classified as undernourished, while 16% of families are classed as food insecure by the World Food Programme. Some 80% of the population depends on fish for their protein intake.