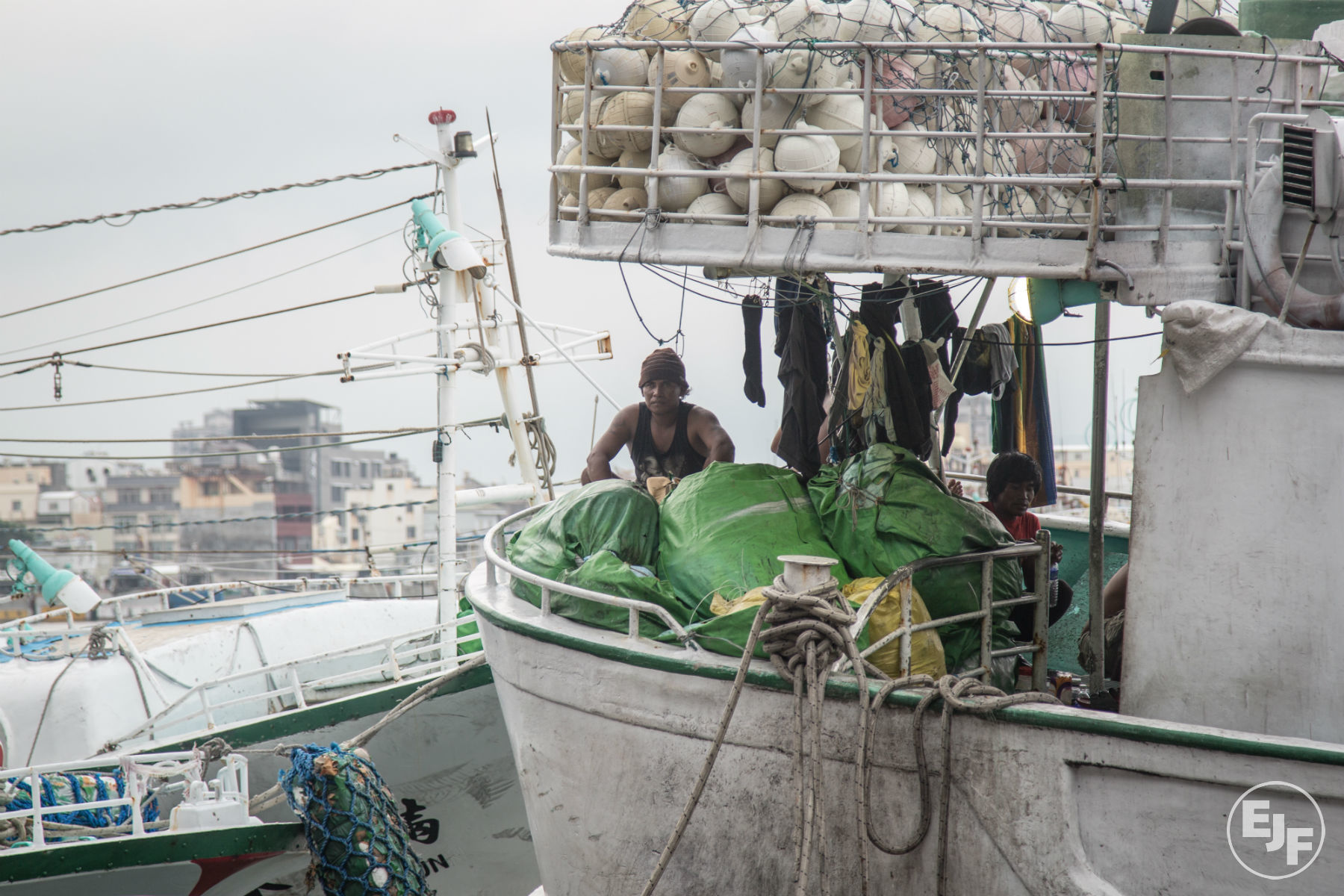 Mar 13, 2018
EJF documentary reveals shocking extent of human rights abuses in Taiwan Fisheries
Beatings at gunpoint, bonded labour, dangerous working conditions and squalid living conditions. These are just a few of the findings from a new investigative film by the Environmental Justice Foundation (EJF) telling the stories of migrant fishermen working aboard Taiwanese fishing vessels.
The film shows that although some new rules have been introduced in Taipei, out at sea human rights abuses continue.
EJF interviewed dozens of migrant fishermen who have worked aboard Taiwanese-owned fishing vessels operating both in national waters and across the world.
The fishermen, the majority of who are from Indonesia and the Philippines, reported violence, abuse and threats, squalid conditions and heavy financial deductions for food, travel, medical checks and accommodation. They reported working long hours, in unsafe and inhumane conditions for little or no money.
The film highlights the shocking levels of human rights abuses, and the need to take urgent action to protect people working in the Taiwanese fishing industry. The film highlights the need to ratify and implement the International Labour Organisation convention designed to protect the rights of workers in the fishing industry. All countries need to ensure that legislation is in place that secures prosecutions against people involved in human trafficking.
EJF is calling on all governments and the private sector to introduce the readily available measures to ensure transparency from "net to plate" that will enable fisheries managers and enforcement officials to ensure fish is caught legally, sustainably and ethically.
By making sure that all vessels are required to have unique vessel identification numbers - similar to car number plates - that easily available digital records for catch, licence and landing documentation are kept; that fishing vessels are required to record and report their activities regularly to monitoring centres while at sea; even by simply publishing vessel licence lists, rapid and substantial advances could be immediately made toward eradicating illegal fishing and the associated human rights abuses.
Taiwan is a major supplier of seafood, shipping annual exports worth around US$2 billion to Europe, USA, Japan, and other major economies.
Many vessels in the Taiwanese distant water fleet do not return to port for months or even years at a time, simply transferring their catch to other boats out at sea.
These long fishing periods allow vessels to exploit marine resources to the maximum, while the extreme isolation on the high seas means that crew are vulnerable to abuse, with no government measures in place to inspect their conditions. Prosecutions for human trafficking in the industry are almost non-existent.
Taiwanese legislator Ms. Lin Shufen called on the government to do more to improve fishers' conditions. "The Taiwanese government did improve some of the relevant laws," she says. But warns that they were mainly related to illegal fishing and for regulations on "working conditions, labour rights and human rights, the improvement is very limited."
"We should not only include [migrant fishers] in the protection, but also put ourselves in their shoes and help to eliminate the human trafficking problem."
Taiwan has been repeatedly criticised over its failure to protect human rights in the fishing industry in the last five Trafficking in Persons reports from the US Department of State. There is an urgent need for Taiwan to protect the migrant workers that make its massive, lucrative distant water fleet possible.
SIGN UP FOR OUR EMAILS AND STAY UP TO DATE WITH EJF'S NEWS AND EVENTS
By subscribing to our newsletter, you ensure that you will stay up-to-date with latest news on our work and our campaigns, as well as how you have been part of achieving those goals. We carefully select what goes into our emails so that you will only receive relevant and interesting news about our campaigns. We will let you know when we have exposed a critical environmental issue or uncovered human rights abuses. We will ask you to get involved when your actions can make a difference, and we look forward to inviting you to our events.