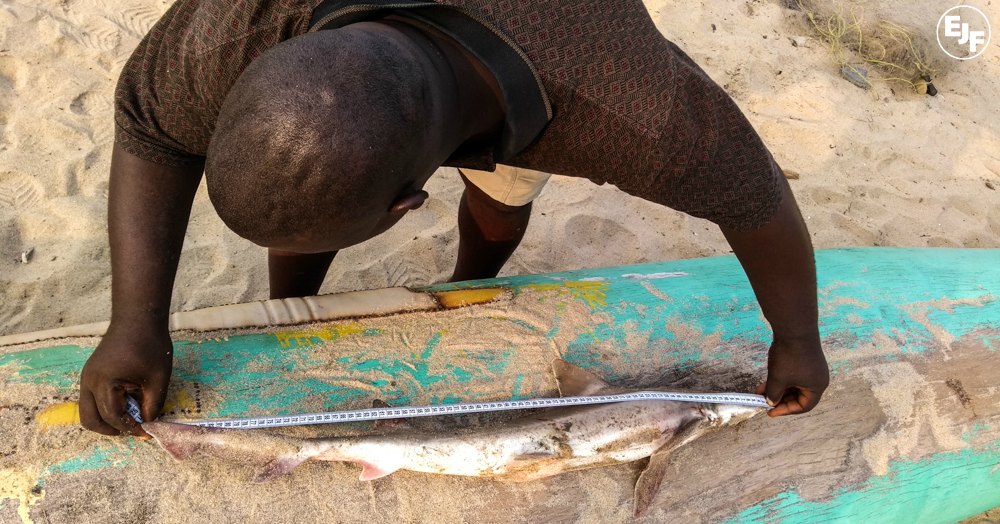 Jul 14, 2017
EJF in the field: the next steps in Liberia
Fishing is vital for Liberia.
11,000 artisanal fishers operate across the country's 579 km coastline, 33% of people are directly dependant on marine fisheries and 65% of the country's animal protein comes from the sector.
Meanwhile, 31.9% of the country remains classified as undernourished and 16% of families are considered food insecure.
Securing sustainable fisheries is vital to ensuring food security and reducing poverty.
With the help of the European Union, EJF has been working in Liberia for five years to combat illegal fishing and to ensure that local fishing communities have a seat at the table to help decide the future direction of this critical resource.
Over this time we have seen huge success, with local fishers reporting a reduction in industrial vessels fishing illegally in their waters, and in turn an increase in levels of catch and in their incomes.
Meanwhile, by working with local fisherman in Robertsport - a major fishing centre in Liberia - we've helped to develop decentralised fisheries management by establishing an effective Collaborative Management Association (CMA), with this fisherfolk-based organisation now managing their own Territorial Use Right for Fishing (TURF) area in Grand Cape Mount.
But there is still a long way to go to improve the lives of fishing communities and protect Liberia's precious biodiversity and fishery resources.
The management of fisheries is still plagued by weak monitoring and enforcement, incomplete legislation and poor scientific data, leaving the country's poorest communities most at risk.
EJF remains committed to helping to secure sustainable and equitable fisheries in Liberia. That's why, when we met with project partners in Robertsport in June to celebrate the last five-years of work in the country, our aim was not just to look back but also to look forward.
In the coming years, we aim to expand the CMA model to three other fishing centres, empowering fishing communities to take charge of their resources.
Each of the areas has been chosen due to desires from local fishing communities to take charge over their fisheries as well as high-levels of poverty and food insecurity - two of the three sites, Margibi (Marshall) and Grand Kru (Grand Cess), have food insecurity levels of 27.6% and 33%. This will ensure our work can have maximum impact.
We will also work to protect Liberia's biodiversity, including sharks and rays. Implementing a nationwide community-based data collection programme, we will train community members to collect data on species that will help to fill the gaping hole in information that currently leaves the country's endangered marine species and vital fish stocks at risk.
This will provide valuable information to both government and fishing communities to develop sustainable management and conservation measures.
On top of this, EJF will continue to expand its corner-stone project to tackle illegal fishing across Liberia, using satellite-based observations, sea-patrols and community surveillance to gather information and fight against illicit fishing activities.
At EJF we believe in the power of community.
We have a vision of natural environments that can sustain, and be sustained by the communities that depend upon them for their basic needs and livelihoods.
The work is not completed, but over the last five years we have seen how this vision could become a reality in Liberia.
There is a long way to go, but we remain committed to working with stakeholders to tackle illegal fishing and developing community-based co-management that will prove fundamental in securing Liberia's precious biodiversity and providing long-term food security for thousands of coastal citizens.