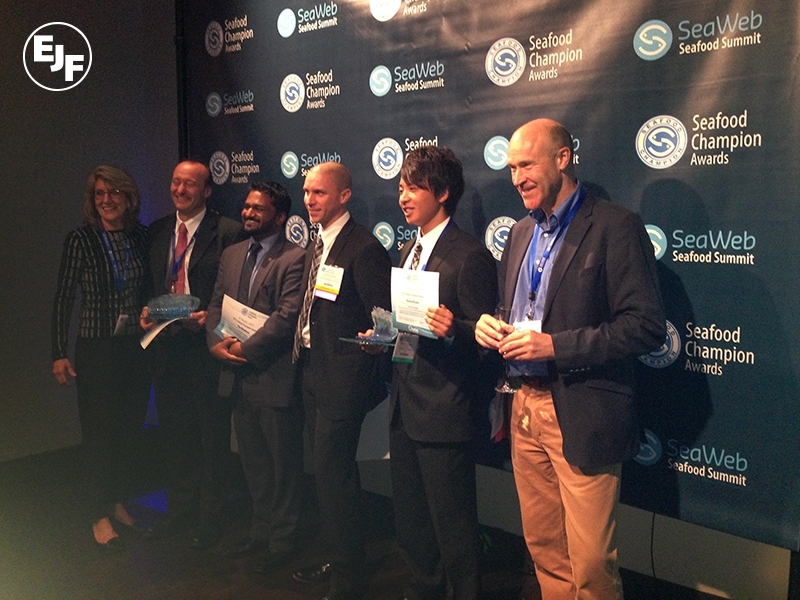 Feb 10, 2015
EJF wins 2015 Seafood Champion Award for Advocacy at SeaWeb Seafood Summit
EJF are pleased to have been recognised for our work to eradicate Illegal, Unreported and Unregulated (IUU) or 'pirate' fishing and promote sustainable seafood at the SeaWeb Seafood Summit in New Orleans yesterday.
The annual Seafood Champion Awards recognise individuals and companies for outstanding leadership in promoting environmentally responsible seafood.
EJF was presented the Seafood Champion Award for Advocacy for our Oceans Campaign. Our Oceans Campaign is committed to eradicating pirate fishing and to creating full transparency and traceability within seafood supply chains and markets.
By depleting fish stocks, pirate fishing is a threat to marine environments and compromises the food security and livelihoods of vulnerable coastal communities in West Africa. We work with local communities and fishermen on the ground to document and fight pirate fishing and preserve the ocean to sustain their food sources and livelihoods.
Our Oceans advocacy work has also raised awareness amongst retailers, importers and restaurants of the dangers posed by pirate fishing. Earlier this week, we launched a guide for UK retailers on what they can do to keep the products of pirate fishing out of their supply chains. We are working to reduce the demand for illegal fish, help port States keep illegal fish out of their country and enable coastal and flag States to sanction boats that violate fisheries laws and regulations.
"The people, the organisations and the countries celebrated here tonight give us all hope for the future. In just the last few years we have seen tremendous growth in both the way the seafood industry has embraced sustainability and how the public has acknowledged its connection to ocean health." - Dawn M. Martin, SeaWeb President
It is an honour for EJF to be selected for the prestigious Seafood Champion Award but most importantly, it is recognition of the ongoing impacts of illegal fishing in West Africa and the courageous efforts of local communities to combat it.
SIGN UP FOR OUR EMAILS AND STAY UP TO DATE WITH EJF'S NEWS AND EVENTS
By subscribing to our newsletter, you ensure that you will stay up-to-date with latest news on our work and our campaigns, as well as how you have been part of achieving those goals. We carefully select what goes into our emails so that you will only receive relevant and interesting news about our campaigns. We will let you know when we have exposed a critical environmental issue or uncovered human rights abuses. We will ask you to get involved when your actions can make a difference, and we look forward to inviting you to our events.