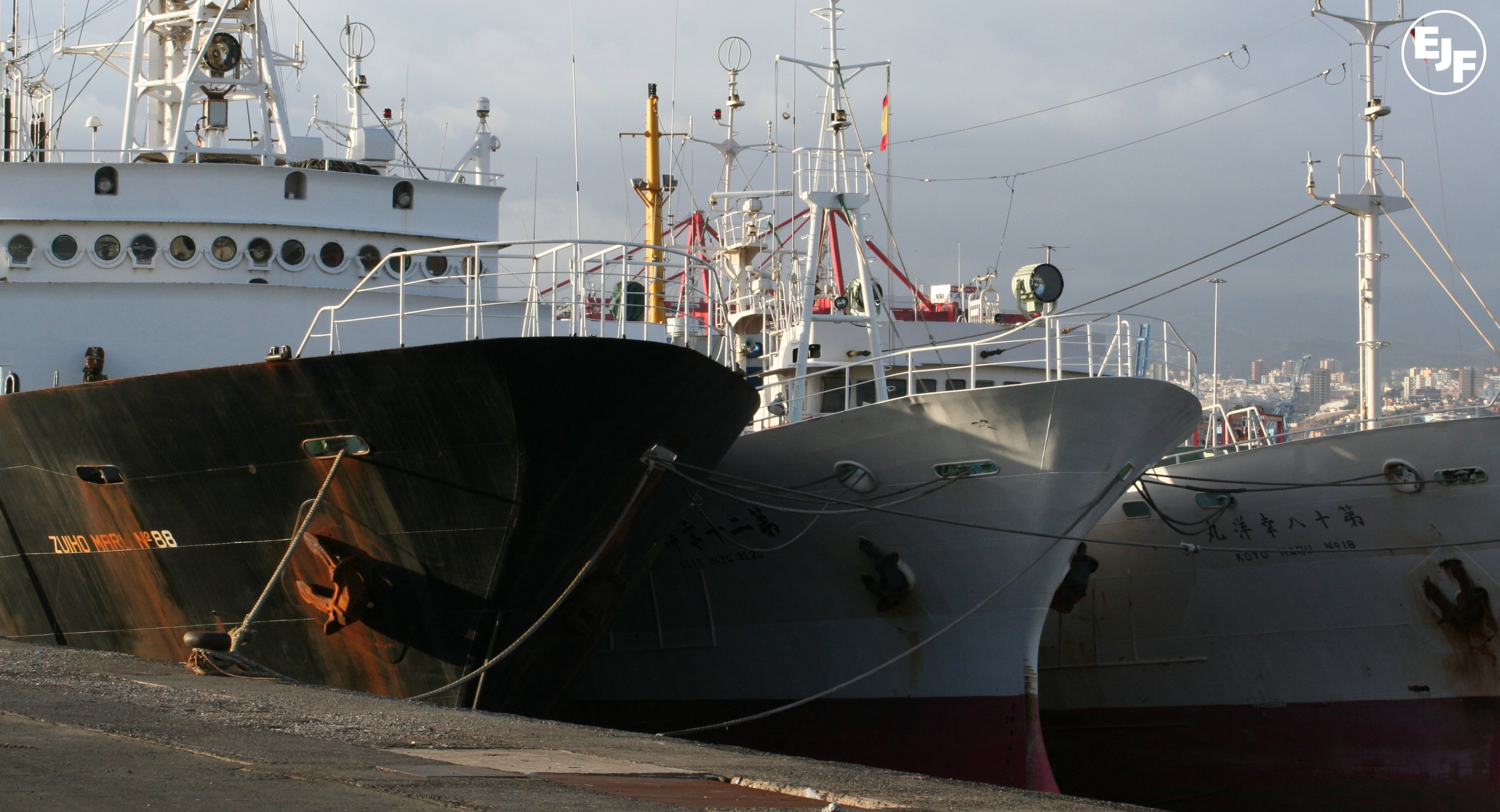 Apr 20, 2011
Fish worth £4m seized in EU crackdown on illegal fishing
Following an EJF investigation Spanish authorities have seized 500 tonnes of suspected illegally caught fish in the Spanish Port of Las Palmas.
The multi-million euro consignment, which is believed to includes octopus, squid, sole, shrimp and grouper, was destined for European fish counters, restaurants and hotels. Authorities suspect that the fish, carried by the Seta No. 73 refrigerated cargo vessel, was caught illegally in West African waters by fishing vessels under the flag of the Republic of Korea.
Spanish authorities and the European Commission were alerted to the suspected illegal consignment by the Environmental Justice Foundation (EJF), a UK-based NGO that is working internationally to combat Illegal, Unregulated and Unreported fishing (IUU). Several vessels under investigation were reported by EJF fishing illegally in Sierra Leone, a country estimated to lose US$29 million a year from IUU fishing.
The vessels were documented by EJF operating in inshore areas reserved for artisanal fishers, destroying local fishers' nets and hooks and conducting fishing activities without the authority of the Sierra Leone Government and other West African coastal states. It is being investigated whether the fishing vessels illegally transferred their catches at sea to the Panama-flagged Seta No. 73.
In addition to illegal fishing activities, crew on board Medra, one of the vessels being investigated, are believed to be responsible for the violent assault of a local fisher in Sierra Leone. The fisher was knocked unconscious with an iron bar as he tried to retrieve his fishing hooks caught in a trawl net. EJF observed crew as young as 14 on board another vessel, Marcia 707, working in dangerous and unhygienic conditions. The canoe-support vessel was transporting up to 150 artisanal fishers and their canoes along the West African coast for a three-month period, deploying them to fish illegally in inshore areas.
The landing of the alleged illegal catch is of particular concern to European Union (EU) Member States and the European Commission, given that entry of illegal fish into European markets violates the new EU Regulation to Prevent, Deter and Eliminate IUU Fishing, which entered into force on 1 January 2010. When Seta No. 73 arrived in Las Palmas, the European Commission is believed to have coordinated with Spanish authorities to inspect the shipment and gather evidence before seizing the whole cargo, pending further investigation.
The seizure of the consignment occurred prior to Spain's Holy Week, in which fish sales typically double, causing severe shortages in local markets. It has been reported in the Spanish media that businesses involved in the import of frozen fish in the Canary Islands are planning to protest at the impact on local businesses and potential job losses if fishing operations move to non-EU ports.
Authorities are now following procedures under the EU IUU regulations to obtain verifications from flag states and coastal states as to the legality of the vessels' operations. Under international law, the flag state is primarily responsible for the vessel's activities and is required under EU regulations to validate catch certificates to guarantee that fish has been legally caught. If the fishing vessels are found to have been operating illegally, possible measures include legal action against the operators, blacklisting the vessels concerned or identifying states as "non-cooperating third countries", which would mean they could no longer export seafood products to the EU.
"This investigation has exposed the highly organised theft of natural resources from some of the world's poorest people – communities dependant on fish for food security and employment. Without flag states better regulating the activities of their vessels and coastal countries taking responsibility for monitoring their waters, this theft will continue". Steve Trent, EJF Executive Director
In an additional action under the EU IUU regulation, two further refrigerated cargo vessels have had their consignments blocked in Las Palmas, bringing the total quantity of blocked fish to 1,100 tonnes. Lian Run and Hai Feng 823, flagged to Panama and China respectively, are also suspected of carrying fish caught illegally in West Africa.
This is an urgent appeal from EJF to help replace our boat in Sierra Leone
Since 2008 EJF has worked with the Sierra Leone Government and local fishers in Sierra Leone to combat IUU fishing by foreign, industrialised pirate fishing operations. Between 29th January and 3rd March 2011, EJF worked with local fishers to document four industrial fishing vessels flagged to Republic of Korea – 515 Amapola, Marcia 707, Medra, Seta 70 – operating illegally within Sierra Leone's Inshore Exclusion Zone (IEZ).
Sadly, our small boat used for these essential operations has suffered damage and is out of the water.
We urgently need to raise £50,000 to continue monitoring and documenting the activity of illegal fishing vessels so we can tackle the trade in illegal fish. As well as monitoring the activities of illegal fishing vessels the boat doubles up as an emergency water ambulance for remote coastal communities. In the past year alone the boat team has:
Tracked illegal vessels leading to penalties against unscrupulous operators; Supported and rescued artisanal fishers who have been violently attacked or had their nets destroyed by boat crews; Saved the lives of 61 people by acting as a water ambulance and medical support.