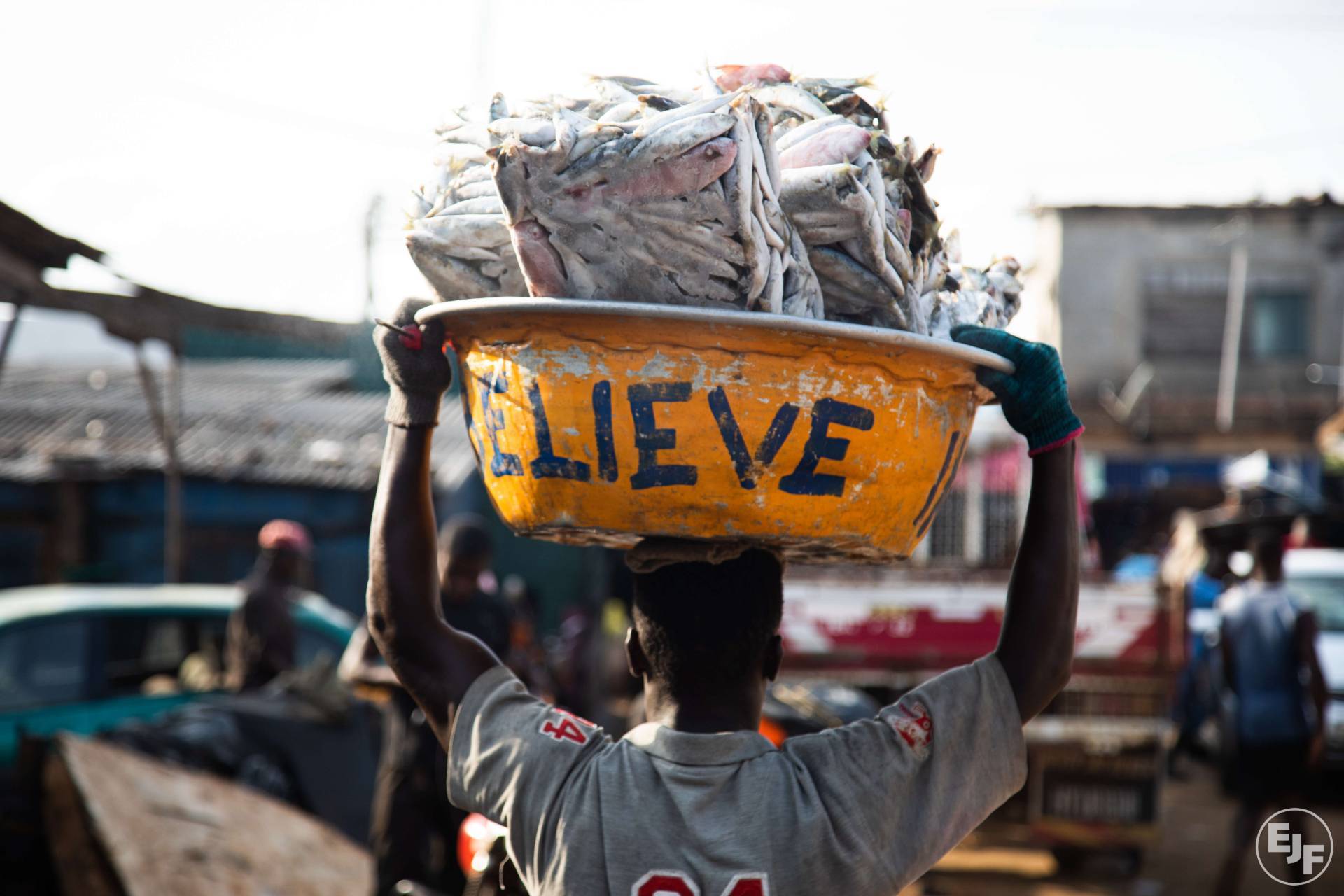 Aug 29, 2019
Ghana's fisheries minister calls for end of damaging 'saiko' fishing
Ghana's fisheries are under threat of imminent collapse as a result of 'saiko', a severely destructive form of illegal fishing, where foreign trawlers target the staple catch of canoe fishers and sell this stolen fish back to local communities at a profit. The Minister for Fisheries and Aquaculture Development has now called for complete eradication of this harmful, illegal practice. The Environmental Justice Foundation (EJF), which has been monitoring the situation, has applauded the move and called for an urgent government crackdown.
The saiko trade took around 100,000 tonnes of fish in 2017 alone, worth over US$ 50 million when sold at the landing site. The practice is costing Ghanaians millions of dollars annually and threatening coastal livelihoods.
Trawlers are able to hoover up vast quantities of 'small pelagic' fish such as sardinella – the main catch of the local canoe fishers and a crucial part of the nation's diet. Unless urgent action is taken, scientists estimate that these stocks could collapse by 2020.
Last year, the government intensified enforcement action against saiko, resulting in a high-profile arrest.
This led to a notable decline in saiko activities at Elmina, a major landing site for saiko fish in Ghana's Central Region. Since then, however, saiko activities have slowly increased once again.
Monitoring by EJF showed that saiko landings recommenced at Elmina just a few months after the arrest, with up to 15 saiko canoes landing fish every day. The fish were unloaded in broad daylight, showing the operators had little fear of the law.
The clear statement by Minister Elizabeth Naa Afoley Quaye, speaking at the national Conference on Fisheries and Coastal Environment, is very welcome, EJF says.
"Minister Quaye's statement that saiko must end is a very positive sign, and I whole heartedly applaud it. But it is not enough. What is needed is the immediate, effective and transparent enforcement of the law. Strong penalties must be applied to create a deterrent and prove that this government means to end saiko fishing for good.
"Saiko is precipitating the collapse of Ghana's staple fish stock and with it, poverty and hunger for its people. This is an ecological and humanitarian crisis," said EJF's Executive Director Steve Trent.
EJF already has a tranche of evidence that could be used for prosecution. From investigations in December 2018 and February 2019, EJF filmed trawlers meeting up with saiko canoes to transfer the illegally targeted fish.
One of the trawlers caught on film was authorised to export seafood to the European Union. That could raise serious questions around Ghana's compliance with the EU's regulation to combat illegal fishing, which prohibits the import of illegally caught fish into the EU market. Breaches could lead to import bans to the EU – which could be damaging for Ghana's economy, says EJF.
At the conference, the Ghana Industrial Trawlers Association made clear that they were in full agreement that saiko should be stopped, and pledged to work with the government to help that happen.
Notes for editors
Watch EJF's film exposing saiko
According to Ghana's fisheries laws, saiko is punishable by a fine of between US$100,000 and US$2 million, with the minimum fine increasing to US$1 million where catches involve juvenile fish or the use of prohibited fishing gears. To serve as a deterrent for potential offenders, it is imperative that at least the minimum fine set out in the law be imposed.
The trawlers are owned almost exclusively by Chinese operators, who use Ghanaian 'front' companies to bypass laws forbidding any foreign ownership or control of industrial trawl vessels flying Ghana's flag. EJF has revealed that over 90% of industrial trawlers licensed in Ghana are linked to Chinese ownership.
New vessels have continued to arrive from China, despite a February 2012 moratorium on new industrial trawlers entering Ghanaian waters to address severe depletion of fish stocks. Of the 68 industrial trawl vessels licensed to fish in Ghana from March-June 2018, at least half were built in 2013 or later, after the moratorium on new or replacement vessels came into effect. The list of vessels licensed by the Ministry of Fisheries and Aquaculture Development has not been available to the public since July 2018.
Over 2 million people in Ghana rely on small pelagic fish for their food and income.
Saiko catches in 2017 were worth US$ 40.6 - 50.7 million when sold at sea, and US$ 52.7 - 81.1 million when sold at the landing site.
In 2017 industrial trawlers caught almost the same amount of fish as the entire artisanal sector, when illegal and unreported catches are taken into account. That is 76 trawlers catching approximately the same amount of fish as over 12,000 canoes or 100,000 fishers.
While canoe fishing offers direct employment for around 60 fishers for every 100 tonnes of fish, saiko means only 1.5 jobs per 100 tonnes – 40 times fewer.
For more information, visit www.ejfoundation.org or www.henmpoano.org
The Environmental Justice Foundation is an international non-governmental organisation working to protect the environment and defend human rights. EJF is a charity registered in England and Wales (1088128). www.ejfoundation.org
Hen Mpoano is a non-profit organization based in Ghana. Its vision is for inclusive and integrated management of Ghana's coastal and marine ecosystems to generate long-term socio-economic and ecological benefits. www.henmpoano.org
Contacts:
Daisy Brickhill - EJF Press & Communications Coordinator
daisy.brickhill@ejfoundation.org
Tel: +447871946911
SIGN UP FOR OUR EMAILS AND STAY UP TO DATE WITH EJF'S NEWS AND EVENTS
By subscribing to our newsletter, you ensure that you will stay up-to-date with latest news on our work and our campaigns, as well as how you have been part of achieving those goals. We carefully select what goes into our emails so that you will only receive relevant and interesting news about our campaigns. We will let you know when we have exposed a critical environmental issue or uncovered human rights abuses. We will ask you to get involved when your actions can make a difference, and we look forward to inviting you to our events.