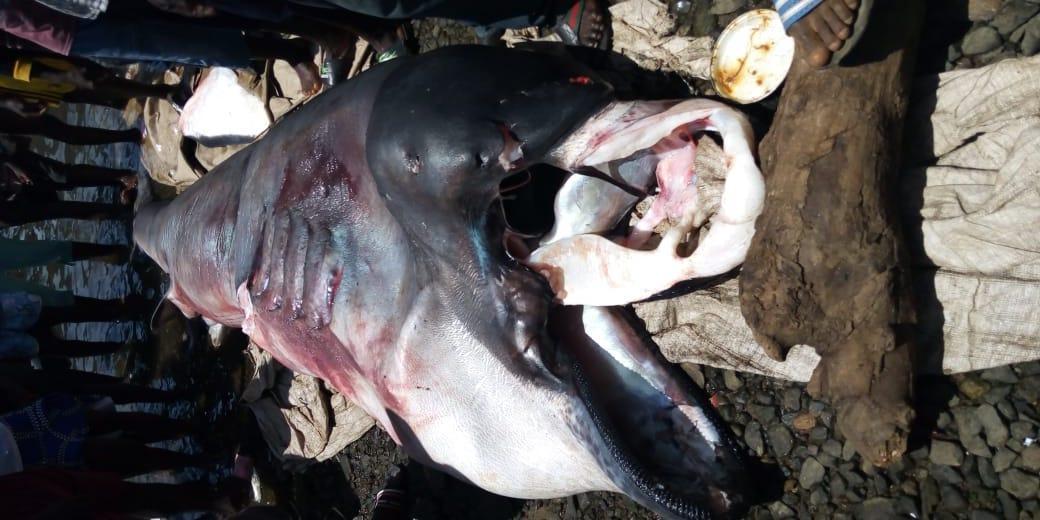 Apr 02, 2020
Globally elusive 'megamouth shark' landed in Liberia
An elusive 'megamouth shark' has been identified by the Environmental Justice Foundation's community science programme in Liberia. First documented by science in 1976, this is only the 103rd time the species has been recorded globally, and the second time in West Africa; the only other documented sighting in the region being in Senegal in 1995.
The information provides crucial insight into the distribution of this shark species and highlights the need for a 'precautionary approach' to fisheries management and conservation: to ensure we do not lose species before their populations are known.
The shark was landed by a canoe fisherman in the remote town of Harper in southeast Liberia on 26 March. The animal died after reportedly becoming entangled in an abandoned driftnet. Measuring 380cm (12.4 ft) in length, the male shark was initially identified by the EJF team by its a vast head, rubbery lips, dentition and elongated gill slits and confirmed by leading shark experts. There has been only one other recorded sighting of a megamouth shark in West Africa, which occurred in Senegal in 1995 (that perished after becoming caught in a tuna fishing net).
Megamouth sharks (Megachasma pelagios) were only discovered in 1976 when an individual was captured in Hawaii. Unlike their fellow filter-feeding sharks – the whale shark and basking shark – there have been extremely few records of the species. The majority of these have been in the Indo-Pacific ­– the waters around Japan, Taiwan and the Philippines. This new record, along with two others from the North Atlantic, shows that the species distribution stretches much further in what could be a highly-migratory global population.
The IUCN lists the megamouth as 'least concern' for conservation, but this is only on the basis of a lack of population data. It is vital that such elusive species are protected regardless of the fact that their populations are difficult to monitor, says EJF.
It is telling that the shark was already entangled in a drift net when it was caught. Sharks and rays in Liberia are threatened by both industrial and small-scale traditional fishing fleets, and illegal fishing practices are particularly damaging to their populations.
These groups are especially vulnerable to overfishing because they tend to grow slowly, reach sexual maturity late and have low rates of reproduction. At just under 4 meters, the male shark is thought to have been approaching sexual maturity. Worldwide, a quarter of all these species are classified as threatened as a direct result of overfishing.
This finding also highlights the significant potential of community science. For the past seven years, EJF's local teams have gathered data and photographs of the sharks and rays that are landed by Liberia's small-scale fishers. This provides crucial information in a country where data is especially sparse. EJF's monitoring at West Point between 2013 and 2016 recorded 19 species of sharks and rays, all of which are found on the Red List of Threatened Species of the IUCN.
Director of EJF Steve Trent said: "Sharks and rays play a crucial role in the balance and health of marine ecosystems. As only the second sighting in West Africa this is truly is significant and will help build up a picture of the many different shark species that live – and need protection – in the region's waters. It reiterates the need to better understand our oceans and all life within them, their interconnections and the need, perhaps above all, for a 'precautionary approach' to protect the lives we don't yet understand."
Dr Grisel Rodriguez-Ferrer of the Department of Natural Resources, Puerto Rico who corroborated the species ID said: "The conservation of species starts with an understanding of the distribution, habitat needs, and threats. New records of a species help us to understand their movement patterns, changes in distribution or important areas or habitat unknown to the scientist, and this new record from Liberia is important in building our knowledge. Helping science is a great way to conserve the environment, and I encourage fishers and the general public to contact EJF with information that could help protect our marine ecosystem and amazing species such as the Megamouth."
Notes for Editors
Images attached
Read EJF's report Guardian's of the Seas on sharks and rays in Liberia
Dr. Grisel Ferrer and Professor Bradley Wetherbee kindly verified EJF's identification of the shark, having studied the second specimen ever found in the North Atlantic.
Despite its rarity and interest to science, the animal was sold to a fish trader for a reported 30,000 Liberian dollars (£120 or US$150), butchered and sold on.
A megamouth shark recorded in the Philippines in 2015 was 1.2 tonnes and 5.2 metres (17ft) in length.
Megamouths are filter feeders, slowly swimming through the water with their mouths open. They are thought to follow a regular diurnal pattern of alternating between deep and shallow ocean waters in search of food (planktonic animals).
Sharks and rays play crucial roles in maintaining the health of coastal ecosystems that provide food and livelihoods to fishing communities around the world. In Liberia, over 33,000 people are directly dependent on the traditional, small-scale fishing sector.
In 2018, after consulting with EJF, the Liberian Government took the historic step of committing to a national plan of action to protect Liberia's sharks and rays. Sharks and rays currently lack any legal protection in Liberia; the development and implementation of an NPOA will help manage and protect these species from unsustainable pressures on their populations.
Environmental Justice Foundation's (EJF) monitoring of the shark and ray fishery at West Point, Monrovia, between 2013 and 2016, recorded 19 species, all of which are found on the IUCN Red List of Threatened Species. The harvest included endangered and critically endangered species such as the Giant Devil Ray and the Great Hammerhead Shark respectively.
EJF's community science project is developing outreach and awareness to fishing communities and engaging their support in recording and sharing photographs and other data to build knowledge of species, population trends and threats in order to inform national policy.
Managing shark and ray populations sustainably requires data on populations; landings; fishing pressure; overall trends in populations and other critical factors such as illegal, unregulated and unreported fishing. Currently, Liberia's shark and ray fisheries are largely unmonitored and more scientific data to guide conservation and fisheries management is urgently needed.