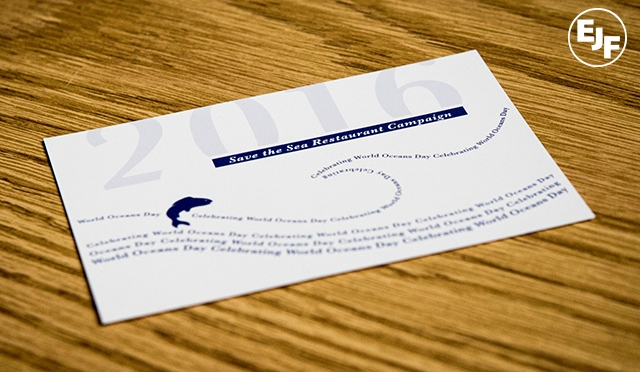 Jun 08, 2016
How to Celebrate Seafood and Support a Great Cause on World Oceans Day?
Environmental Justice Foundation (EJF) and leading restaurants across the UK are partnering to protect the world's oceans, end illegal 'pirate' fishing and seafood slavery.
Today is World Oceans Day and for the next month, 24 restaurants across the UK will join EJF in highlighting how sustainable sourcing and consumer choices help protect our oceans and keep seafood on our menus in the long term.
"Our ambition for the fourth #SavetheSea Restaurant Campaign beginning this World Oceans Day is to emphasise how we can all make a huge difference close to home by sourcing and choosing sustainably caught fish that supports environmentally friendly fishing practices. This protects the marine environment and supports local communities around the world who depend on the sea for food security and livelihoods. EJF is proud to work with leading chefs and restaurants who are not only producing wonderful, inspired dishes, but are passionate about sourcing food ethically." EJF's Executive Director, Steve Trent

Customers visiting the partner restaurants are invited to make a donation to EJF's Oceans Campaign, combating illegal 'pirate' fishing in West Africa and Asia and protecting threatened species – like sharks, turtles and dolphins - and the livelihoods and food security of coastal communities. The campaign also helps to fund EJF's work to end people trafficking and slavery on fishing boats.

In the last three years, the campaign has received support from 43 restaurants with 32 Michelin stars amongst them, raising over £25,000.

LIST OF THE 24 RESTAURANTS PARTICIPATING:
Café St Honoré – Edinburgh, Scotland
Charlotte Street Hotel (Firmdale Hotel) – Fitzrovia, London
Colmans Fish & Chips – South Shields
Covent Garden Hotel (Firmdale Hotel) – Covent Garden, London
Dorset Square Hotel (Firmdale Hotel) – Marylebone, London
Edwins – Borough
Fishers Restaurant – Bristol
Ham Yard Hotel (Firmdale Hotel) – Soho, London
Haymarket Hotel (Firmdale Hotel) – Piccadilly Circus, London
Knightsbridge Hotel (Firmdale Hotel) – Knightsbridge, London
Martin Wishart at Loch Lomond – Loch Lomond, Scotland
Restaurant Martin Wishart – Edinburgh, Scotland
Number Sixteen (Firmdale Hotel) – South Kensington, London
The Honours (Martin Wishart) – Edinburgh, Scotland
The Larder on Goosegate – Nottingham
The Modern Pantry – Clerkenwell & Finsbury Square, London
The Peat Inn – St. Andrews, Scotland
The Salt Room – Brighton
The Soho Hotel (Firmdale Hotel) – Soho, London
The Three Stags – Kennington, London
The Truscott Arms – Maida Vale, London
Tom's Kitchen Deli – St Katharine Docks & Canary Wharf, London
WHAT THE PARTICIPANTS SAY:
"As a chef and restaurateur it is my responsibility to serve people good food - and not just good tasting - but also good for our environment. This is especially true for seafood, as much of it is captured in a way that is damaging to our oceans. For example most prawns are caught in a way that kills and wastes a huge amount of fish - but there are sustainable options and I choose them when preparing my guilt free prawn omelettes! I think people would make difference choices about what they eat if they had the facts, which is why I am pleased to participate in this awareness campaign with EJF. The welfare of our planet and its people needs to be safeguarded more than ever to ensure we are able to feed future generations the best way we can". Anna Hansen, Chef & Restaurateur – The Modern Pantry
"We are proud again to support the EJF #SavetheSea campaign. We believe that using sustainably sourced fish is of paramount importance and would urge others in our industry to follow this path. We also support all their efforts on environmental issues in all our seas and oceans." Richard Colmans, Owner – Colmans Fish & Chips
"By supporting this campaign in my restaurants, we can help to educate the public on this pressing worldwide issue. Diners' contributions are so greatly appreciated. I strongly believe this cause will help to minimise further devastation in our seas." Martin Wishart, Chef – Restaurant Martin Wishart, The Honours, Martin Wishart at Loch Lomond

"As a long term supporter of EJF's #SavetheSea campaign, I am delighted that Tom's Kitchen restaurants in the UK are supporting EJF's work to protect marine biodiversity, endangered wildlife and the vulnerable fishing communities in some of the world's poorest nations." Tom Aikens, Chef & Founder – Tom's Kitchen
"At The Peat Inn we are proud to support the #SavetheSea Restaurant Campaign once again. Considering the world's long-term marine sustainability while supporting coastal communities is a priority, which demands attention from us all. Please join us in support of the campaign!" Geoffrey Smeddle, Chef and food columnist – The Peat Inn
"We all have a responsibility for what we eat and where our food comes from. Opting for sustainably caught and sourced fish is the only choice to be made when eating in restaurants and I'm delighted to be helping EJF here at Cafe St Honoré. It's vital we protect our fragile oceans for future generations". Neil Forbes, Chef – Café Saint Honoré
"Firmdale is proud to be a part of EJF's #SavetheSea Restaurant Campaign for another year. It is a wonderful opportunity to demonstrate our commitment to sourcing our seafood ethically and sustainably while supporting an organisation we believe in". Anna Jackson, Group Operations Manager – Firmdale Hotels
"We are delighted to be a part of the important #SavetheSea restaurant campaign and stand alongside so many outstanding seafood restaurants from across the UK. Serving responsibly sourced seafood is at the heart of our business and we want to help people make more informed decisions about the seafood they eat, whilst helping preserve the future of our oceans". Dave Mothersil, Head Chef – The Salt Room
"Here at The Three Stags, we are the first London based company using 'Sole of Discretion'. We are a social entreprise seeking to protect the marine environment through the creation of a dedicated supply chain for ethically caught fish whilst providing the best financiam reward for small scale fishermen. If they don't catch fish, we don't sell any. It is as simple as that. We must do everything we can to preserve our oceans. Please choose sustainable whenever possible". Richard Bell, Owner – The Three Stags
SIGN UP FOR OUR EMAILS AND STAY UP TO DATE WITH EJF'S NEWS AND EVENTS
By subscribing to our newsletter, you ensure that you will stay up-to-date with latest news on our work and our campaigns, as well as how you have been part of achieving those goals. We carefully select what goes into our emails so that you will only receive relevant and interesting news about our campaigns. We will let you know when we have exposed a critical environmental issue or uncovered human rights abuses. We will ask you to get involved when your actions can make a difference, and we look forward to inviting you to our events.