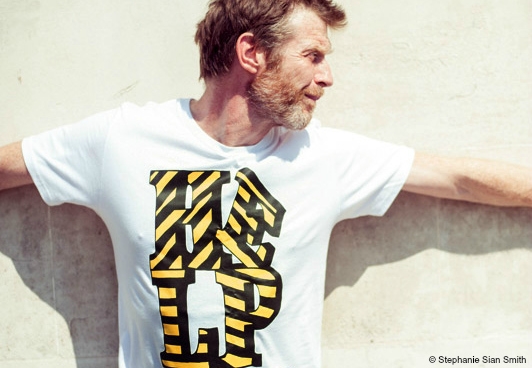 Jul 23, 2013
Jason Flemyng helps to Save the Bees
Jason Flemyng, the award-winning actor from Lock, Stock and Two Smoking Barrels, Snatch, Later Cake, Stardust and I Give It a Year, has joined EJF's campaign to Save the Bees.

Jason joined us for a photoshoot in the sunshine amongst the flowers and bees in London's Hyde Park, to model our new bee campaign t-shirt by eco-brand Rapanui.
The EJF Rapanui bee t-shirts are made in a wind powered, ethically accredited factory and they are printed on 100% organic cotton. They are made in a Fair Wear Foundation member factory and are low carbon, transported by ship not air. They are printed with phthalate-free inks and hand-finished in the UK.
As part of EJF's campaign to Pick your Cotton Carefully, the t-shirts aim to raise awareness of issues such as forced child labour and deadly pesticides in cotton production and encourage consumers to think about where their cotton comes from.
The new EJF Rapanui bee t-shirts are traceable on a map on the Rapanui website, which shows the entire supply chain from India to the UK.
EJF has a long tradition of working alongside top designers and ethical clothing companies on campaign and slogan t-shirts which become fashion must-haves. EJF has worked with Dame Vivienne Westwood, Katharine Hamnett CBE, Giles Deacon, Alice Temperley, Christian Lacroix, Eley Kishimoto, Jenny Packham, Luella and Zandra Rhodes.
Other celebrity supporters who have modelled EJF's campaign t-shirts to date include Lily Cole, Naomi Campbell, David Gandy, Emilia Fox, Gemma Kidd and Gillian Anderson.
Rapanui also has a history of campaigning with celebrity supporters. In 2012 they facilitated weatherman Michael Fish performing a BASE jump for climate change awareness. Rapanui have also worked with Sir David Attenborough, Chris Packham and Kate Humble.
"This year EJF is fighting for environmental justice close to home and for a species universally loved, we are working to Save the Bees. We are happy to be working with Rapanui Clothing, and celebrities such as Jason Flemyng, as part of our campaign to raise awareness through fashion of the vital need to protect the UK's bees and insect pollinators. Our environmental protection, food security, economics and the livelihoods of our farmers and food producers depend upon it." Steve Trent, Executive Director of EJF
SIGN UP FOR OUR EMAILS AND STAY UP TO DATE WITH EJF'S NEWS AND EVENTS
By subscribing to our newsletter, you ensure that you will stay up-to-date with latest news on our work and our campaigns, as well as how you have been part of achieving those goals. We carefully select what goes into our emails so that you will only receive relevant and interesting news about our campaigns. We will let you know when we have exposed a critical environmental issue or uncovered human rights abuses. We will ask you to get involved when your actions can make a difference, and we look forward to inviting you to our events.