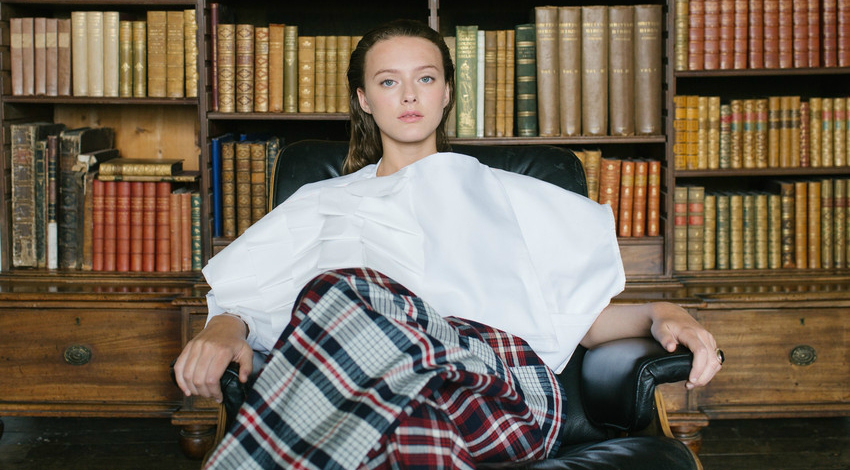 Jun 19, 2014
Just Fashion....at Hay Festival
EJF's JUST FASHION event at this year's Hay Festival brought together winning students from around the country to take part in a 5 day sustainable fashion workshop.
Led by designer Jessica Mor from sustainable active wear brand 3rd Rock and Central Saint Martins tutor Alis Smith, the students worked incredibly hard throughout the week to create outfits that incorporated a wide spectrum of approaches to sustainability in preparation for presenting them to EJF Patron and 'Queen of Green' Katharine Hamnett and Dilys Williams as part of a live event on the final Saturday at the festival.

Daily talks from EJF and project partners London College of Fashion's Centre for Sustainable Fashion gave the students a more indepth understanding of the role they can play as designers in shaping a fashion industry that protects people and planet with students leaving the workshop committed to incorporating different approaches to sustainability into their design.

Listen to the final event podcast here.

Below we hear directly from two students about their experience taking part in the workshop.

With thanks to all that made this event possible including:

Katharine Hamnett CBE
Jessica Mor from 3rd Rock and Centra Saint Martins tutor Alis Smith for leading the course
Dilys Williams, Anna Fitzpatrick, Renee Cuoco at Centre for Sustainable Fashion for their invaluable support and guidance to the students
Finn Beales for Photography
J&B Sewing for loan of sewing machines
Don Speake Ltd for loan of mannequins
Libby Evans, Nakeisha Sheppard and Oliver Charles Whiting at Future Model Management
Naomi Emmanuelle Make Up
Nancy and Justin Albert at Cabalva Farm for the beautiful shoot location
Trewern Outdoor Centre for the workshop location
MY WEEK AT HAY
By Kate Uzzell


9 students, armed only with our fashion toolkits, a first prototype of the outfit we would produce during the week and the common desire to learn and to change working practices for the better, arrived at Just Fashion 2014 in the beautiful Herefordshire countryside. The air of innovation and possibility was palpable from the off.

Hearing about the work being done at the component organisations The Environmental Justice Foundation and The Centre for Sustainable Fashion as well as being inspired by the success of Katharine Hamnett and 3rd Rock whose head designer Jessica Mor along with Central Saint Martin's tutor Alis Smith gave technical (and moral) support over the course of the workshop. Participants were afforded a wealth of experience and knowledge that they otherwise would not have been exposed to; a surprising point raised in discussion was that whatever we already knew about sustainability had rarely come from our formal fashion education.

We gained insight on current research, relevant designers, different agencies working within our area of interest. This interaction gave the designs context and inspired new starting points for the future.

Not all of the students were aware that there was already sustainability within the creative ways that they worked, and the Centre for Sustainable Fashion were keen to emphasise the power of engagement, trying to change the entire industry singlehandedly may be futile, taking care within your own practice to stand by your ethics is achievable.

Designing for the body in an intelligent and future focused way meant something different to everyone; intelligent textiles, zero waste, reclaimed and repurposed materials, multi purpose clothing, local sourcing, trend-less and art based clothing to interactive design where the wearer has a hand in the design process were all devices tried out during the week, seeing each other's approaches enhanced the impression of endless opportunity.

As students, used to talking ideas through with tutors, confidence was gained from the opportunity of openly discussing in an industry based setting, the way our work currently engages with issues around sustainability and how we see them progressing in the future.

Working within the dynamic environment of Hay Festival meant that daily discussions put issues of sustainability in fashion at the heart of wider debates. Back at the studio, further discussion into the serious issues already addressed by EJF made for an incredibly inclusive and encouraging environment.

Our daily activities such as drafting patterns, finalising finishes and working on accessories for our looks continued well past the expected end of the working day. Tweeting pictures of what we'd been up to was only the beginning of the exposure gleaned from the workshop. Which culminated in interviews with The Telegraph on the professional photo shoot and taking part in live events within the festival where we presented the designs on stage as part of a discussion on sustainable fashion with Dilys Williams and Katherine Hamnett.


IS FASHION, JUST FASHION?
By Filipa Castilho

Fashion is about clothes and accessories combined in styles that change constantly. It translates hopes and dreams into products that we can buy and wear. It reflects lifestyles, cultural movements, social behavior and even political statements. Not everyone reads books, newspapers or watches documentaries about climate refugees, human rights or overuse of natural resources, but everyone wears clothes everyday of their life. It doesn't matter if you're a trend follower or if you only wear jeans and t-shirts, your choice matters: this was one of the most important things I learned when applying and winning a place in the Just Fashion Workshop.

Organized by Environmental Justice Foundation (EJF), Centre for Sustainable Fashion (CSF), the Hay festival and Levi Strauss &Co. (LS&Co.), the Just Fashion Workshop aimed to encourages us to reflect and consider the importance of sustainability and ethics within our designs. The brief specifically asked for an explanation of how I would create the designs incorporating sustainability, so that was my starting point. It made me consider that fashion is not only aesthetics and concept. While researching for the competition I realise that fashion has a real impact in environmental security, social justice and human rights.

My first question was: "We wear clothes everyday and for most of us there are moments (at least once a year) when we make a selection of what to keep and what to cast off. What happens then?" According to Levi Strauss & Co., there are 68 billion pounds of clothing a year that end up in landfills and this is not the end of the story. We don't just cast off the clothes we don't want anymore; we replace most of them for new ones. That means that we not only throw away and waste still viable materials but we also unconsciously take part in the use of new raw materials. And from this thought arose my second question: "How can I, as a fashion designer, create a positive input into this cycle?".

I came up with the idea of brands launching a campaign where, instead of throwing out the garments, the customers would be encouraged to return it to the shops in exchange for a discount off their next purchase. The returned garments would then go back to the manufacturers where they would be cut into strips with various widths and lengths. These strips would be incorporated in new garments as embellishments or replacing entire panels, using basketry and weave techniques. This concept creates a material loop that would help reduce the use of raw material and resources, and decrease the clothes waste while, simultaneously, allowing endless design possibilities. We just need to use our imagination.

At the workshop I discovered different ways to incorporate sustainability and ethics into fashion design, but the key point being that, as a fashion designer I have the responsibility to think beyond the shape, function and technique of the product. I need to ask questions and make informed choices taking into consideration the environmental, social and human consequences of the entire production process and product life-cycle. At the end of the day it is the consumers' choice but it is the designers' responsibility to develop and make available sustainable and ethical products.
SIGN UP FOR OUR EMAILS AND STAY UP TO DATE WITH EJF'S NEWS AND EVENTS
By subscribing to our newsletter, you ensure that you will stay up-to-date with latest news on our work and our campaigns, as well as how you have been part of achieving those goals. We carefully select what goes into our emails so that you will only receive relevant and interesting news about our campaigns. We will let you know when we have exposed a critical environmental issue or uncovered human rights abuses. We will ask you to get involved when your actions can make a difference, and we look forward to inviting you to our events.