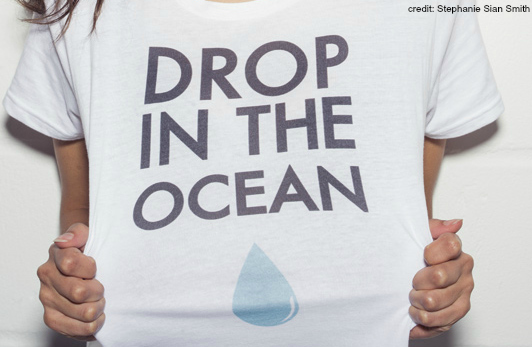 Jun 10, 2014
Just For...EJF launches new pop-up shop in Carnaby
EJF is pleased to announce the opening of another great pop-up shop in the heart of London where we will be showcasing our new Save the Sea designer t-shirt collection.
'Just For… EJF' is opening the doors of the 'Save The Sea' pop-up today, 10th June 2014, at 13, Newburgh Street, where we will proudly be showcasing our newest collection of oceans-inspired designs from British designers, Emma Cook, Patternity and Ollie Proudlock's Serge DeNimes.
This new collection adds to EJF's extensive range of designer tees and has been supported by famous faces including Zara Martin, George Craig, Diana Vickers, James Brown, Kimberly Wyatt, Max Rogers, Caroline Ford, Ben Lloyd-Hughes and Izzy Lawrence. All proceeds support EJF's Save the Sea campaign to end illegal pirate fishing.

As well as this new collection of oceans-inspired t-shirts, the Just For… EJF pop-up sells our full range of designer, 100% organic t-shirts and sweatshirts from designers including Vivienne Westwood, Katharine Hamnett, Giles Deacon, Christian Lacroix and Kenzo.

We're also delighted to be joined by Foundation Agency, InHeels and Yaw Store who will ensure you are able to complement your EJF t-shirt with a range of summer clothing and accessories. Matt and Nat's ethical vegan handbags and accessories will be available to buy as well as a beautiful collection of sustainable womenswear, including dresses, skirts, tops and trousers, all in gorgeous on-trend colours, from independent designers.

The Just For … EJF pop-up shop will be raising vital funds in support of the Environmental Justice Foundation's campaigns to end illegal pirate fishing, ensure recognition and protection for climate refugees, protect precious habitats for bees and end the use of some of the world's most toxic pesticides.

Just For… EJF is open from 10-22 June at 13 Newburgh Street, London, W1, just off Carnaby Street where shoppers can bag the latest must-have ethical item.

If you can't visit in person you can shop online at www.just-for.co.uk
SIGN UP FOR OUR EMAILS AND STAY UP TO DATE WITH EJF'S NEWS AND EVENTS
By subscribing to our newsletter, you ensure that you will stay up-to-date with latest news on our work and our campaigns, as well as how you have been part of achieving those goals. We carefully select what goes into our emails so that you will only receive relevant and interesting news about our campaigns. We will let you know when we have exposed a critical environmental issue or uncovered human rights abuses. We will ask you to get involved when your actions can make a difference, and we look forward to inviting you to our events.