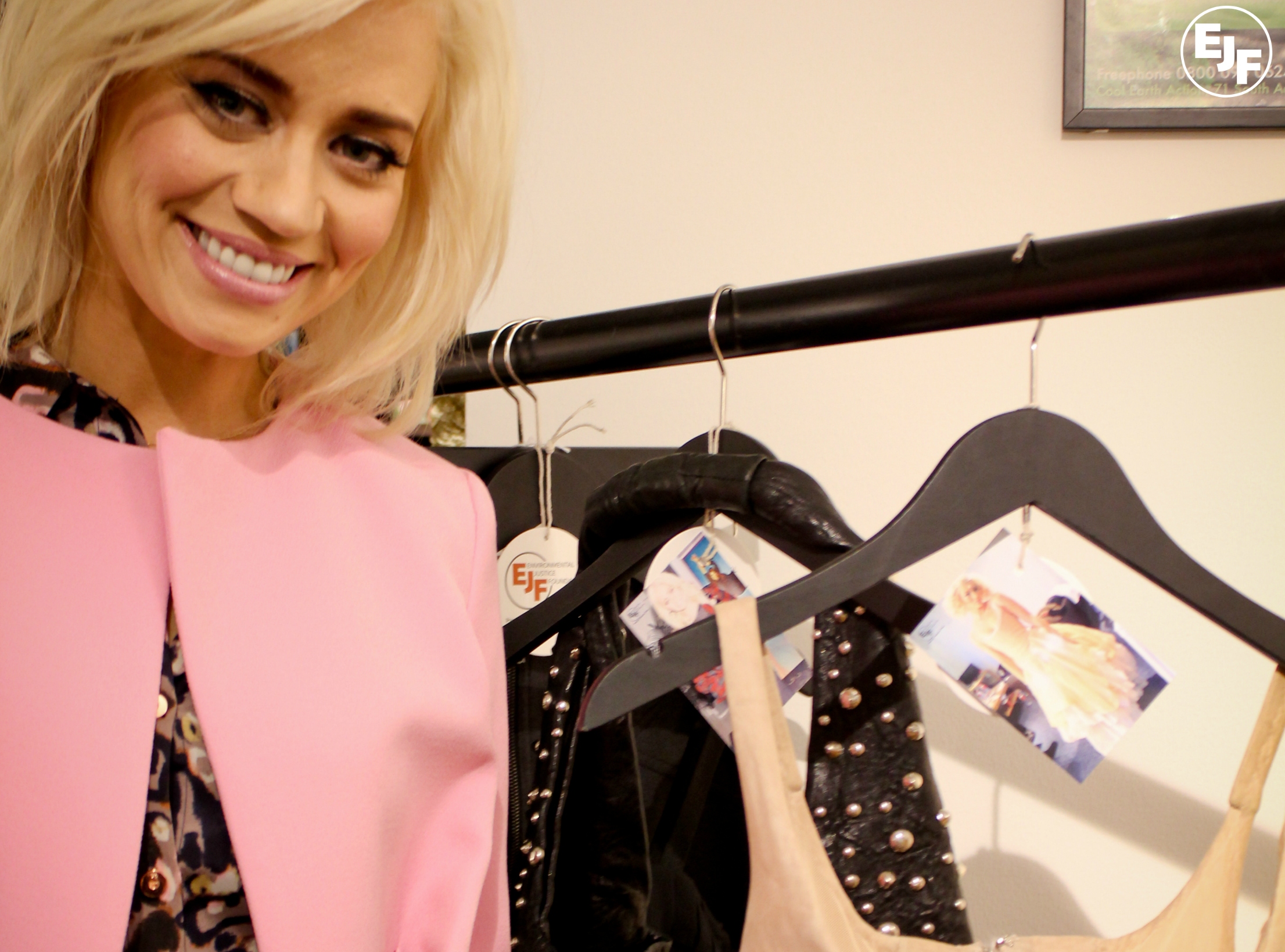 Sep 25, 2013
Kimberly Wyatt donates red-carpet clothes to EJF pop up shop
Former member of The Pussycat Dolls, Kimberly Wyatt, continues her support of the Environmental Justice Foundation (EJF) this week as she donates her favourite outfits to the Celebrity Pre-Loved Wardrobe project to be sold in EJF's pop up shop in Kingly Court, Carnaby Street.
Exclusively available in EJF's pop-up shop, Got To Dance judge and dancer Kimberly Wyatt has generously donated several designer favourites from her wardrobe to raise funds for EJF. You may recognise a couple of the pieces from TV performances and red carpet events including a one-shoulder nude gown by Biba, which Kimberly wore at this year's BAFTA TV awards. All pieces are for sale at 'JUST… BIG TREES little bees' in Kingly Court, Soho, London with all proceeds going to EJF.
Kimberly began supporting EJF last year when she launched the Celebrity Pre-Loved Wardrobe Project in EJF's pop up shop JUST at 46 Carnaby Street. In just 6 weeks all items in the shop had been sold including a Vivienne Westwood gown worn by Kimberly on the red carpet, raising an amazing £2300 for EJF's work to promote sustainable fashion and raise awareness of the environmental and ethical cost involved in clothing. From production to post-consumption Kimberly encourages customers to think about the lifespan and longevity of a product; the environmental and human rights impacts each item of clothing may cause. From water demand and climate change to human rights issues in labour there are global issues which need considering before buying more. The project also supports EJF's 'No Place like Home' campaign for the protection of climate refugees, which launches the 'Postcards from the Frontlines' project this week.
"I support EJF because I want to do my part in helping bring awareness to the limited resources we have on this planet and the impact wasteful demands are having on human rights and wildlife. The issues speak for themselves if they could be heard. I want to help the crisis at hand have a voice." Kimberly Wyatt
Grab the chance to dress like a celebrity whilst supporting a great cause by visiting 'JUST… BIG TREES little bees' and join Kimberly in promoting recycling and ethics in fashion and raising valuable awareness of the impact our consumer choices have on our planet.
EJF's pop up shop is open for 1 more week in Kingly Court, Carnaby Street. Alongside Kimberly's donated items customers can also shop for an extensive line of designer t-shirts, all made from 100% organic, carbon neutral and fairly traded cotton. As part of EJF's campaign to 'Pick your Cotton Carefully', the t-shirts aim to raise awareness of issues such as forced child labour and deadly pesticides in cotton production and encourage consumers to think about where their cotton comes from. All proceeds made from the t-shirts go directly to the charity.
Top designers such as Vivienne Westwood, Katharine Hamnett, Giles Deacon, Alice Temperley and Christian Lacroix have all supported EJF by creating bespoke designs and a host of EJF celebrity supporters have worn our t-shirts including Lily Cole, Naomi Campbell, Emilia Fox, Gemma Kidd, James Blunt, Gillian Anderson and many more. We are also proud to have been a finalist for the Ethical Fashion Forum's Source Awards 2012.
'JUST… BIG TREES little bees' is open Monday to Saturday 11am – 6pm and on Sundays 12pm – 6pm until the end of September. If you're unable to visit the shop for your latest must-have ethical charity item, you can buy online at www.just-for.co.uk