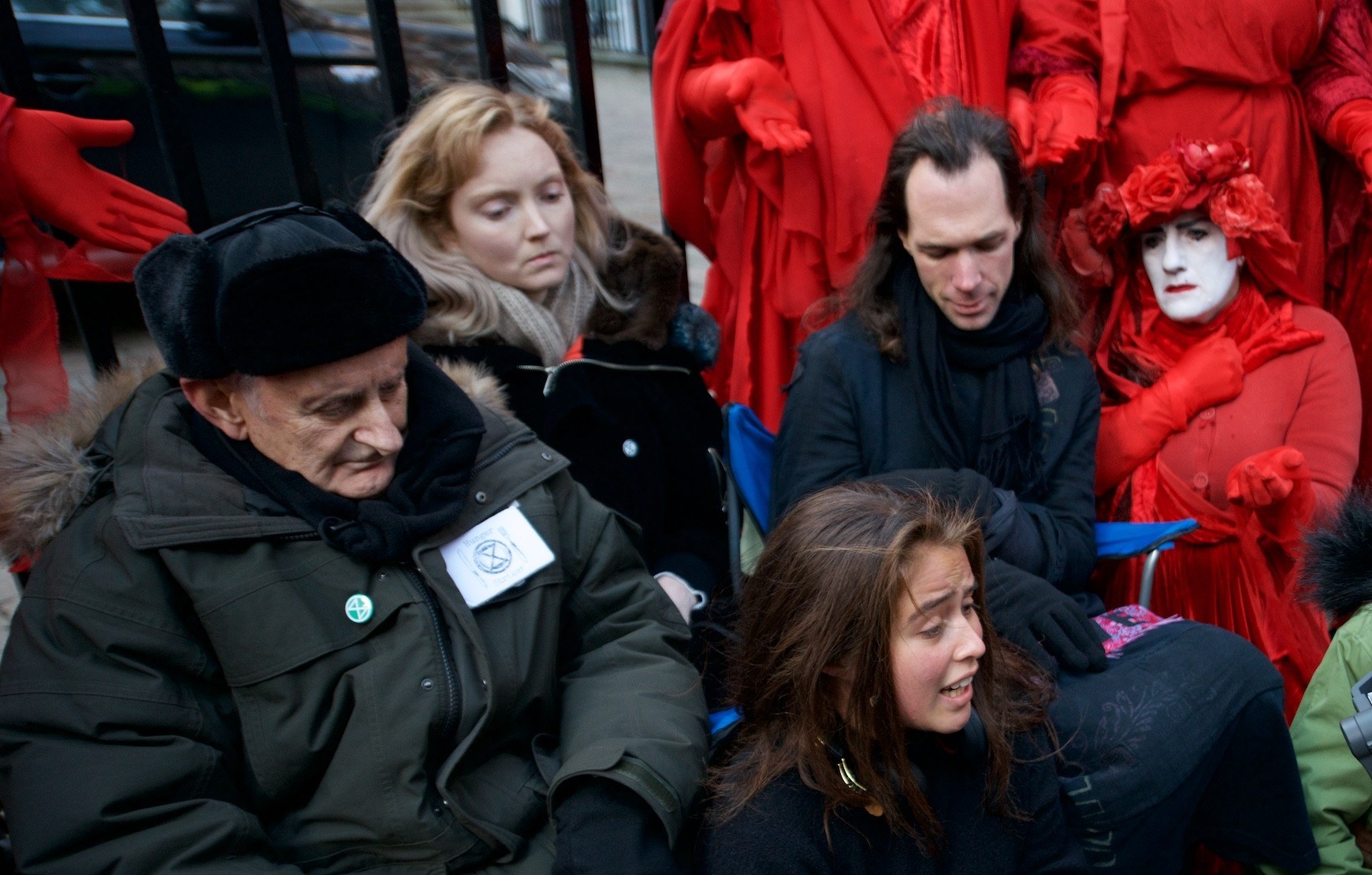 Dec 09, 2019
Lily Cole supports hunger strikes for climate action
Peter Cole and Marko Stephanov are on the 22nd day of their hunger strike for climate action outside the UK Conservative Party's headquarters. To date, not a single member of the party has stopped to speak with them about the most pressing issue of our time. Today Lily Cole – model, author and patron of the Environmental Justice Foundation – visited the strikers to lend her support.
Peter Cole and Marko Stephanov – a medical professor and artist, both part of the Extinction Rebellion movement – describe themselves first and foremost as grandparents who are doing this so they can "look our grandchildren in the eye."

Lily Cole says: "I wanted to come today, to stand in solidarity with Professor Peter Cole and Marko Stephanov, who have been on hunger strike for three weeks, asking our government for stronger political commitments for the climate. These 76 and 67-year-old grandfathers – and hundreds of other hunger strikers around the world – feel so desperate about the climate crisis that they risk damaging their own health on behalf of younger generations. They deserve to be heard.
It is astonishing that in the three weeks that Peter and Marko have stood outside Conservative HQ, not one Conservative MP has met or spoken with them. It was equally disturbing that the Conservative and Brexit party leaders did not attend the recent climate debate.
As agreed by 97-99% of scientists, human-induced climate change and biodiversity loss threatens life as we know it. The United Nation's Intergovernmental Panel on Climate Change have called for "urgent, transformative" change to avert the worst impacts of climate change, and multiple polls show that the majority of British people feel are very concerned.
At this critical moment, we need courageous and ambitious political stewardship from any prospective government. It is heartening to see that most of the major UK political parties have stepped up to make significant climate pledges, and worrying that our current government, standing for re-election, haven't.
We may live in a divisive political moment, but ensuring our environment - our very life support system - is prioritised is not a partisan or ideological issue. We all breathe the same air. The voices of our children and communities should not be ignored."

EJF has been campaigning for many years on the need for action on the climate crisis, and was one of the first organisations to highlight the fact that it is not only an environmental catastrophe, but also a human one. Climate refugees, driven from their homes by climate change, still have no protection under international law.
The failure of Conservative Party to recognise and prioritise the climate emergency and the destruction of our natural environment is wholly unacceptable. Its manifesto contains far too little action for our environment and to prevent the catastrophic heating our world. It lacks vision, ambition and substance. This disregard for the existential threat the climate emergency presents is witnessed by the dismissive, arrogant response to Peter Cole and Marko Stephanov.