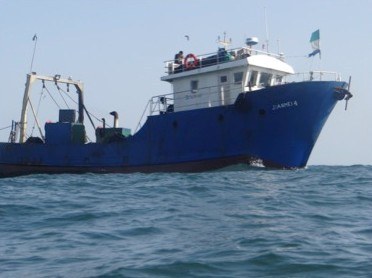 Aug 03, 2020
On the run: Three illegal trawlers flee Sierra Leone to escape justice
Sierra Leone has urgently alerted other states in the region after three industrial trawlers escaped detention in Freetown port. The Jian Mei 1, Jian Mei 4 and Hong Chang 1 had been sanctioned for violating national laws and regulations. Instead of paying their fines, the vessels have fled the country. A regional search has been launched to locate the fugitive vessels and return them to Sierra Leone to face justice.
Illegal fishing is a serious issue in West Africa, with trawlers devastating marine ecosystems and undermining local, small-scale fisheries industries that are critical sources of jobs and food security in the region. In Sierra Leone, fisheries provide 9% of the economy, providing tens of thousands of jobs and the country's main source of animal protein. These plentiful coastal waters are sadly a target for illegal foreign trawlers.
Over recent months, authorities arrested and sanctioned three trawlers—Jian Mei 1, Jian Mei 4 and Hong Chang 1. Each had been documented by local fishers apparently operating in inshore waters where industrial trawling is banned. They were being held in Freetown port while the government awaited the payment of fines. However, on 27 July all three escaped port without paying. Authorities say they are unaware of their location and have appealed to neighbouring states to help locate and return the vessels.
The nationality of the vessel owners has not been verified, though China Dialogue Ocean estimate that 75% of trawlers in Sierra Leone are connected to China. The role of Chinese vessels in West Africa has been under increasing scrutiny in recent months, with Chinese industrial trawlers making controversial efforts to fish in Senegal, Ghana and Liberia, in the face of opposition from local fishing associations.
In letters announcing the escape, Sierra Leone's Minister of Fisheries and Marine Resources, Emma Kowa-Jalloh, said the vessels "were under arrest for infringing the laws and regulations of Sierra Leone [and] have left the country on the 27th July 2020 illegally without fulfilling the relevant sanctions levied on them."
This incident serves to demonstrate the need for greater transparency in global fisheries, including a mandatory global record of fishing vessels to prevent such fugitive vessels simply changing their identity and applying to fish in another country. It is critical that governments across West Africa work together to identify where the vessels have fled to and ensure their return to Sierra Leone to face justice.
SIGN UP FOR OUR EMAILS AND STAY UP TO DATE WITH EJF'S NEWS AND EVENTS
By subscribing to our newsletter, you ensure that you will stay up-to-date with latest news on our work and our campaigns, as well as how you have been part of achieving those goals. We carefully select what goes into our emails so that you will only receive relevant and interesting news about our campaigns. We will let you know when we have exposed a critical environmental issue or uncovered human rights abuses. We will ask you to get involved when your actions can make a difference, and we look forward to inviting you to our events.