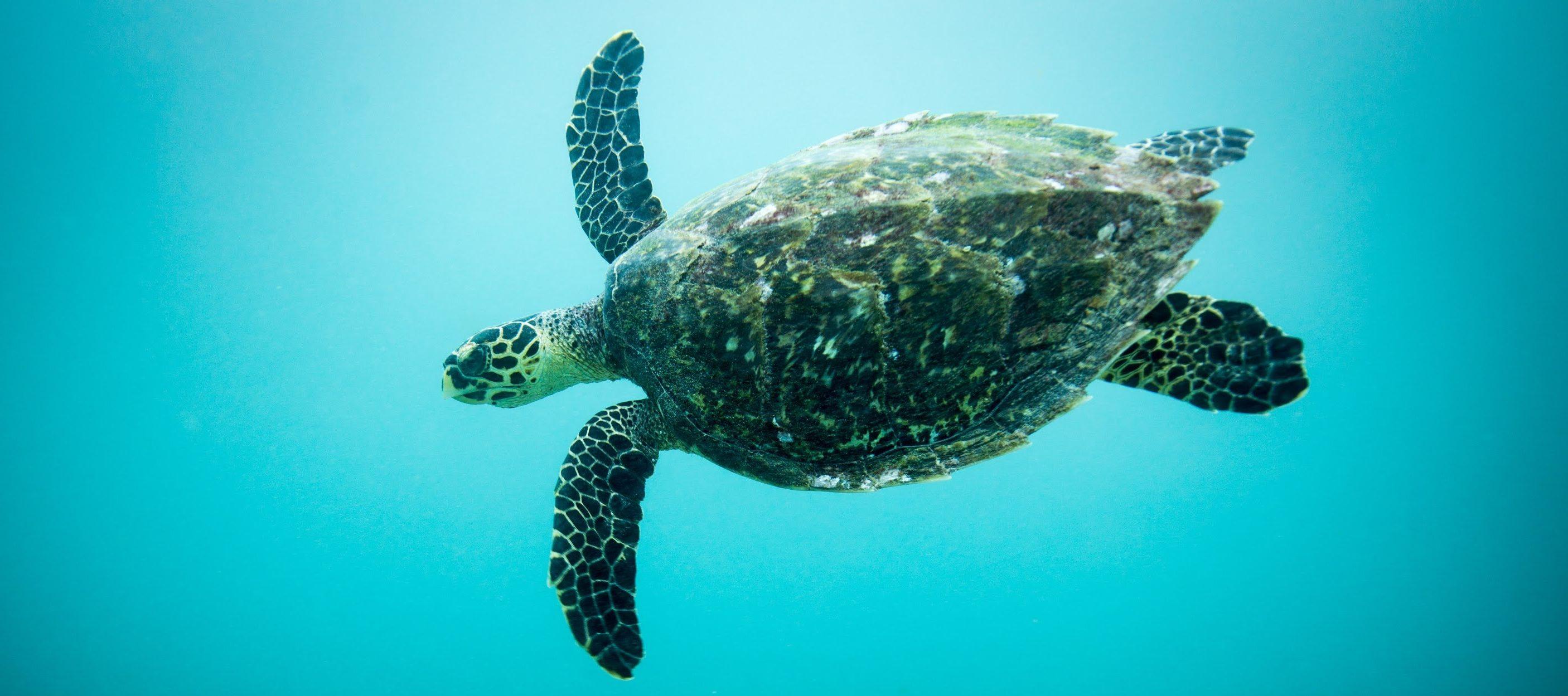 Dec 03, 2019
One week to save sea turtles
Sea turtles are threatened in Ghana and worldwide. Daniel and his football team have been running patrols at night to protect them from poachers, but they need your support to keep going. This week, for every pound you give EJF will get two. You can make the difference for the turtles. Can you help Daniel help these amazing creatures?
Olive Ridley, Leatherback and Green Turtles lie on a desperate spectrum from vulnerable to endangered. Their successful nesting in Ghana is important to the recovery of the species worldwide, at a time when global warming is affecting the sex of hatchlings, and increasingly severe storms are destroying nesting habitats. In Ghana, sea turtles are hunted for their meat, eggs, skin and shells, and can become mortally entangled in fishing lines and nets. EJF's is the first turtle conservation project in Gomoa Fetteh.
With EJF's support, one local football team-turned-turtle-team have been trained in patrolling the coastline, recording data and negotiating with the poachers they meet to help the turtles back to the sea where they belong. At the same time, EJF has been investigating the trade in turtles and exploring alternative livelihoods for poachers and processors. By raising awareness of the significant ecological benefits of turtles, the project seeks to grow the ranks of ocean defenders in town. Sea turtles help coral reefs and fish stocks to recover – by preying on the sponges and jellyfish that eat their young – and so are vital to replenishing Ghana's overfished waters. As Daniel says – "healthy turtles, healthy oceans".
Officially launched at Gomoa Fetteh's annual festival, the project caught the town's attention during a football tournament and a traditional regatta race. The Fetteh Youngsters competed in turtle t-shirts, and boats were adorned with flags declaring the town's protection of sea turtles. Speaking at the festival launch, EJF project officer and football coach Daniel Kwesi Botchwey was optimistic about the project's future: "I think that the EJF turtle project has a very bright future, because, [since] we've started the whole community has come together to support."
Patrols, over 30 to date, are underlining the need for conservation. Distressing encounters include a bloodied Leatherback lacerated by fishing nets, too injured to save. An Olive Ridley tied to a coconut tree by a poacher met a luckier fate, as the team were able to free the animal without confrontation, guiding it safely to the sea. Volunteers are careful to patrol by infra-red light alone, so as to ensure the turtles a safe passage by moonlight.
Can you help keep the team in the field?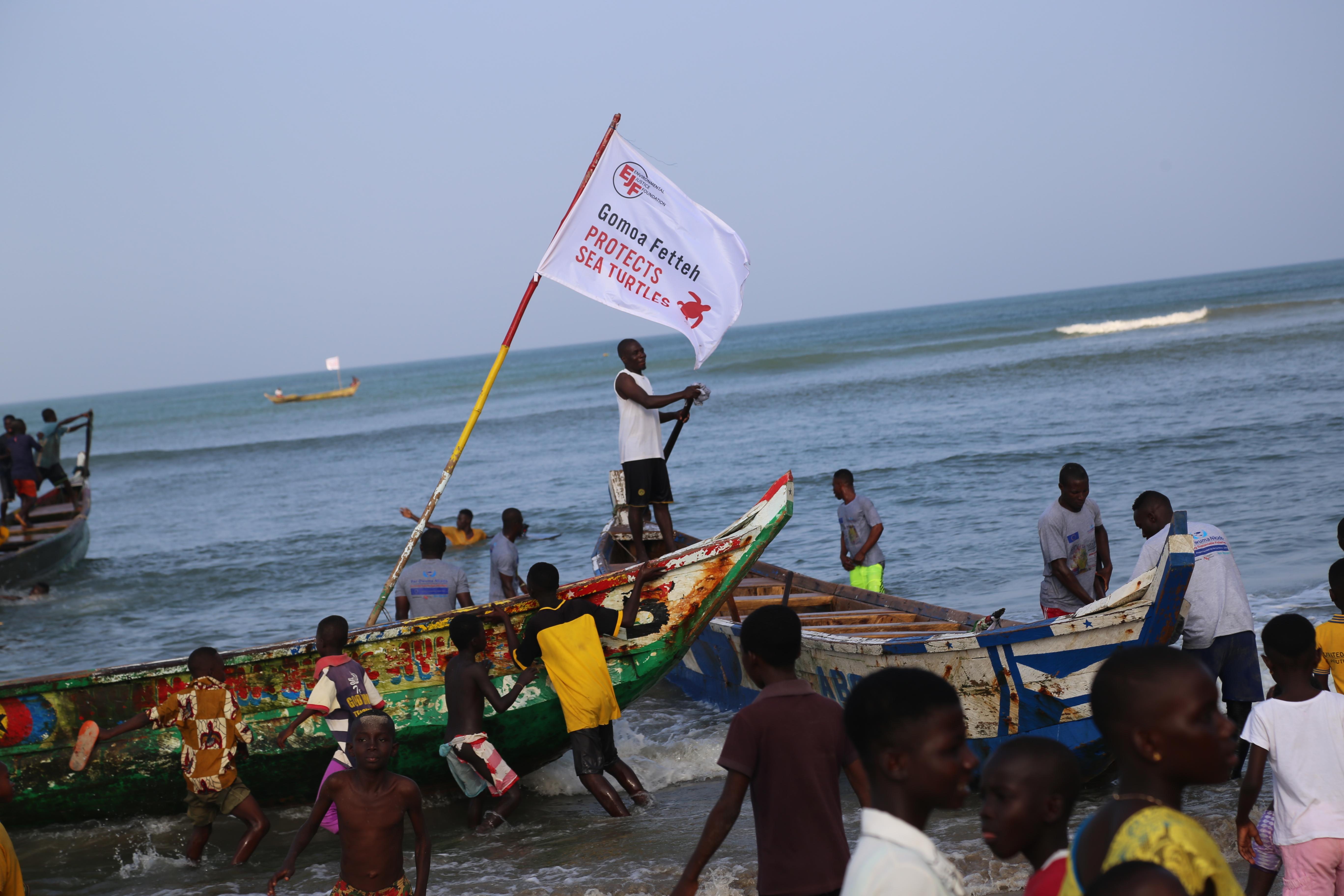 Patroller Robert Kobina Etuah recalls one of his first experiences: "We came across one of the sea turtles, an Olive Ridley. [It] came from the sea to the shore to lay new eggs that day. We kept quiet for the sea turtle to lay its eggs. We protected it, so it returned safely back to the sea."
The nesting season runs from September to March and is an incredibly moving phenomenon. 100 million years of instinct guides a turtle along the invisible lines of the Earth's magnetic field, thousands of miles back to the same beach where she was hatched. A turtle nests against mind-boggling odds: with only 1 in 1000 eggs survive to adulthood.
But Daniel and his team are working tirelessly to give the turtles a fighting chance. For every pound you give, EJF will get two. This will keep the patrollers on the beaches, protecting the turtles and our oceans. Will you support them?
SIGN UP FOR OUR EMAILS AND STAY UP TO DATE WITH EJF'S NEWS AND EVENTS
By subscribing to our newsletter, you ensure that you will stay up-to-date with latest news on our work and our campaigns, as well as how you have been part of achieving those goals. We carefully select what goes into our emails so that you will only receive relevant and interesting news about our campaigns. We will let you know when we have exposed a critical environmental issue or uncovered human rights abuses. We will ask you to get involved when your actions can make a difference, and we look forward to inviting you to our events.