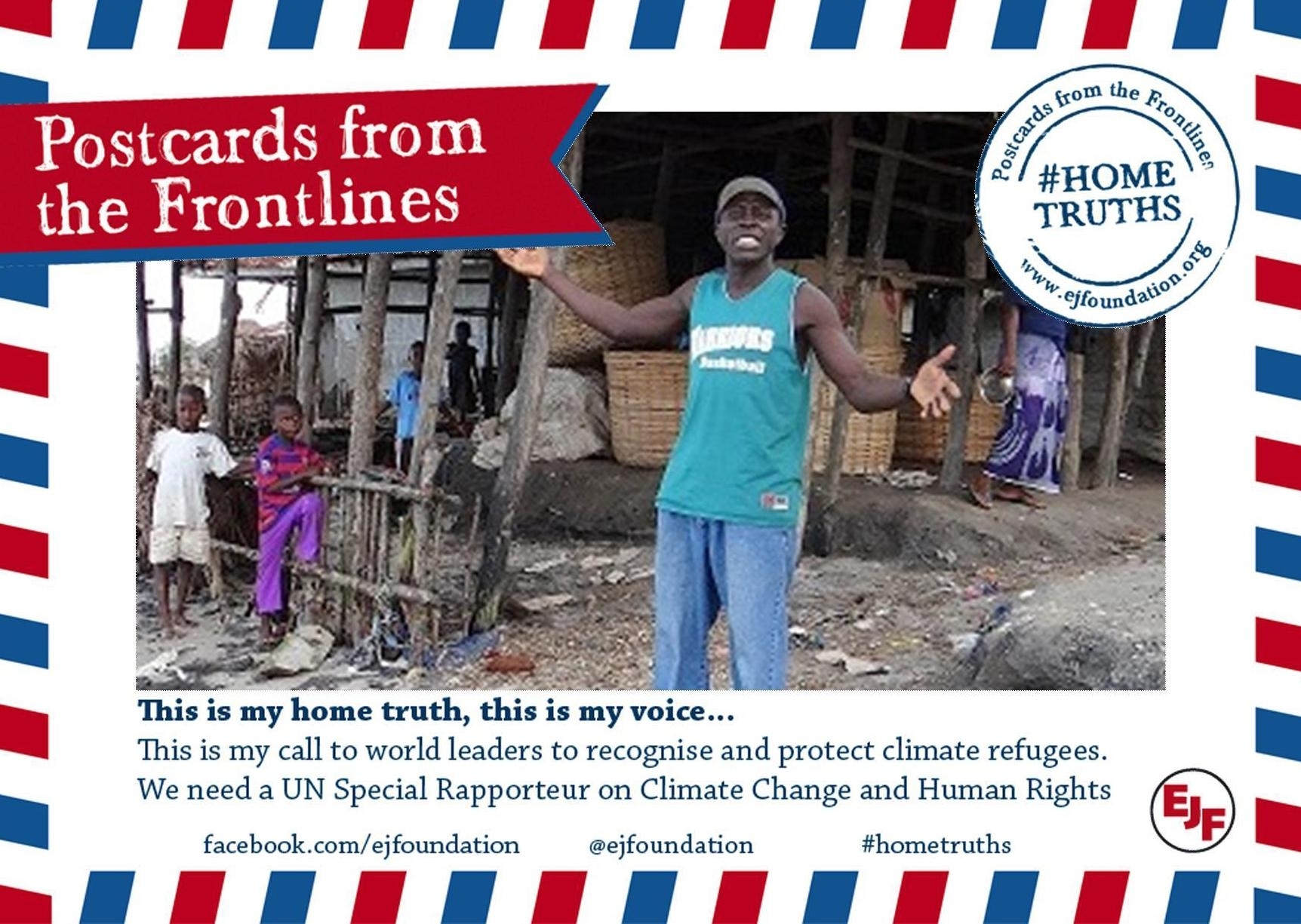 Sep 15, 2014
Postcards from the Frontlines will be sent to the UN on the occasion of the Climate Summit
As the UN Climate Summit meets on 23rd September 2014, the Environmental Justice Foundation (EJF) and ByPost will deliver Postcards from the Frontlines of climate change to the United Nations in New York.
In 2012, 31.7 million people were forced from their homes due to extreme weather events, making one person every second forcibly displaced as a result of the impact of our changing climate. Crucially, those communities least responsible for contributing to climate change are among those first and worst affected.
In today's world of clicktivism, Postcards from the Frontlines uses human faces and stories to give a voice to the millions of individuals already affected by climate change. Postcards from climate witnesses affected first hand highlight the effects on their homes, land and livelihoods and those from their supporters reflect in words and pictures what home means to them, and considers all that would be lost if they were forced to flee.
Extreme weather exacerbated by climate change is causing massive damage to lives and livelihoods on a global scale. Even in the US, one of the world's best equipped and most powerful states, Hurricane Katrina damaged 1.2 million homes and left an estimated 600,000 families homeless for at least a month after it struck.
Although climate refugees are far greater in number than those fleeing conflict, they are not recognised by any international law. A Special Rapporteur on Climate Change and Human Rights would help inform the UN and all its members of the plight of climate refugees and identify measures to address this pressing human rights and environmental crisis.
"Postcards from the Frontlines personalises climate change by showing the range and extent of the impacts that climate change is having on individuals around the world, making it relevant to each of us by asking us to consider what home means to us. EJF believes climate change is the single greatest threat to our collective environmental security and basic well-being and we must act to protect the millions of people around the world who are already being affected." - Steve Trent, Executive Director of EJF
"The idea that in this cold weather, that somehow in the middle of the night you'd be woken up by a flood or something, and you'd have to crawl out on your roof in your totally wet clothes and sit shivering in the hope you might be rescued. Home more than anything means warmth and bed. What we're talking about regarding climate change refugees is total chaos where natural disasters are more intense and more often. The world is giving us this warning of more horror to come." - Vivienne Westwood, who launched the campaign at London Fashion Week 2013
"Climate change is here. As natural disasters increase and sea levels rise, millions will flee their homes. Shortages of land, food and water will amplify the scale and complexity of violent conflicts. The International Rescue Committee is working with vulnerable communities around the world to build their resilience to climate-related threats." - David Miliband wrote on his postcard
"We are only beginning to get our heads around the devastation we have wrought through climate change. It is the actions of those who have the most that are being felt most severely by those who have the least. Yet the institutions we have to deal with these problems, are based on nation states, that take little or no responsibly and don't appear to want to reach agreement on how to respond. Yet we are witnessing millions without homes, seas without fish, and the potential for life without a future…" - Peter Gabriel wrote on his postcard
"We left Kiribati because you cannot live there anymore. We wanted to have children and did not want them exposed to the risk of disease or drowning in Kiribati. We fear returning because it is unsustainable and our children will be harmed if not killed by climate change problems." - Ioane Teitiota, the world's first climate refugee who was forced to return to his home of Kiribati, wrote on his postcard