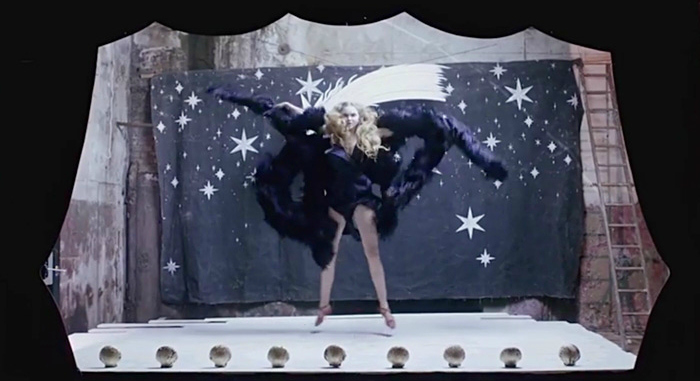 Dec 17, 2013
'Red Shoes' Film Collaboration by Vivienne Westwood and Lily Cole Raises Awareness of the Plight of Climate Refugees
A short film directed by Lorna Tucker, produced by Finished Films, starring Lily Cole, styled by Vivienne Westwood, with original music written and produced by TOYDRUM featuring Abi Wade.
'She danced, and was obliged to go on dancing through the dark night. The shoes bore her away over thorns and stumps till she was all torn and bleeding; she danced away over the heath to a lonely little house. Here, she knew, lived the executioner; and she tapped with her finger at the window and said: "Come out, come out! I cannot come in, for I must dance.' The Red Shoes, Hans Christian Andersen
Inspired by Vivienne Westwood's Climate Revolution, in association with EJF, RED SHOES is a journey through a dark, enchanted space where decay and opulence sit side by side. The dance of death must end. Trapped in its hostile environment an animal will die. It will try to leave. It will leave but there is nowhere to go. Lily dances, trapped in a macabre and beautiful nightmare, swept up in a fight against pain, suffering, greed and lies. RED SHOES is a dance for truth, for freedom and for life. Watch the film here. RED SHOES, and an exclusive filmed interview with Vivienne Westwood and Lily Cole, first appeared in an exclusive feature on Dazed Digital here. Watch the interview here.
Climate Revolution is joining EJF in asking you to help climate refugees by sending free 'Postcards from the Frontlines' online to arrive as paper postcards on the doorstep of the UN, caling for positive change. Join the global movement and send UN Secretary-General Ban Ki-moon a free postcard today, via our project partner ByPost, sharing how you have been affected by extreme weather yourself, or what home means to you in the face of climate change.

Vivienne Westwood wrote on her postcard:
Anyone who gets home late from work and finds she's forgotten the key. What a disaster! My home is my refuge.
Lily Cole wrote on hers:
Planet earth is our home. Yet climate change now makes someone homeless every second.
Lily Cole and Vivienne Westwood have been long-term collaborators and friends. Together they created Lily's iconic dress for the Met Ball 2013, which was made from wild, sustainable rubber from the Amazon, as part of Lily's work with Sky's Rainforest Rescue campaign. Lily wears the wild rubber dress in the closing shot of the RED SHOES film in collaboration with Impossible.