It is often those made invisible who suffer the most from the climate crisis. The Horn of Africa, now experiencing its fifth consecutive failed rainy season, is in the midst of one of the worst droughts the world has seen in recent years. Around one million people in Somalia have been displaced from their homes. Female refugees in particular have been forced to shoulder the brunt of the crisis.
For these women, pre-existing discrimination is made far worse by extreme drought. The stories of the female refugees in Dadaab paint a picture of inequality entrenched by the climate crisis, but also of resilience in the face of extreme adversity. Today, International Women's Day, we are sharing their stories and calling for urgent action to protect the human rights of climate refugees.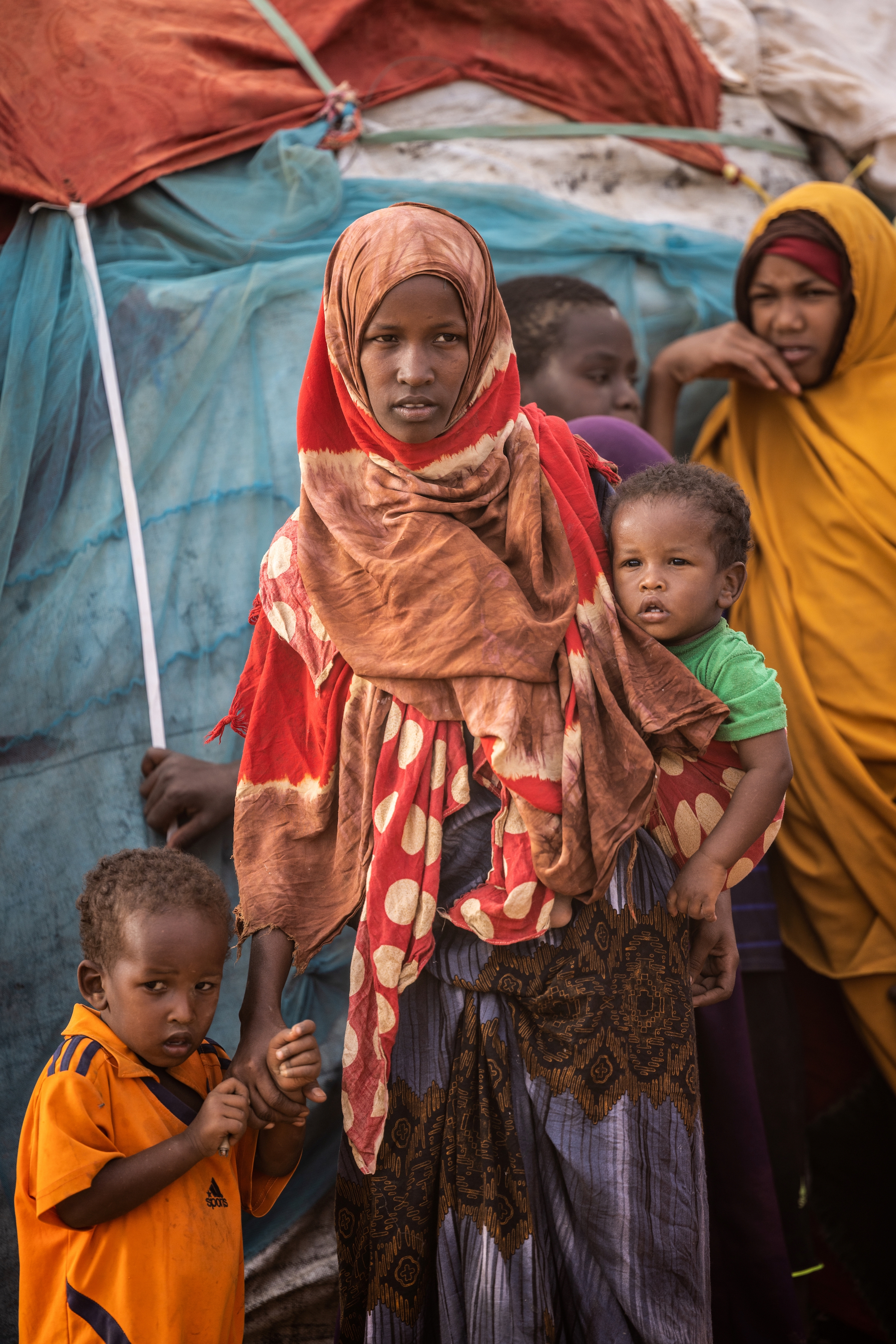 There was a severe drought in which the farms and livestock were decimated. The farms dried out and the cattle died off due to famine. We had 40 goats – all of them have died.
Fahia Abdullahi, pictured with two of her children
The Dadaab refugee camp was set up in 1991 to temporarily host Somali refugees fleeing civil war. However, years of conflict and drought mean it has persisted. Khaira Hassan Mohammed has lived in the camp since the 2011 famine, and is now 99 years old and in need of medical care. She had 6 children but, heartbreakingly, she has buried them all since arriving. When asked about what she expects from the future, she said, "Don't ask me about my life, I don't receive anything, nobody helps me."
Many more mothers in the Horn of Africa will have to bury their children in the face of drought, as around 20.2 million children face the threat of severe hunger. Adult women must protect their children while suffering themselves, as 380,000 women in Somalia are currently pregnant and in need of life-saving health services. Women of all ages, from elderly women like Khaira to young children, have a right to their health and dignity.
Fighting for an education
Halima has seven children and is a single mother. She is disabled and cannot work, and has to take care of her children all alone. She fought for her children to get an education.
In the Horn of Africa, 15 million children are out of school, and there are fears the drought will add 3.6 million more. Girls are at a disadvantage, and are often expected to take on caregiving roles, particularly in times of crisis when support is most needed. Child marriage cases are also rising, leaving girls with no upward mobility and vulnerable to domestic violence. Halima fought for her children's right to an education, but societal barriers make this difficult for most women to access.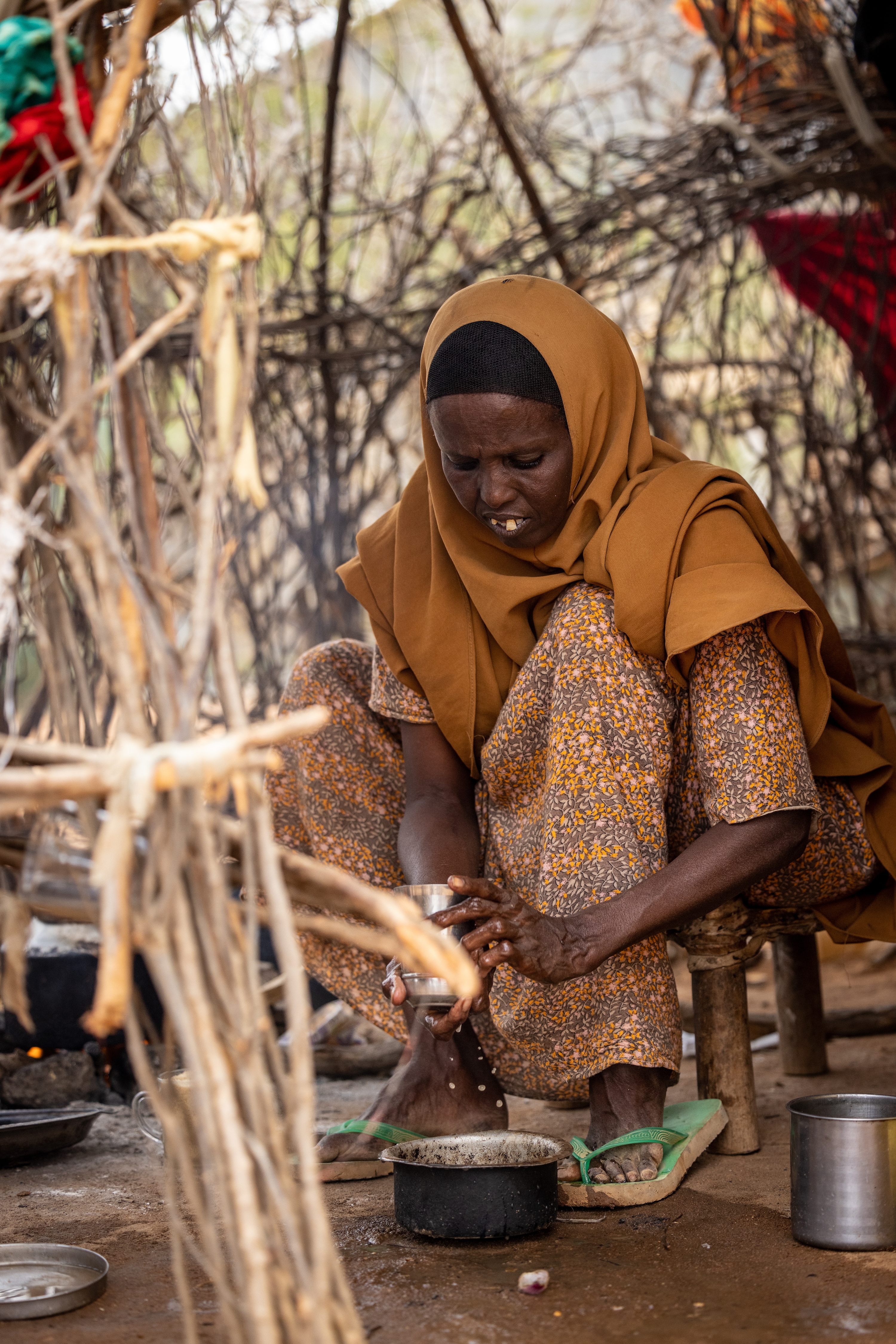 I begged a teacher at the school to allow them to enrol. I told him, 'Please brother, I don't have money, these are kids, let them learn.' Eventually, the teacher allowed them to enrol in school – thank God, all praise is to Allah.
Halima Hasaan Ibrahim, refugee in Dadaab refugee camp
According to the UN, in Somalia there was a 20% increase in intimate partner violence and rape incidents between January and May 2022. In refugee camps, women are also exposed to more violence.
Wiilo and Iasha are not registered with the camp. They told us how when searching for firewood, men would stare at and chase them, and some girls who were caught were badly beaten.
This happens all too often. A 2014-2017 study of Dadaab found that 47% of women there reported experiencing intimate partner violence and 39% reported non-partner violence. Women in refugee camps like Wiilo and Iasha risk their safety every time they venture out to find resources for their survival.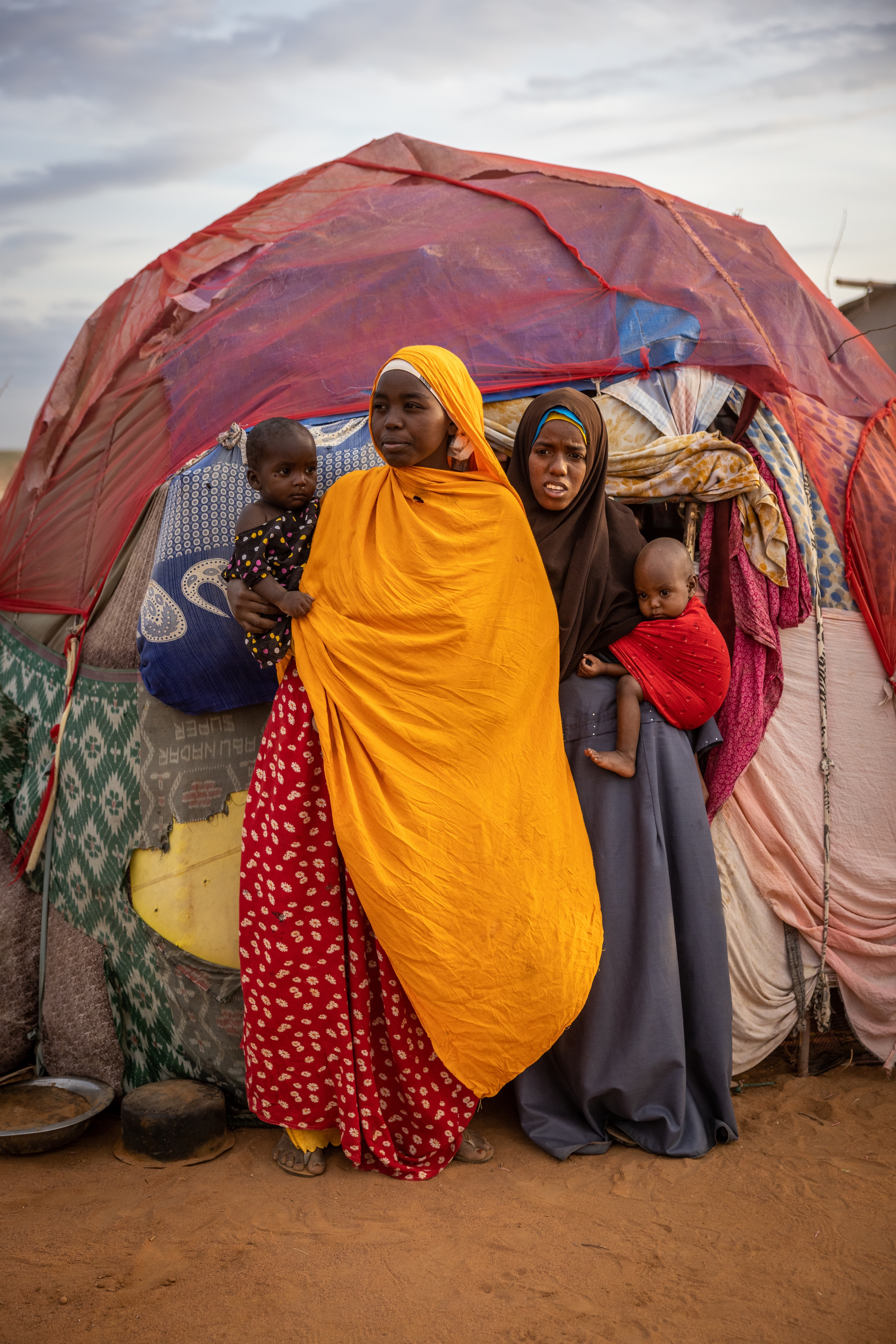 We are also afraid of thieves. They rob houses, and girls are raped. It is trouble and suffering… at night, you have to be on alert.
Wiilo Ibrahim, pictured in yellow holding her baby
However, there are stories of hope like Fardowsa, a female journalist who conducted these interviews with EJF. Born in Dadaab, her mother moved there in 1991 to escape the civil war in Somalia. Despite very few opportunities for journalism training and other barriers to women, she has worked to become one of the five female journalists in Dadaab. Fardowsa's radio show focuses on amplifying the voices of the women in the camp and shedding light on the climate crisis.
Generations of women should no longer continue to suffer because of the actions of the few who are tearing the planet and its people apart for their profit. Women must be empowered to get an education and take on leadership roles.

Women are the most vulnerable in the world… If she's living alone with the kids, she fears for herself because of safety, she fears for her children because of food insecurity – so many things combined.
Fardowsa, on the women of Dadaab
Women in the Horn of Africa are living on the frontlines of the climate crisis and battle each day against impossible conditions. We can highlight their stories of resilience and struggle but also recognise that they should not be in this situation. These women deserve a right to a safe home, food and water, an education, healthcare and to live free from fear of violence. The climate crisis is a crisis of women's rights – all climate action must work to combat this inequality and centre their voices.
We challenge any leader of a high-polluting nation or CEO of a fossil fuel company to listen to the women and children of Dadaab - on the front lines of the climate crisis despite the fact they have not caused it - and then continue to drag their feet on decarbonisation. This appalling injustice demands rapid emissions cuts and a legally binding global agreement to protect the rights of climate refugees, including specific recognition of gender inequalities. It cannot wait any longer.
Steve Trent
EJF CEO and Founder
Sunny Sichi
Communications and Campaigns Assistant