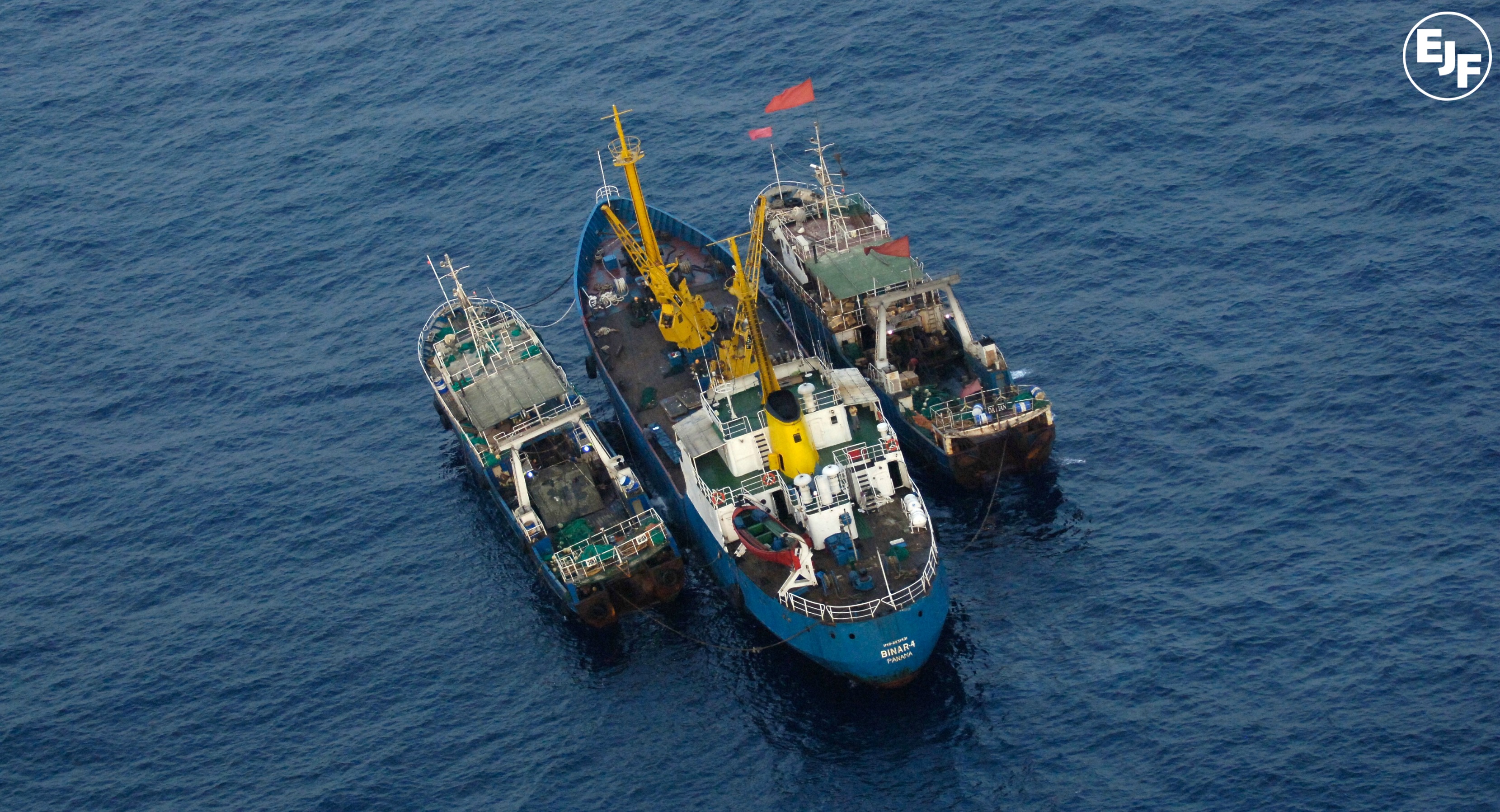 Oct 28, 2010
Sierra Leone lowers the flag on 'pirate' fishing operations
Sierra Leone has taken a global lead in tackling illegal, unreported and unregulated (IUU) fishing by closing its shipping registry to foreign-owned fishing vessels.
Speaking in Sierra Leone's capital Freetown today, Fisheries Minister Joseph Koroma announced that the cabinet had unanimously agreed to close the Sierra Leone international ships registry to foreign owned fishing vessels, effectively banning the sale of so-called Flags of Convenience, used by pirate fishing operators to disguise their activities.
"We are very proud to be the very first nation to take this extremely important step in our efforts to combat IUU fishing," said Koroma. "We worked very closely with our partners the Environmental Justice Foundation to achieve this action," he added.
The announcement comes ahead of an international meeting in Freetown coordinated by EJF in collaboration with the Ministry of Fisheries, bringing together stakeholders including fishing communities, politicians and NGOs to address the issue of IUU fishing in West Africa. The event will be opened by the country's President Ernest Bai Koroma, who recently told Parliament that "Sierra Leone's fisheries and marine resources could yield more revenue for Sierra Leone's people if properly regulated and managed."
Ranked 180th out of 182 countries on the United Nations Human Development Index, fish represents 80% of animal protein consumed in Sierra Leone. Employing 230,000 people, fisheries make up 10% of the country's gross domestic product (GDP).
But along with other West African countries in the FAO 34 catch area notorious for the world's highest rate of IUU fishing, Sierra Leone has been targeted by pirate fishing trawlers that use banned fishing gear, target protected species and operate inside the Inshore Exclusion Zone (IEZ), reserved for artisanal fishers.
In addition to the estimated US $29m in lost income to the country, pirate fishing operators devastate Sierra Leone's marine habitats and endanger the lives of local fishers whose nets and boats are frequently targeted by illegal vessels.
Flags of Convenience (FoC) facilitate IUU fishing by enabling owners of pirate fishing vessels to remain anonymous, avoid fisheries management agreements and ignore human rights violations onboard trawlers.
Until now, Sierra Leone was one of 44 countries operating open ship registries that are unable or unwilling to regulate fishing vessels flying their flags. Honduras, Panama and Cambodia are the FoC with the largest numbers of fishing vessels on their registers, landlocked Bolivia and Mongolia also operate open registries.
In contrast to the tens of millions of dollars lost as a result of IUU fishing in Sierra Leone, the country's international shipping registry based in New Orleans is estimated to bring in just 10,000 dollars per year. By operating an FoC register, Sierra Leone risked sanctions by Regional Fisheries Management Organisations (RFMO) such as the International Commission for the Conservation of Atlantic Tuna (ICCAT).
The news was welcomed by the Environmental Justice Foundation (EJF), the environment and human rights charity working with artisanal fishing communities and the Sierra Leone government to combat IUU fishing.
"Coastal communities across West Africa are suffering from the crimes committed by illegal trawlers flying Flags of Convenience. The Sierra Leone government's decision must be followed by other FoC countries if we are to have any chance of preserving marine ecosystems and guaranteeing the livelihoods of artisanal fishers." Victor Cole, EJF Sierra Leone Representative
"Closing the loophole that allows illegal fishing operators to exploit Flags of Convenience hasa been identified as perhaps the single most effective measure to combat IUU fishing globally. We would like to congratulate the Government of Sierra Leone's actions and leadership today, and call for other countries and the international community to follow their lead and close the FoC system to fisheries vessels once and for all." Steve Trent, EJF Executive Director