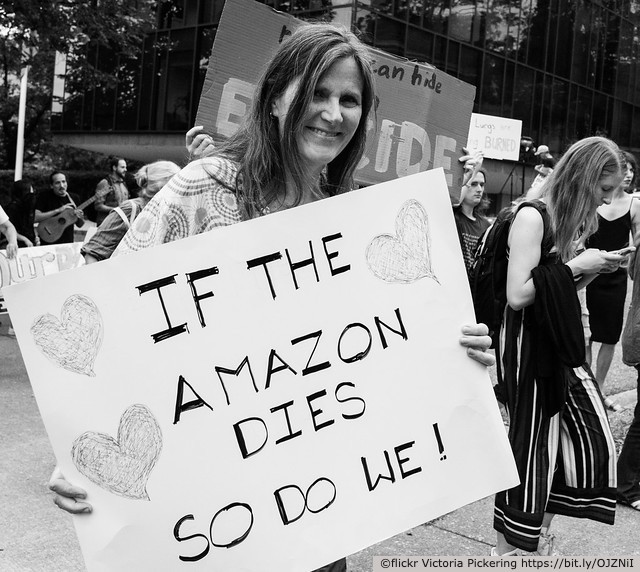 Aug 27, 2019
The Amazon is burning, but there are things you can do
The Amazon is burning. Iceland has just held a funeral for the first glacier to be lost to the climate crisis. It's difficult not to look at world right now and feel hopeless and powerless. But there are things you can do.
Demand more from the politicians that represent you. Climate change is a vast and complex issue that needs action from the grassroots to governments ­– what are your representatives doing to tackle it?
Here at the Environmental Justice Foundation we work to keep the pressure for change high on the political agenda – see how you can get involved with our work.
"Activism works, so act." – Greta Thunberg
This is a powerful way to fight climate change. Avoiding a single roundtrip transatlantic flight will save 1.6 tonnes of CO2 or the equivalent in other greenhouse gases.
We have a tendency to undervalue what is on our doorstep, but why not think more local for your holiday this year?
If there is no alternative to flying, use an effective form of carbon offsetting that will have a real, lasting impact on emissions.
Transport now accounts for 26% of the UK's greenhouse gas emissions, and living car-free would save an average of 2.4 tonnes of CO2 every year.
It also comes with all sorts of other benefits. It reduces the air pollution that chokes many of our cities. If you switch to walking or cycling, it will be good for both your physical and mental health. If you switch to car sharing, you can make a boring commute into a sociable chat. Switching to an electric car can also help bring emissions and air pollution down.
Overall, 25% of UK greenhouse gas emissions come from energy supplies, second only to the transport sector.
This is an easy pledge, but effective. A simple search on the internet, pick up the phone and switch to green. Renewable energy is one of the most effective tools we have in the fight against climate change, and wind and solar energy have experienced remarkable growth and huge cost improvements over the past decade.
If you have the funds, you could buy solar panels and produce your own electricity – saving you money, while you help to save the planet.
In 2016, the world's top 20 meat and dairy companies emitted more greenhouse gases than the whole of Germany, Europe's biggest climate polluter.
The meat and dairy sector is among the biggest emitters of the greenhouse gases. A total of 14.5% of the world's greenhouse gas emissions come from the livestock sector, the UN Food and Agriculture Organization estimates.
If you go veggie today, you could save 0.8 tonnes of CO2 (or the equivalent in other greenhouse gases) every year. Widen your culinary repertoire, explore some interesting new dishes and fight the climate crisis, what is there to lose?
The climate crisis is vast and daunting. But together we can do this, and our planet needs us now.
SIGN UP FOR OUR EMAILS AND STAY UP TO DATE WITH EJF'S NEWS AND EVENTS
By subscribing to our newsletter, you ensure that you will stay up-to-date with latest news on our work and our campaigns, as well as how you have been part of achieving those goals. We carefully select what goes into our emails so that you will only receive relevant and interesting news about our campaigns. We will let you know when we have exposed a critical environmental issue or uncovered human rights abuses. We will ask you to get involved when your actions can make a difference, and we look forward to inviting you to our events.