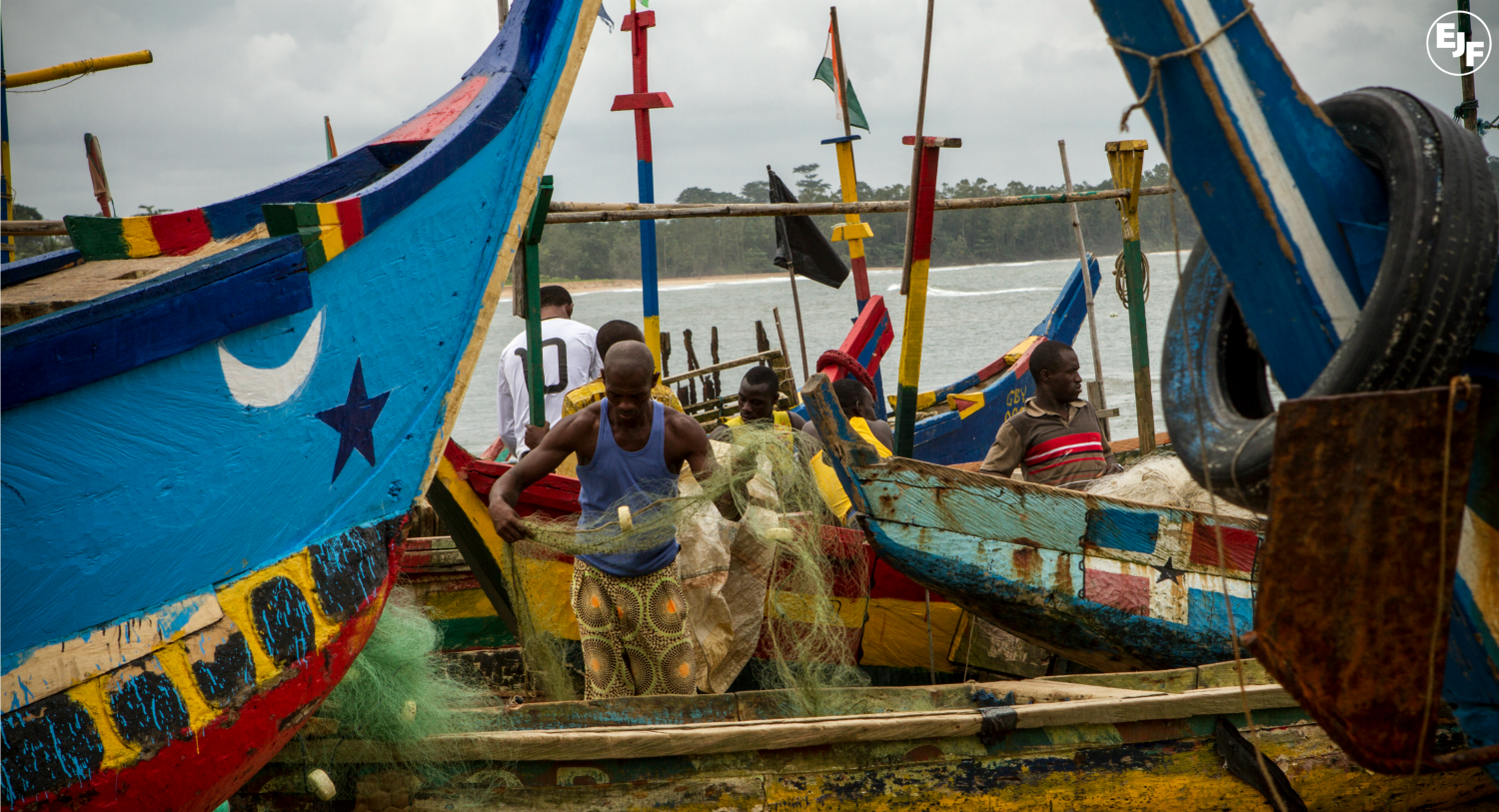 Jul 25, 2012
update from ejf's oceans team
Following the displacement of a large number of Illegal, Unreported and Unregulated vessels from Sierra Leone, EJF is stepping up its fight against IUU fishing in West Africa.
In it's two years since the EU Illegal, Unreported and Unregulated (IUU) Fishing Regulation came into force, and there are signs of progress in the fight against illegal fishing in West Africa, but there is still a lot of work to be done.

EJF's Oceans team went to Las Palmas, Liberia and the UN Committee for Fisheries meeting in Rome (COFI). We listened to the concerns of local communities in Liberia who are facing incursions from industrial vessels from neighbouring Ivory Coast. We appeared on local Canarias TV explaining the benefits of a controlled port and informing viewers that regulation on IUU does not mean job losses. Together with African delegations we highlighted the detrimental effects of IUU, and we heard encouraging news form COFI.

One of the big concerns for port authorities is that it's very difficult for them to be sure that the information contained in catch certificates is accurate due to the lack of controls in the rich fishing grounds off West Africa. EJF's community surveillance project is addressing this by providing evidence of vessels operating illegally in Sierra Leone's Inshore Exclusion Zone (IEZ), an area reserved for artisanal fishers.

We were in Las Palmas de Gran Canaria investigating the entry of fish caught by fishing boats operating in West Africa. We met with port authorities and fish importers to discuss the work being done to strengthen port controls and prevent the import of illegally caught fish. We also appeared on local TV to explain the benefits of a well-controlled port and address any concerns that EJF's work has caused job losses or a decline in fish trade.

In the past year, EJF's project has already led to half a million dollars of fines for illegal operators and some high-profile seizures of fish. Evidence shows that EJF's work is causing companies to avoid Las Palmas and use other ports along the West African coast to land their fish.

Over the next year, we will be developing our campaign to ensure that there are no safe havens for illegal fishing or Ports of Convenience for the illegal fish trade. The improvements in Las Palmas are significant but they have to be matched elsewhere to avoid us simply displacing the illegal fish trade to other areas.

From Las Palmas, we travelled to Liberia, where the Government is working hard to combat illegal fishing and promote community management of fisheries. In Robertsport, EJF is working with the West Africa Regional Fisheries Project to support the creation of a Co-management Association, which will enable local fishing communities to make decisions about how to manage their resources.

This month, we have been working with local stakeholders to disseminate a draft constitution which will enshrine the role of communities in fisheries management. A visiting marine scientist, Adam Fullerton, has also been working with local fishers to do some fish sampling – the result will be a fish guide similar to one we are producing in Sierra Leone.

We then travelled to the south of Liberia, where we met fishing communities who explained that they have been suffering incursions by large canoes and industrial vessels from neighbouring Ivory Coast. Working with the County Agricultural Coordinator and local staff from the Bureau of Fisheries, we were able to disseminate details of the new IUU Fishing hotline set up by the Government so that information can be communicated and acted upon as quickly as possible. We also initiated investigations into a number of vessels we believe have been operating illegally in the area.

In southern Liberia, communities highly dependent on fish stock are facing many challenges, including not having enough fishing equipment. Their vulnerability was all too clear when an unsuccessful fishing trip meant that the entire community went without animal protein for the next two days.

But there were also signs of hope. In Grand Cess for example, the community is eagerly awaiting the opening of a new fisheries cold storage and processing centre. The centre will also provide boat engines for fishers to enable them to go out further and be more resilient to bad weather conditions. Now that there is a reduced amount of illegal trawling in Liberia, fishers feel more confident about going to sea, particularly at night time, when it can be notoriously dangerous to be near trawlers in a canoe.

From southern Liberia, we travelled back to Europe and the dramatically different setting of Rome, for the United Nations Food and Agriculture Organisation Committee on Fisheries (COFI). This is the UN's biennial fisheries meeting and this year, there were some very important topics related to IUU fishing on the agenda. EJF worked with the Group of African Countries who started each day early with strategy meetings, debating and agreeing on the position of the group. The group was very effective at highlighting the importance of small-scale fisheries to Africa and the impact of illegal fishing on their countries. They also discussed recent progress made across the continent, including community surveillance in Sierra Leone.

Encouragingly, COFI members strongly endorsed the Port State Measures Agreement, the Global Record and standards for Flag States which are all key tools in the fight against IUU fishing. EJF will now be working to ensure that this admirable rhetoric is converted into meaningful changes for fishing communities in West Africa and beyond.

In the corridors, EJF was able to hold successful meetings with delegations from Spain, Canada, Guinea, Republic of Korea, Sierra Leone, Ghana, Congo, Senegal, Russia and Honduras. We will be following-up with further dialogue with these countries during the coming months.

So thank you all for the support and guidance you are continuing to provide the EJF Oceans campaign. We'll be continuing to keep you up-to-date with progress in West Africa as well as wider campaign developments. Watch out for a new EJF Oceans report to be published in autumn.