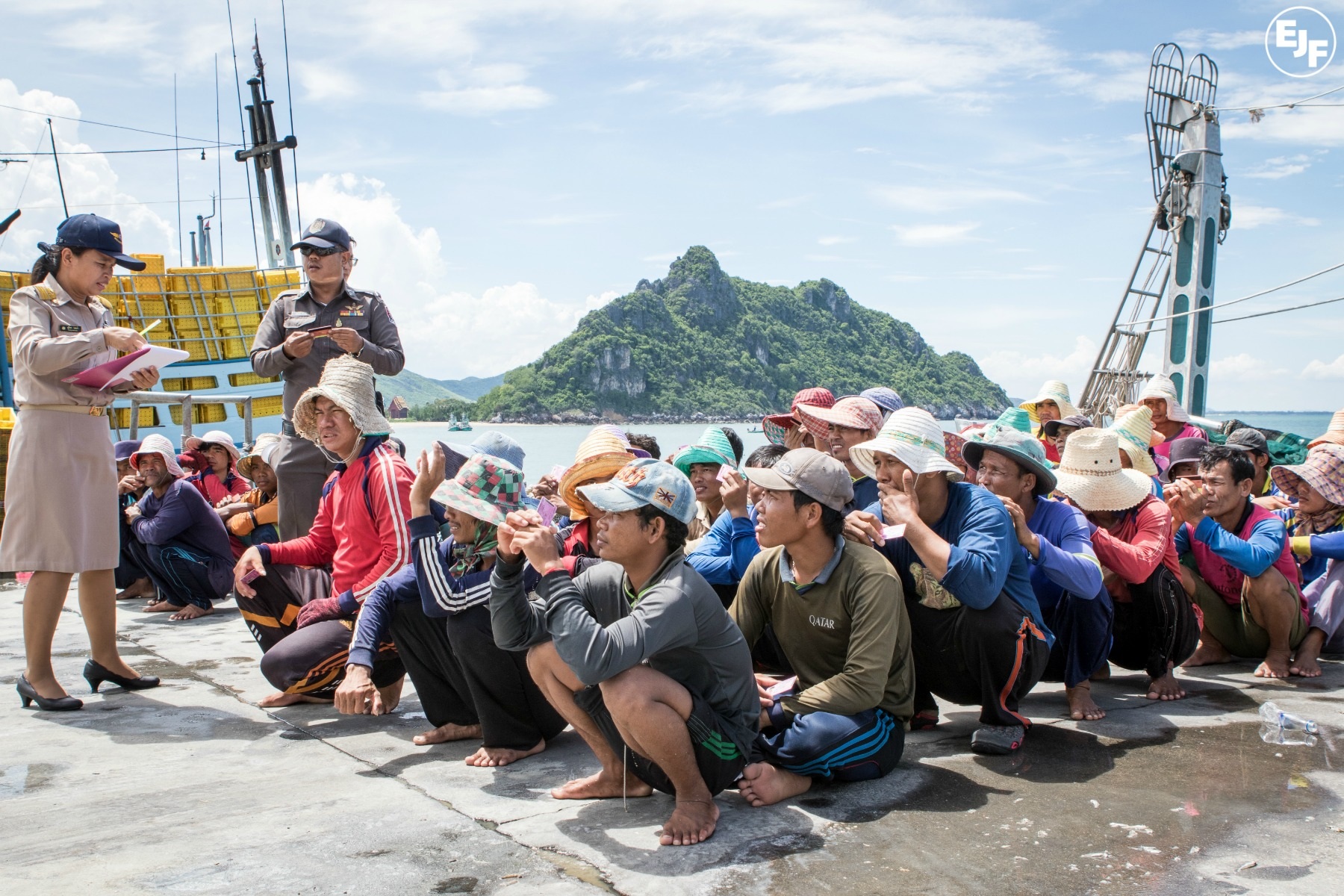 Mar 13, 2017
EJF in the field: Vessel monitoring training in Thailand
EJF has been working in Thailand for four years now.
Over that time, we've worked to uncover and combat the illegal fishing practices decimating the country's coastal waters, and the human rights abuses that plague its fishing sector.
Our work in Thailand has taken on many guises: from in-depth, undercover investigations exposing the large scale slavery used to prop up the country's fishing industry to high-level engagement with the Thai authorities, ministries and the Deputy Prime Minister, Prawit Wongsuwan.
Now, EJF is working to aid the Thai government as it looks to monitor and inspect illegal fishing activity.
Since the European Commission gave Thailand a 'yellow card' warning over its failure to act against pirate fishing practices in its seafood sector in 2015, the Thai Government has rolled out substantial reforms designed to improve fishing laws and regulations. These include measures to better monitor fishing boats at sea, and to punish illegal operators.
One of the major flagship reforms by the Thai Government was the installation of a vessel monitoring system (VMS) on-board fishing boats. Such systems will track a vessel's movement via satellite, broadcasting its position back to a central monitoring centre in Bangkok.
The current system has over 6,500 vessels transmitting data. There are plans to expand the coverage of this system, but so far progress towards this has been slow.
Following extensive investigative and advocacy work in 2013 to 2015, in early, 2016, EJF was invited back to Thailand to see the new satellite tracking system in action.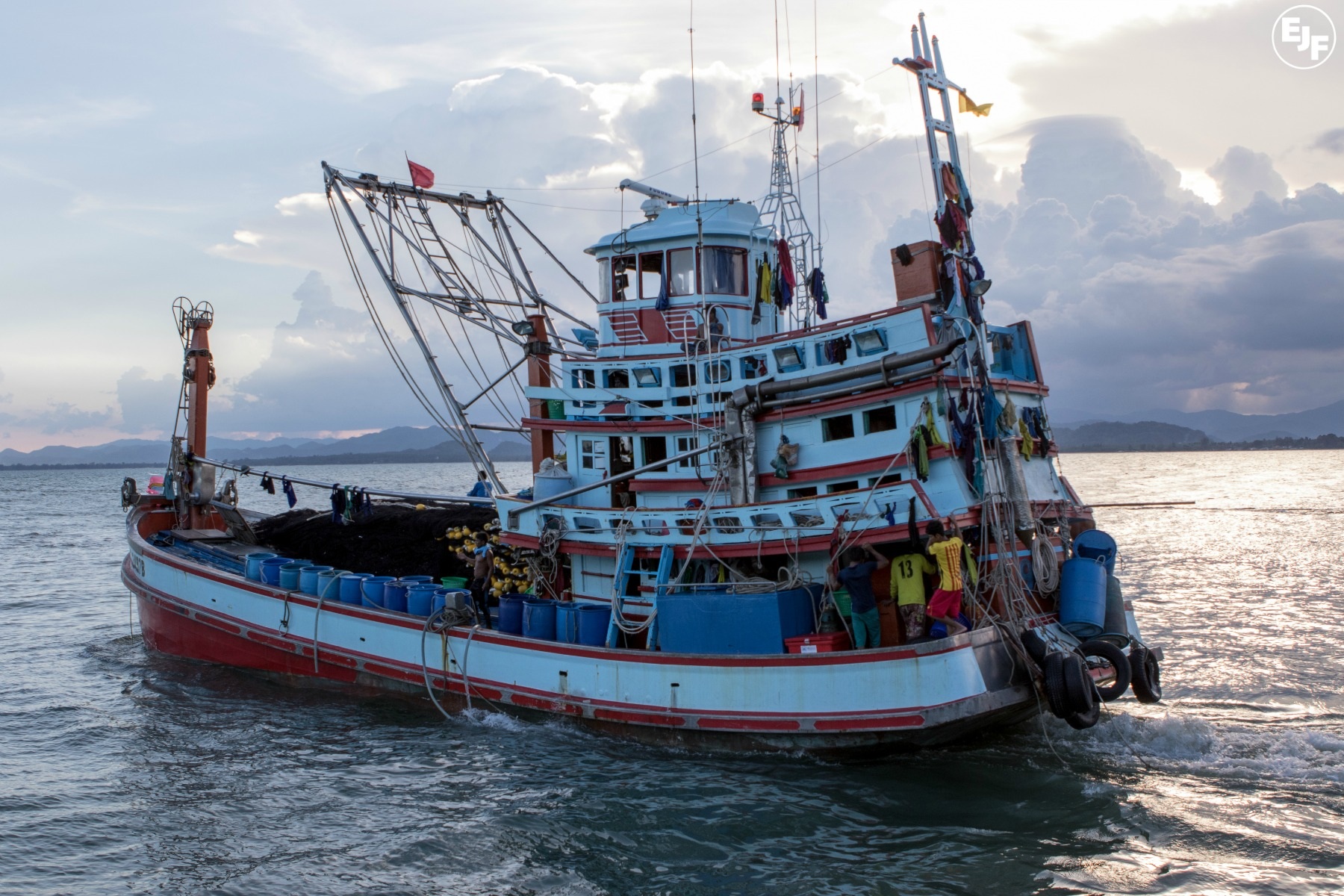 Our extensive history of using satellite tracking software in West Africa has put EJF in a prime position to train Department of Fisheries officials on how best to analyse vessel behaviour and we've been able to work with government officials to build capacity and ensure effective implementation of the country's reforms in this area.

We've offered training sessions on detecting suspicious activity and on how to use satellite imagery to track illicit practices such as transhipment-at-sea – a common technique used to launder illegally caught fish with legitimate catch.
But the issues of slavery and human rights violations remain widespread and, after extensive observations of both port-side and at-sea labour inspections, we have expanded our training to encompass labour issues.
We hope that through employing 'soft skills' – i.e. offering workers a comfortable environment during inspections and not towering over them - Thai authorities can help fisherman to feel secure enough to trust authority figures. By implementing such skills, and building a trusting relationship with fisheries workers, government agencies will not only be able to identify illegal fishing activities but identify possible victims of slavery, exploitation and abuse.
Meanwhile, through close engagement with government agencies, EJF has also been given unprecedented access to the country's inspection procedures, allowing us to build precise and agency-specific recommendations on how Thailand could further improve its ability to combat illegal fishing and associated human rights abuses.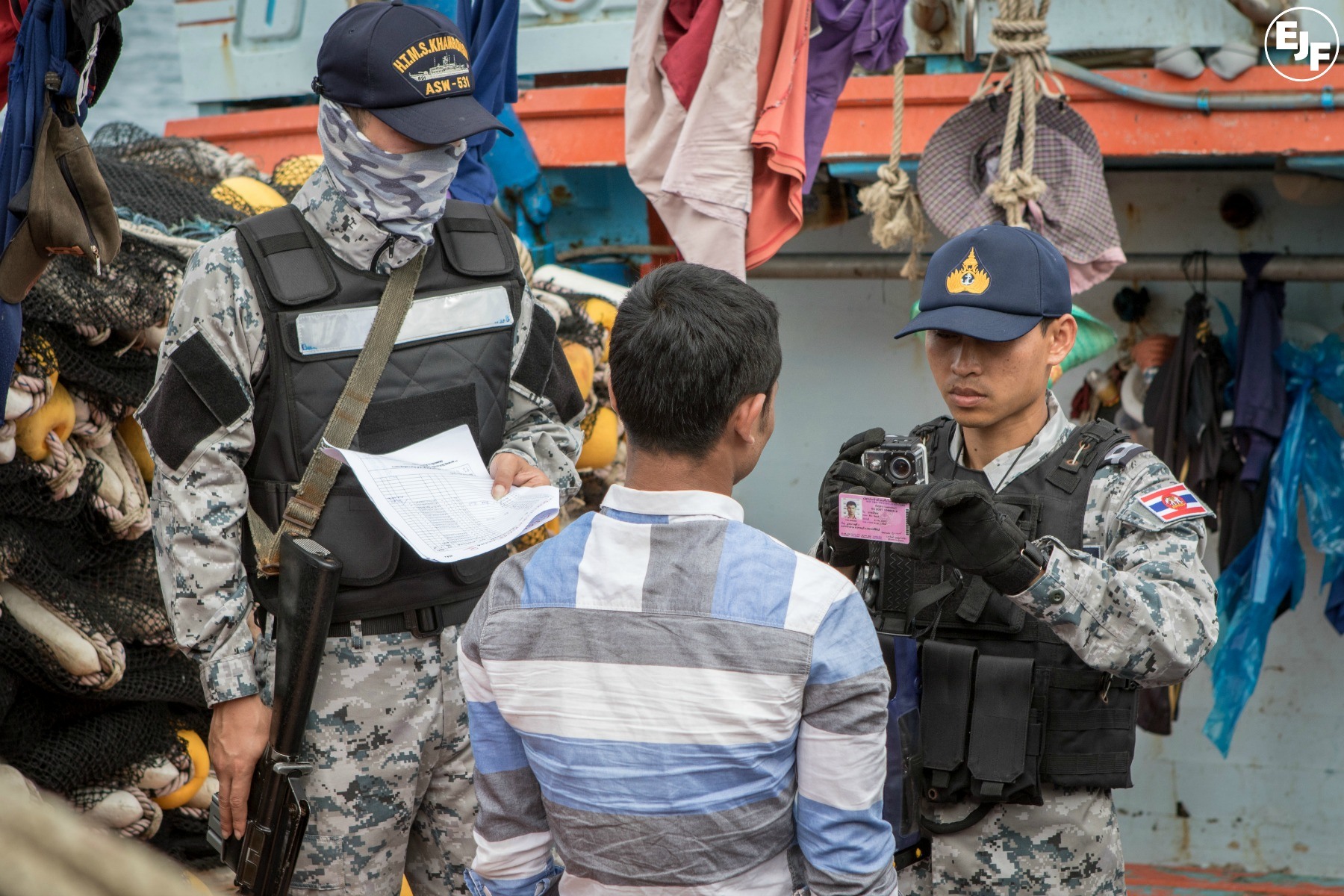 EJF will continue to work in Thailand to help implement effective inspections, while also working with the Thai Government and all relevant agencies to effectively implement ambitious new reforms to protect vulnerable workers and to address the underlying factors driving unsustainable fishing.

We hope that one day environmental destruction and human rights abuses will no longer blight Thailand's seafood sector.