Fishing often takes place in the shadows, meaning illegal fishing is widespread, devastating our oceans and driving human trafficking, bonded labour and slavery at sea. Dolphins, turtles and sharks are illegally killed. People are imprisoned, trapped on boats that rarely go back to shore, so their only chance of escape is to jump overboard. These abuses happen on boats carrying fish that could eventually land on your plate.

We believe that you should be able to buy seafood knowing the supply chain is completely free of illegally or slave-caught fish.
Supermarkets can use their voice to help make this happen. We want UK supermarkets to push for change and show their commitment to slavery-free seafood.
By joining our campaign you'll show the supermarkets that you care about how their fish ended up on your plate.
Human rights and illegal fishing
Illegal fishing and modern-day slavery thrive in the shadows, avoiding scrutiny by government, industry and consumers. To stop it, global fisheries must become much more transparent.
EJF has documented shocking cases of human rights abuses and illegal fishing all over the world. These abuses are driven in large part by crashing global fish populations.

How does slave-caught fish reach UK supermarkets?
Fewer fish means increased competition and falling profits. Boat owners and fishing companies try to cut costs by using destructive gears and cutting wages. Boats travel further and stay out longer, making workers more vulnerable to abuse.
On the open ocean, workers can end up trapped on boats, thousands of miles from home, fishing in areas they shouldn't be and killing vulnerable sea turtles, dolphins, sharks and other vital species. The further they travel to sea, the harder it is to enforce the law and ensure the safety of the crew.
Many crew are migrant workers, who have been coerced into bonded labour, or trafficked. This means they are at the mercy of the boats' owners. Spending months at sea, people receive low or no wages and face a daily threat of intimidation, violence and even murder.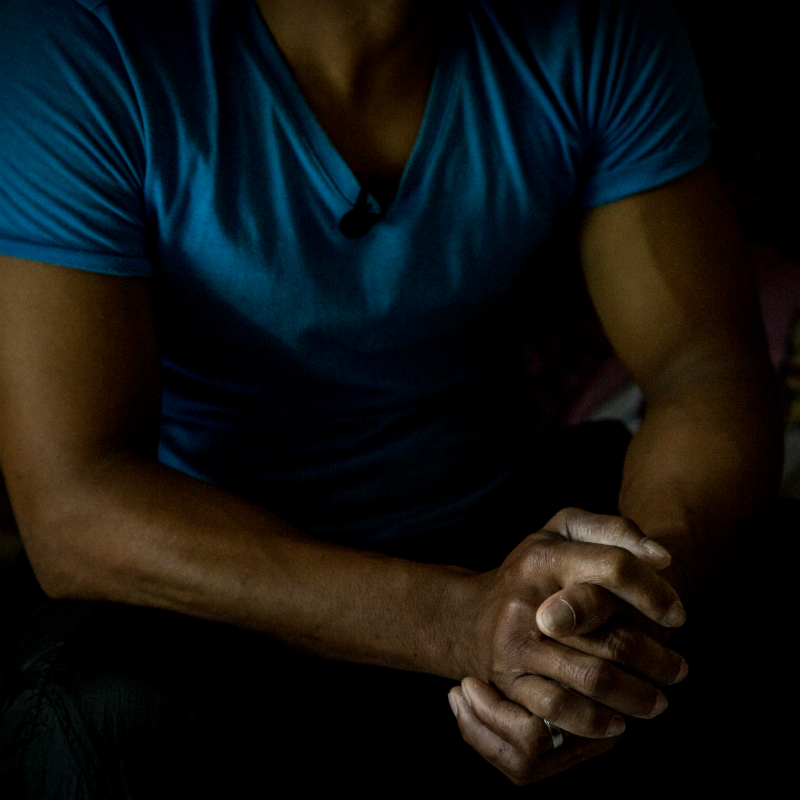 My friend was hit many times. They also beat him with a sword, not chopping, but hitting. He had a gun pointed at him. I wanted to say something, I took a step forward, but the sword was already there. The boss and his bodyguards wanted to attack me too.
An Indonesian man interviewed by EJF on his time on a Taiwanese owned fishing boat
Slavery down the supply chain
There are a number of ways illegally caught fish can enter the supply chain and end up in supermarkets, including:
Changing the names and ID numbers of vessels to conceal their identities
Using flags from different countries to hide illegal activities
Transferring fish to a larger boat at sea, meaning they do not have to come back to shore for months or even years at a time.
Prawns are often farmed. But what are they fed?
Illegal fishing drives the collapse of fisheries, and many fishers turn to so-called trash fish. These small fish are used to feed farmed prawns. And they are often caught using slave labour. So while the prawns themselves are not produced by slaves, further down the chain, slave labour and human trafficking is profiting.
As soon as this fish makes its way to market, it's almost impossible to trace.
This is why we are calling for supermarkets to ensure transparency. By signing up to our Charter for Transparency, and taking simple steps, they can be sure the entire supply chain is free from slavery.

Supermarkets must use their influence
UK supermarkets are global seafood buyers. They have a powerful voice as well as a responsibility to ensure a transparent and slavery free seafood supply chain.
By signing our campaign you are joining us in asking supermarkets to sign up to our Charter for Transparency. Supermarkets must:
Call for all their suppliers to follow the industry code of conduct
Push for governments to commit to transparency
Add your name to our campaign and let supermarkets know that you want them to ensure your seafood did not involve slave labour.