There are few in the world that feel the effects of climate change more intensely and more intimately than the people of Bangladesh.
This October, a team from EJF travelled to Bangladesh to speak with people who had been forced to leave their homes because of extreme weather.
EJF's climate campaign is working to bring the human face to climate change. By providing a space to tell their stories, EJF wants to give a voice to the vulnerable people who are being forced from their homes due to extreme weather events and slow onset changes.
These are the stories we heard as we travelled north from low-lying southern Bangladesh to the capital city, Dhaka, where many are forced to flee as their homes are destroyed.
The Sunderbans
A fisherman in The Sunderbans, the vast mangrove forest that protects low-lying southern Bangladesh from the worst of the regions' cyclones.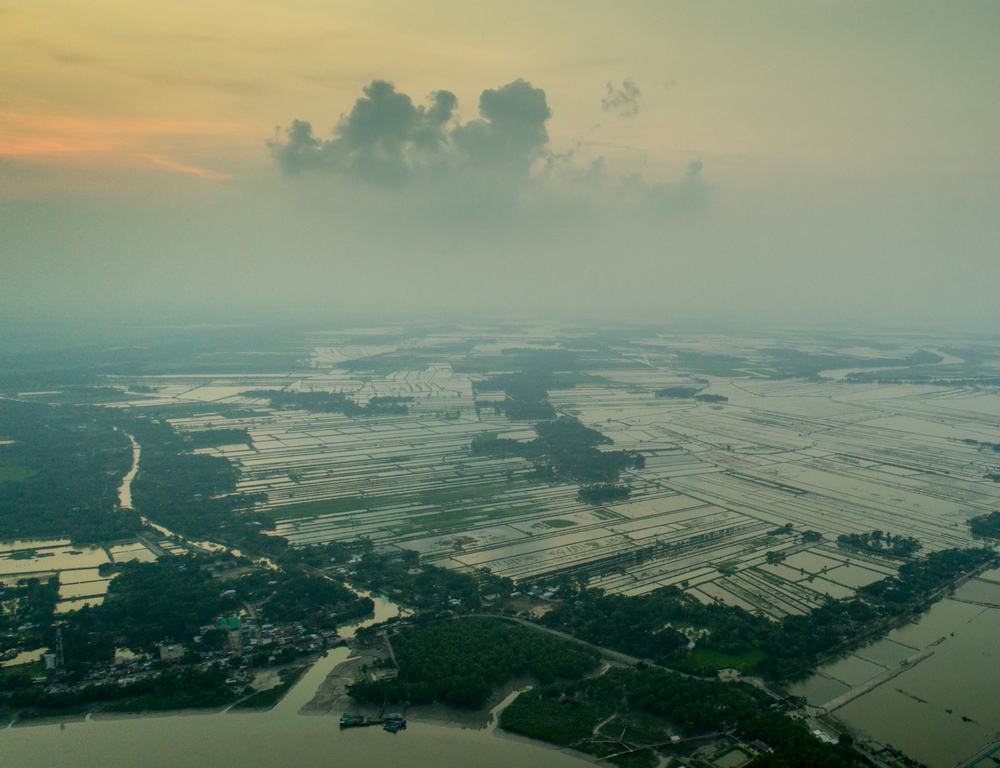 Flying over the Bangladeshi countryside the land lays bare its unavoidable vulnerability to extreme weather. The more than 700 rivers that crisscross the densely-populated country created most of its land through silt deposits. Now ever more frequent storms, river erosion and salinity intrusion are making the land unliveable, forcing people from their homes.
As with so many of the effects of climate change, this is just the start of something far larger. Flooding kills thousands annually, and in recent years riverbank erosion alone has displaced between 50,000 and 200,000 people every year in Bangladesh.
Many of these people lose everything – the land that their families have worked for generations, their livestock, their homes and all their possessions.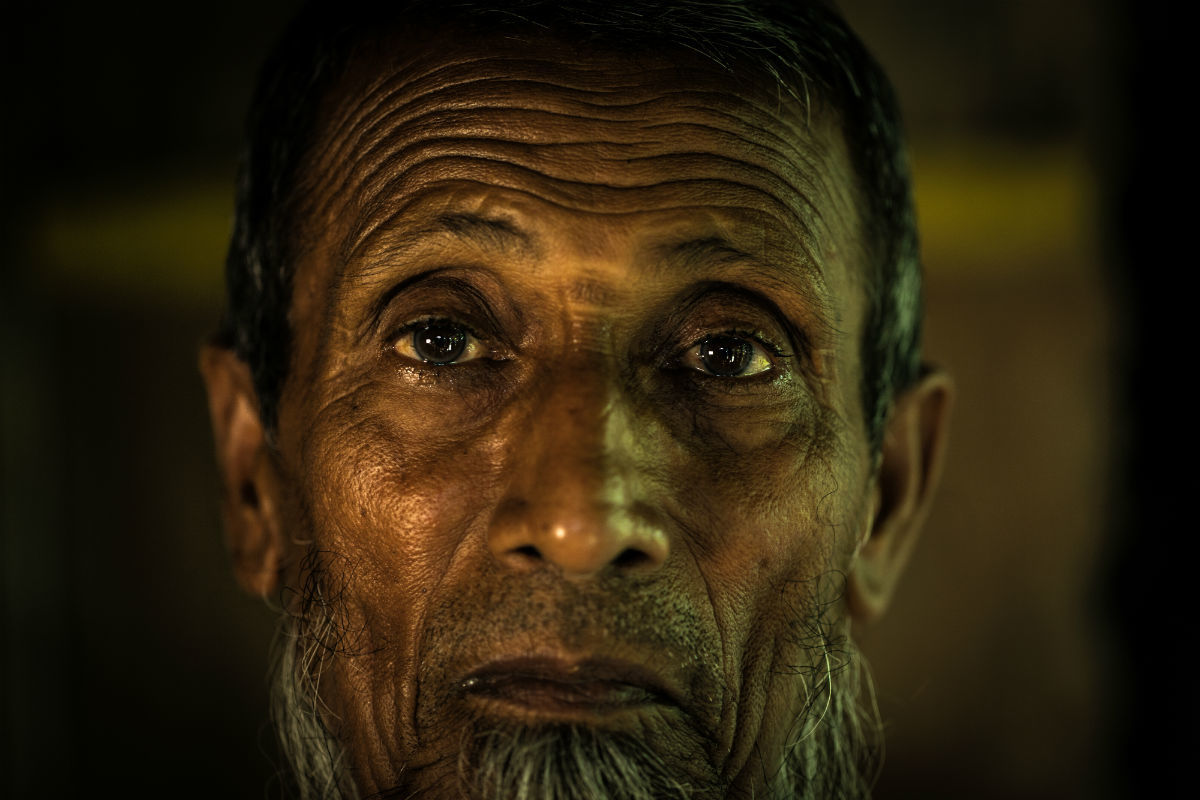 Abdul Zuffer has seen his home transform radically over the last fifteen years
"The rice season is not at the right time, none of the rains are. And when it does rain, it is far heavier. Everyone is affected".

Abdul survived cyclone Aila in 2009, a tropical storm that killed over three hundred people and left a million homeless, including Abdul. "The future will bring more devastating storms" he warns. "We want to stay here, but it will be difficult. The whole world is responsible. People are using machines everywhere and the world is warming."

Arriving into Dhaka's Sardaghat Terminal
Many flee to the country's capital, Dhaka, one of the most densely populated cities in the world. It grew by well over half a million people last year. A large proportion of this influx are climate refugees fleeing who pack into the cities severely overcrowded slums.

Families arrive into Dhaka's bustling Sadarghat ferry terminal at dawn with only the possessions they could carry when the flood waters came. While catastrophic storms like Aila or Sidr make headlines, so many of these families are being forced from their homes by something less newsworthy, but more relentless: the ever rising tides.
This is everyday climate change at work: a slow-onset shift in environmental conditions that is destroying lives and livelihoods before our eyes.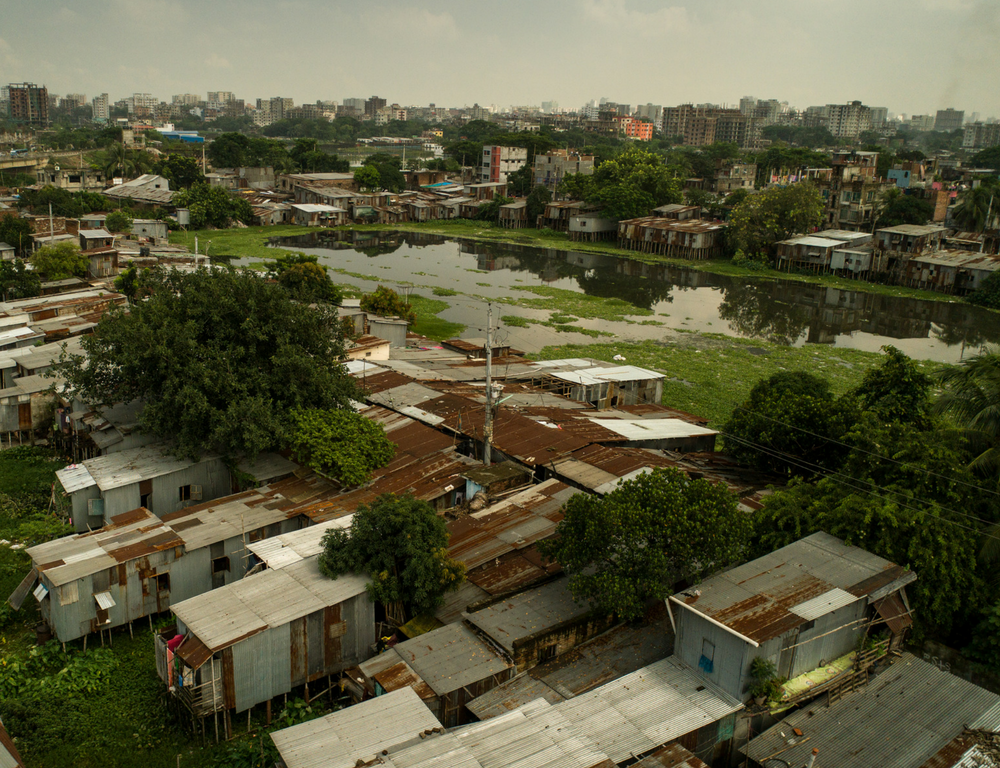 The number of people living in slums has increased by over 60% in the last 17 years in Bangladesh. Many of the new arrivals are 'climate refugees' - people forced to leave their homes due to extreme weather events related to climate change.
The longer term implications of increased mass migration across south Asia are alarming. We spoke with Major General Munir Muniruzzaman of the Bangladeshi Army, now retired, about the threats to international security presented by climate change and mass migration.

"We are a state that is greatly threatened by the impacts of climate change. It has been estimated by the IPCC's reports and analysis that a one metre sea level rise in the south of the country will entail a 17-20% loss of territory to the sea, meaning that Bangladesh will lose up to 20% of its current landmass. It is going to create a very large climate refugee population."
"According to the Bangladeshi Government's national strategy paper on this, it is estimated that Bangladesh alone will produce 25 million climate refugees when we lose this land to the sea. Independent estimates and analysis puts that number even higher. The internal capacity of the state, given its size and resources, to absorb such a large displacement of the human population and large number of climate refugees, certainly does not exist in the country. Therefore, we are not only going to see internal destabilization due to large scale displacement of people in Bangladesh, but there will be transboundary migration of climate refugees into the neighbouring countries of the region."
So who will take responsibility when tens of millions of Bangladeshis are driven from their homes by climate change? Bangladesh produces relatively tiny per-capita emissions, yet is suffering the drastic consequences of a century of intensive fossil fuel use by developed nations.
EJF's Climate Campaign gives a voice to the people who are already suffering as a result of climate change. Climate refugees deserve recognition and legal protection.
Climate change is a human rights issue, and EJF is working tirelessly to give these vulnerable communities a voice and secure international protection for climate refugees.
EJF calls on all countries to rapidly and fully implement the global climate agreement agreed in Paris in December 2015 and support efforts to raise their emission reduction pledges over time in line with its goal to phase out man-made emissions and keep global temperature rise below 1.5°C on pre-industrial levels.
EJF calls on governments to recognise climate refugees and support a new legal agreement to guarantee their rights and their fair claim to our shared world. These populations currently have no support under existing legislation, such as the 1951 Geneva Convention to protect those fleeing war and persecution.
EJF calls for a UN Special Rapporteur on Human Rights and Climate Change to examine the issues surrounding climate change and human mobility, help protect the most disadvantaged and vulnerable populations within and across countries, and guide international action on climate-induced displacement.
Join our campaign and help protect climate refugees
Support our work and help us give a voice to the world's most vulnerable