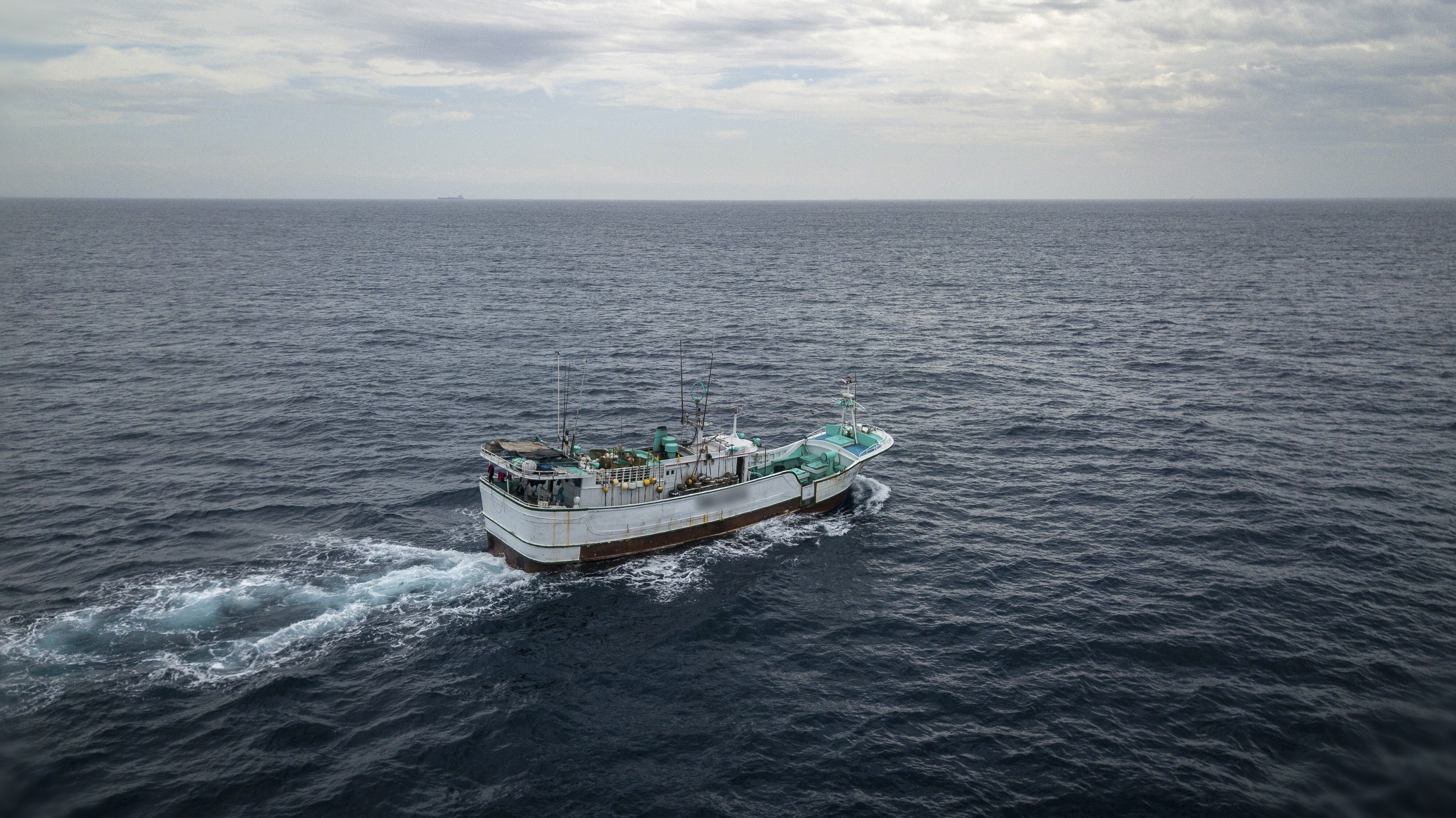 Aug 13, 2021
China and Taiwan named in US report against illegal fishing – EJF calls for greater transparency
China and Taiwan have been listed as engaging in illegal, unreported and unregulated (IUU) fishing in the US NOAA 2021 Report to Congress on 'Improving International Fisheries Management'. Investigations by the Environmental Justice Foundation (EJF) have exposed evidence of IUU fishing by both fleets in recent years. The US report highlights the global and pervasive nature of IUU fishing activities and the urgent action needed to protect our fragile ocean wildlife. EJF is calling on fleets to adopt its Charter for Transparency to end shark finning, the killing of dolphins and other abuses.

The new report identifies seven nations with vessels engaged in IUU fishing activities that violate international fisheries rules. These activities undermine international efforts to sustainably manage and rebuild fisheries, devastate fish populations, threaten global food security and drive protected marine life to extinction. 29 countries are listed in the same report for taking insufficient measures to reduce the catch of protected marine life, such as dolphins and turtles.

The identification of China and Taiwan in this report is supported by EJF investigations into both fleets. Each are globally important flag states with extensive fishing fleets, and their actions substantially impact the health of our fish populations and ocean ecosystems.

The report identifies Chinese vessels in violation of international marine conservation laws and engaging in illegal transhipment activities. This is in-line with EJF's own findings, including an investigation into the Chinese vessel Long Xing 629, which crew report was catching more than 20 sharks a day using specialised equipment. These sharks were 'finned' at sea, producing 720kg of fins by the end of the voyage, which were transhipped between vessels to be brought to port for sale. Shark finning is an extremely destructive practice in which sharks are caught and have their fins removed before being tossed back into the ocean where they sink to the bottom and, unable to swim, slowly suffocate. It is against international rules in the areas where the vessels were operating.

The previous 2019 NOAA fisheries report flagged numerous instances of illegal fishing by Chinese vessels occurring in almost every region of the world. The inclusion of China in the 2021 report indicates a lack of any significant action to remedy the situation along with a refusal to acknowledge the depth of the issue in its expanding fleet, much of which involves using the flags of other countries to hide their true ownership. Failure to act on this report could result in a repeat listing for China, leading to a potential trade ban on seafood with the USA.

The report listed Taiwan for both IUU fishing activities and for failing to combat the bycatch of protect marine life. An EJF investigation last year exposed that dolphins are being deliberately targeted by Taiwanese fishing vessels to use as bait to catch sharks. On just one vessel, a crew member reported that 70 dolphins were intentionally killed on a four-month trip in 2019. Taiwan has put in place new legal framework to reforms its fisheries, however further work is urgently needed to put these reforms into practice and to introduce greater transparency to the sector.

EJF investigations have shown that IUU fishing is often associated with serious human rights violation onboard vessels. Taiwanese crew reported captains hitting and kicking crew, and in an extreme case, locking a crew member in a freezer and electrocuting him. Similar reports have been shared by crew members on Chinese vessels, including a captain threatening to hit an observer with a metal bar when he was found trying to preserve evidence of illegal fishing, and threatening an observer with a knife when he tried to prevent juvenile fish from being dumped at sea. Last year, the US Department of Labor recognised these issues and listed both Chinese and Taiwanese seafood as being associated with forced labour.

Costa Rica, Guyana, Mexico, Russia and Senegal were also listed in the NOAA report as having vessels engaged in IUU fishing activities.

Steve Trent, CEO and founder of EJF, said: "Illegal fishing vessels operate outside of the law, stealing from the world's poorest people, undermining global fish populations and decimating ocean wildlife. This extensive US report makes clear the scale of the problem, and the inclusion of China and Taiwan – two of the world's largest fishing fleets – is important. Rampant shark finning and the killing of dolphins is particularly devastating, putting at risk species that are vital to the survival of our ocean ecosystems. The lack of transparency in the global fishing sector is the key enabler of IUU fishing and associated crimes including human rights abuses. Transparency in global fisheries, matched by strict enforcement of fisheries laws, is urgently needed to protect our ocean and the people who depend on it against exploitation and collapse."

ENDS

Notes for Editors

Read EJF's Charter for Transparency in fisheries.

Watch and embed EJF's films on the Taiwanese and Chinese fishing fleets.

The Environmental Justice Foundation is an international non-governmental organisation working to protect the environment and defend human rights. EJF is a charity registered in England and Wales (1088128). www.ejfoundation.org