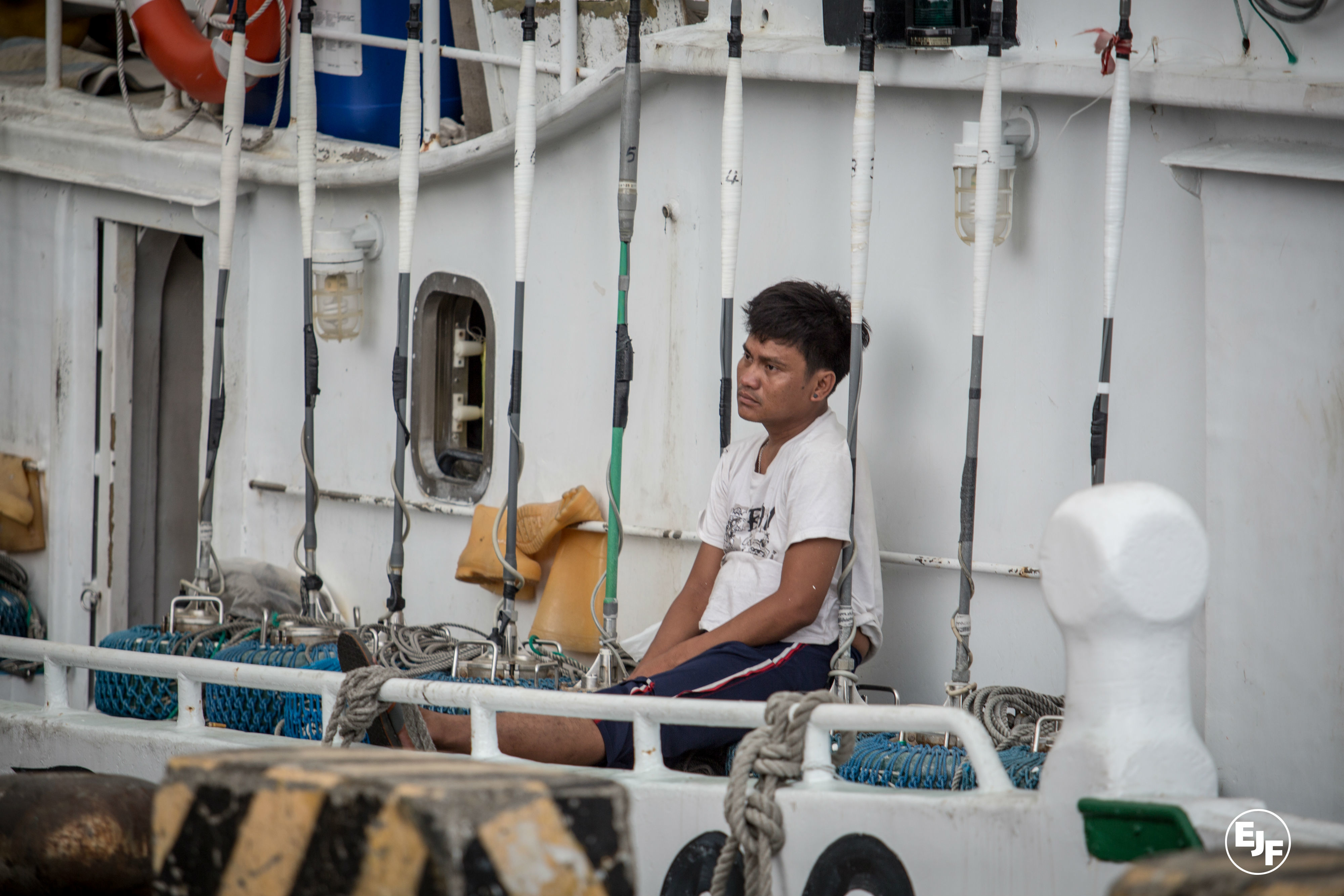 Oct 15, 2020
Taiwan and Chinese fishing fleets added to US forced labour list
The distant water fishing fleets of Taiwan and China have been added to the US Department of Labor's 'List of Goods Produced by Child Labor or Forced Labor'. The report, which cites EJF's extensive investigations into abuse aboard Taiwanese vessels, was welcomed by NGOs. It shows that international markets are waking up to the dangers of human rights abuses on fishing vessels and underlines the need for greater transparency, says EJF.
The US report states that "numerous incidents of forced labor have been reported on Taiwan-flagged fishing vessels. Similar to crews on Chinese-flagged vessels, crews on Taiwan flagged vessels face confiscation of documents, long days with little rest, physical and verbal abuse, and lack of payment."
This finding follows EJF's investigations into 62 Taiwanese vessels, in which workers from nearly a quarter (24%) of the vessels alleged violent physical abuse, including being kicked and beaten by the captain or senior crew. Many of the 72 men surveyed, all migrant fishers from Indonesia, also reported that they had to work up to 20 hours per day with very little time to rest. In addition to these human rights abuses, workers alleged that half of the vessels covered engaged in the destructive, illegal practice of shark finning.
The US list has for the first time taken the important step of holding nations' fleets to account regardless of where they are fishing. The high seas, which are outside of individual territorial waters and are notoriously badly regulated, have often been the scene of illicit fishing practices and the gross abuse of crew. This development from the US highlights that to safeguard trade links, countries must ensure good, transparent governance of their fleets wherever they are fishing. It should also act as a deterrent to countries that allow their flag to be flown as a 'flag of convenience,' without properly regulating the vessels.
As well as the produce of Taiwanese vessels, fish from the Chinese distant water fishing fleet was added to the US list for the first time. An EJF report in May detailed an especially severe case, in which Indonesian crew from a Chinese tuna longliner, the Long Xing 629, provided harrowing accounts of the deaths of four crewmates who were denied appropriate medical care. The crew also reported physical violence, 18 hour working days and rampant illegal fishing.
International markets are waking up to the dangers of illegal fishing and associated human rights abuses on fishing vessels, particularly those working far out to sea. Taiwan and China, with the largest fleets on the planet, must take action by embracing a radical increase in transparency.
Taiwan has already taken some key steps towards reform, but this listing is a sign that more needs to be done to make sure its fishing fleet is sustainable, ethical and legal. In particular, Taiwan should urgently progress electronic monitoring, including remote sensors and cameras aboard vessels and full implementation of international standards, including the International Labour Organization's Work in Fishing Convention.
EJF has proposed a Charter for Transparency, which sets out ten readily achievable principles that states should adopt to address the problems of illegal fishing and abuse at sea. The charter has been presented to key fishing states around the world and backed by major retailers and processors.