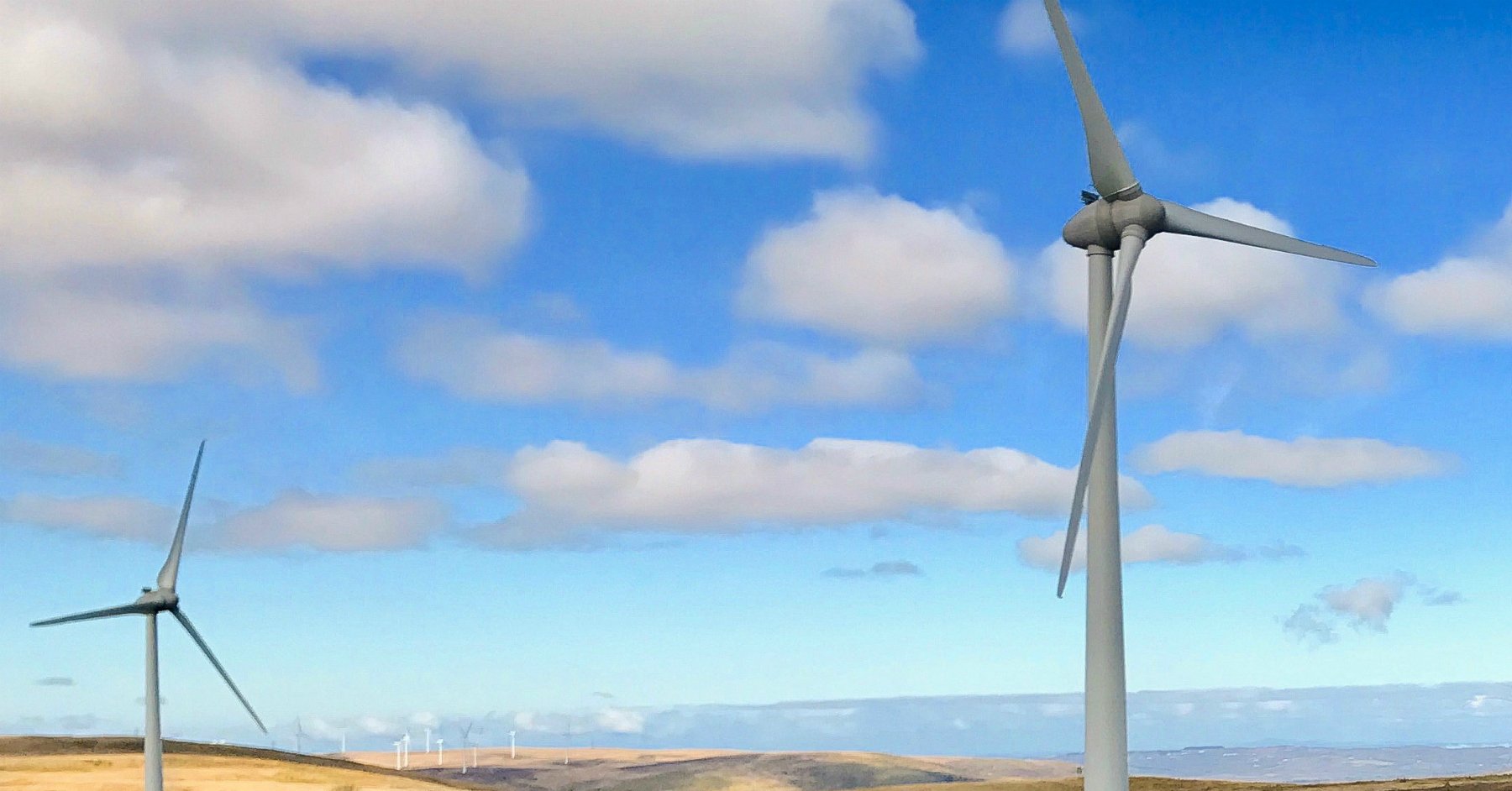 Aug 21, 2018
Climate commitment: EJF and green energy
Renewable energy can and must play a crucial role in tackling climate change.

Fossil fuel use is responsible for more than 36 billion tonnes of CO2 emissions each year and the world is already faced with rising temperatures and increasingly frequent and severe results such as storms, droughts, wildfires and flooding.
EJF's climate campaign fights for the rights of climate refugees – those losing their homes to climate change today – but we also look to the solutions that can prevent countless more from suffering the same fate tomorrow.
In 2016, EJF invested in the Welsh co-operative, Awel, helping towards the construction of two 2.35-megawatt (MW) wind turbines near Swansea.
Power to the people
"The project was started by an inspired group of volunteers in 1998. We did a huge community consultation and thought 'Why can't we develop a windfarm as a local asset?' It's a sustainable form of energy and it can put profits back into the local community. A group of us took that forward," says Dan McCallum, director of the Awel Co-operative.
But it wasn't an easy process. "In all, it was 19 and a bit years… over that time, we got turned down for planning three times, lost a public enquiry, lost a Judicial Review, and got turned down for Common Land Consent twice."
Eventually, through the perseverance and tenacity of the volunteers, the relevant permissions were granted and almost 1,000 individuals and groups – including the local football and rugby clubs and 16 schools – bought shares in Awel's windfarm, allowing construction to go ahead.
On 25 January 2017 the turbines began producing clean energy.
In its first year, the project surpassed its forecast for energy production, generating enough electricity to supply the annual needs of 3,262 homes, saving 3,328 tonnes of CO2 emissions.
"It's initiatives like this that will drive the change we need on climate change mitigation," says EJF Executive Director Steve Trent. "Created by and for local communities they are sustainable and fit-for-purpose. The work done at Awel by Dan and the other volunteers in the community is inspiring. They have shown leadership and determination at the local level that is all too often lacking from our politicians on a national scale. I salute them."
The wind power industry has seen huge growth since the turn of the millennium. In 2000 there was a total worldwide capacity of just 17 gigawatts (GW) but this increased to almost 540 GW in 2017 – more than 5% of the global energy demand. Experts predict that a third of the world's electricity needs could be generated by wind power by 2050, if the current rate of growth continues. At EJF we believe it is clearly possible to do more and to do it quicker – we simply cannot wait if we are to prevent runaway global warming.
Awel has engaged the local community in climate change action by offering the purchase of shares in the windfarm, and they regularly host site visits, allowing people to get up close to the turbines and learn more about the project.
As well as these two wind turbines, Awel also currently has 179 kilowatts' worth of solar panels installed on seven community buildings and schools, tackling fuel poverty by providing them with free electricity – a total saving of around £8,000 a year. Discussions are underway for three additional 3 MW turbines to expand the windfarm and for a 1.2 MW ground-mounted solar farm, plus 10 MW of battery storage on adjacent land.
Renewables around the world
Globally, renewable energy is on the rise. In 2016, renewable sources accounted for two thirds of all new power added to grids worldwide, with solar leading the way. Total capacity from all renewable sources at the end of 2017 stood at over 2,179 GW.
Wind power technology is improving all the time. In April 2018, the first of 11 8.8 MW turbines was installed offshore in Scottish waters. Standing at 191 metres tall, just one rotation of the 80 metre blades can generate enough electricity to power the average British home for a whole day.
On 16 March 2018, 13.9 GW of electricity were generated in the UK from wind power alone – enough to meet nearly 37% of the country's daily demand. The National Grid confirmed that this was a new record.
But while global spending on renewable sources rose by around 3% in 2017 to over £242 billion – the second highest level on record – there was a drop in investment in the UK, where funding fell 56% to just £7.5 billion due to government policy changes, reaching its lowest level since 2008.
EJF is proud to be a part of the Awel project, we believe that every individual person and organisation can make a difference in the fight against climate change.
Find out how you can help here.
SIGN UP FOR OUR EMAILS AND STAY UP TO DATE WITH EJF'S NEWS AND EVENTS
By subscribing to our newsletter, you ensure that you will stay up-to-date with latest news on our work and our campaigns, as well as how you have been part of achieving those goals. We carefully select what goes into our emails so that you will only receive relevant and interesting news about our campaigns. We will let you know when we have exposed a critical environmental issue or uncovered human rights abuses. We will ask you to get involved when your actions can make a difference, and we look forward to inviting you to our events.