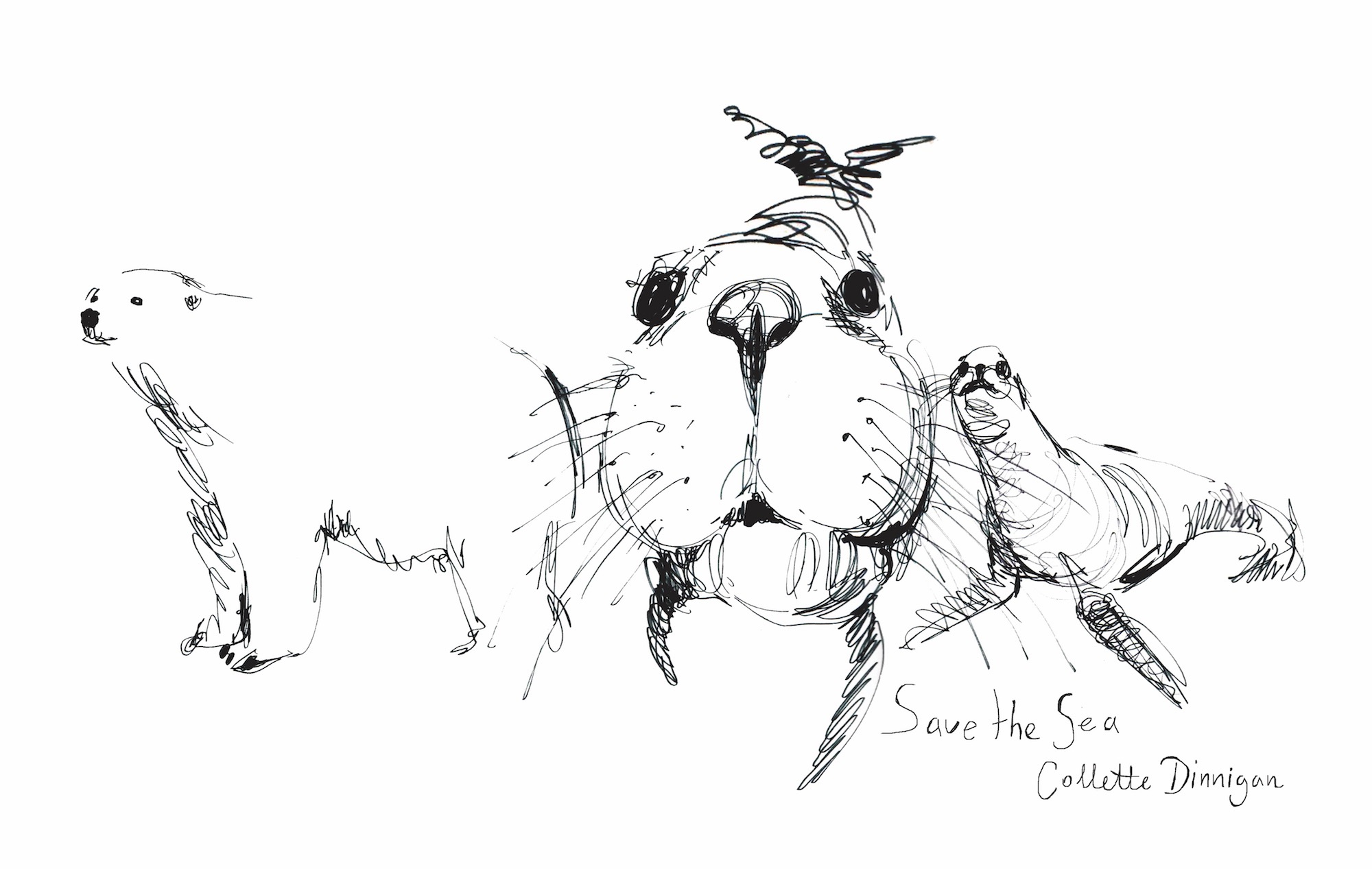 Jun 21, 2019
Collette Dinnigan: Don't let the sun set on Arctic wildlife
On midsummer day, we reveal our beautiful new Save the Sea T-shirt from Australian designer Collette Dinnigan, who shines a light on the Arctic's marine mammals, and the desperate plight that they face if we don't act now to curb climate change.
The summer solstice is a day to celebrate the sun's life-giving energy. But as the North Pole tilts into 24-hour daylight, and the Arctic enters the middle of its annual thaw, the scale of that melting is now outside anything that winter can restore.
The millennia-old tale of freeze and melt, solar ebb and flow, is changing fast in the age of the Anthropocene. Fast because the Arctic has heated up by 2C above pre-industrial levels, twice the global average. Since 1979, when Arctic ice melting became measurable by satellites, the summer Arctic has lost 40% of its size and up to 70% of its volume. Last week Greenland's ice sheet underwent around 45% surface melting, a record early date for such extensive melting. Earlier this week, scientists in remote areas of the Canadian Arctic revealed that permafrost is thawing 70 years earlier than predicted. The planet is at a true tipping-point.

Such drastic reduction in the Arctic's surface area is having devastating effects on its wildlife. The planet's remaining 26, 000 polar bears depend heavily on sea ice to hunt seals – the main component of their diet – and as the Arctic shrinks, catching their prey becomes enormously difficult. It is a relatively recent, but sadly well-documented story: the starving polar bear driven to human territories by hunger.
Collette drew her inspiration from the desperate plight: "There's a reason why polar bears, seals and walruses are poster animals for the ravages of climate change: global warming is disfiguring the Arctic faster than anywhere else on Earth, and these intelligent, and interlinked, marine animals are being pinched into positions they should never have to endure."
"Through my sketches, I wanted to retain their dimensions and keep their plight in the public eye – with lines suggesting their character and, through the white spaces, their disappearing futures."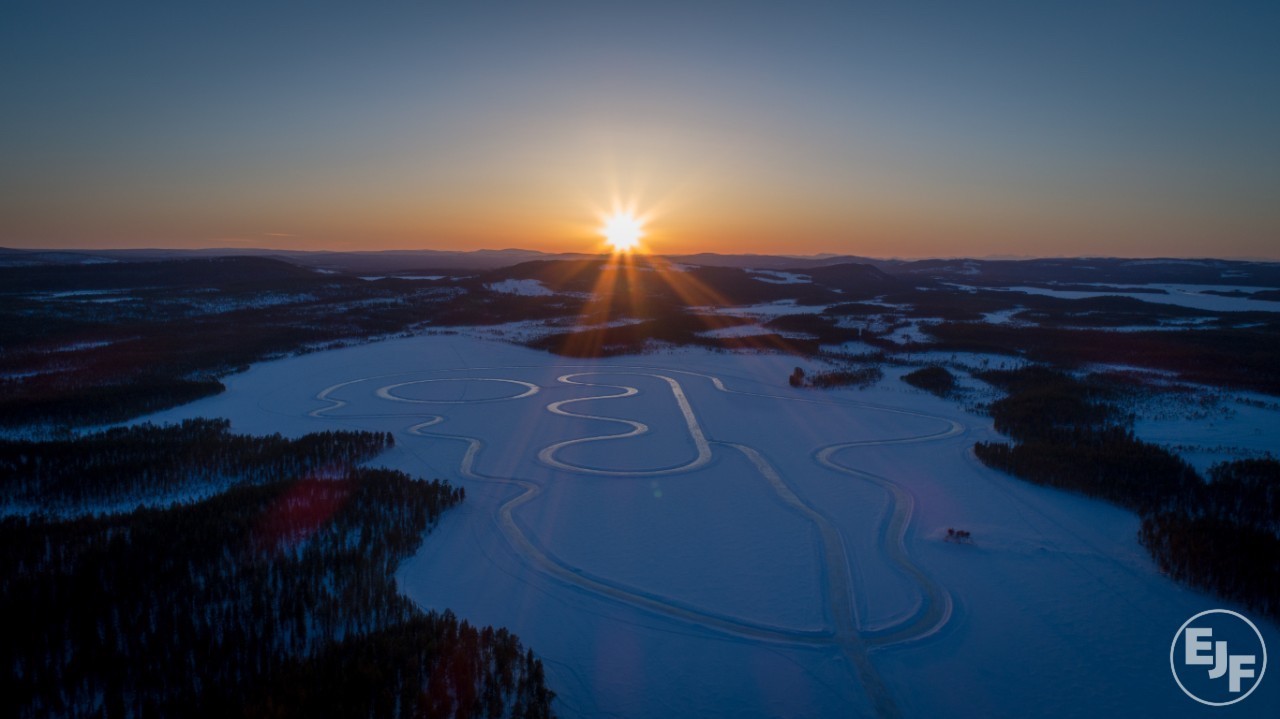 These animals exist in a fragile, interconnected ecosystem and Collette's 'Save the Sea' message has resonance beyond the Arctic wildlife: the human cost of global heating in the Arctic is profound. EJF's report on the effects of climate change in the Arctic found extreme environmental and cultural losses among the Sami people in northernmost Sweden, as erratic weather conditions create unprecedented challenges for indigenous reindeer herders. The great melt in Greenland is similarly erasing traditional ways of life, making travelling and hunting near-impossible for native Greenlanders.
Collette Dinnigan's design speaks to EJF's work at the intersection of climate justice and ocean conservation. She says: "I am proud to be donating this design to EJF, a charity fighting for marine biodiversity, and changing the way we treat our seas."
Don't let the sun set on Arctic wildlife
We face a climate emergency. We need to end our carbon addiction. We have to act collectively and decisively to halt global warming, acting as individuals, consumers, investors and voters. We can challenge governments that aren't acting fast enough to commit to reductions in carbon emissions; avoid the companies responsible for over 70% of the world's greenhouse gas emissions; and reduce our own impact on the planet. You can make a difference. Do it fast.
Head to the Just-For shop to see EJF's whole collection of Save the Sea T-shirts.
SIGN UP FOR OUR EMAILS AND STAY UP TO DATE WITH EJF'S NEWS AND EVENTS
By subscribing to our newsletter, you ensure that you will stay up-to-date with latest news on our work and our campaigns, as well as how you have been part of achieving those goals. We carefully select what goes into our emails so that you will only receive relevant and interesting news about our campaigns. We will let you know when we have exposed a critical environmental issue or uncovered human rights abuses. We will ask you to get involved when your actions can make a difference, and we look forward to inviting you to our events.