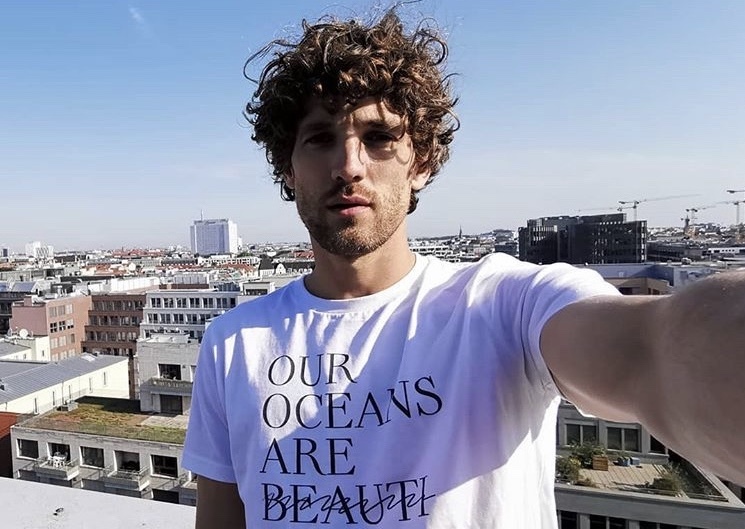 Jun 17, 2019
No pollution is the only solution: The designers fighting ocean plastics
When EJF invited leading sustainable fashion designers to create a T-shirt design for World Oceans Day, it was no surprise that two chose to focus on ocean plastics. Dame Zandra Rhodes and Cora Hilts, co-founder of Rêve En Vert, have both drawn attention to the devastating effect of plastic pollution on our seas, with pithy and powerful messages.
In distinctive hot pink, Zandra Rhodes's T-shirt makes a bold statement: "No pollution is the only solution". This speaks to the need to stop plastic at its source – before it can ever enter the world's oceans.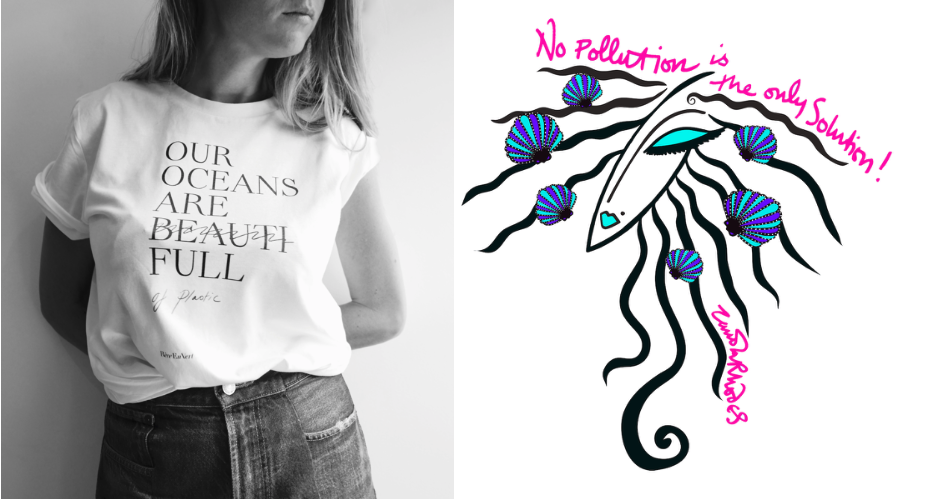 Once at sea, mobile and incredibly durable, plastics cause the deaths of an estimated 100,000 mammals and 400,000 seabirds each year. Plastics end up as microplastics in the seafood we eat. It's personal to every one of us – it's in our blood, our faeces and breastmilk.

It is hard to keep track of the vast scale of our rubbish, which has a habit of disappearing from our minds once it's served its purpose. When the UN declared war on ocean plastic in 2017, it estimated that more than 8 million tonnes of plastic enters our oceans each year, wreaking havoc on marine wildlife. Other studies put that figure at closer to 12 million. There could be more plastic than fish in the oceans by 2050, an appalling concept.
A rubbish truck of plastic enters our precious marine environment every single minute.
More than 5 trillion pieces of plastic are already floating in our oceans.
Ocean plastics are at once disturbingly hidden – with the whereabouts of over 99% of plastics that enter the ocean unknown – and horrifyingly visible in great oceanic garbage patches. Last month a plastic bag was reportedly found at the bottom of the Mariana Trench, the world's deepest point, at a depth of over 35,000 feet.

However, the global nature of plastic pollution – making one nation's trash another's trouble – means that we really need to look to the sources of plastic pollution. Some of our global plastic consumption defies belief – one million plastic water bottles are sold every minute. In countries with clean water we've simply been sold a marketing concept that water comes out of a bottle not a tap. But we can change that by rejecting single-use plastic where an alternative exists and choosing products that are durable and reusable.
The UK's current target to "eliminate all avoidable plastic waste" by 2043 is not good enough. Canada has pledged to reach the same goal by 2021, and we should be aiming to rival that ambitious but achievable goal. Let's all play our part and help Save the Sea.
Zandra Rhodes donated her design to "help people think harder about their use of plastic" and their love of the sea. Cora Hilts, of sustainable luxury boutique Rêve En Vert, brought that love into her artwork: "Having grown up on the seaside in Maine, protecting our oceans is one of the most important things to me".
Rêve En Vert's striking T-shirt design reads: "Our oceans are [beauti]full of plastic". It's a message which highlights how much is lost when we pollute our oceans; pushing marine wildlife to the brink, replacing schools of fish with plastic bottles – to the detriment of coastal communities and future generations.
Our oceans are not bottomless and we fill them with plastic at our peril.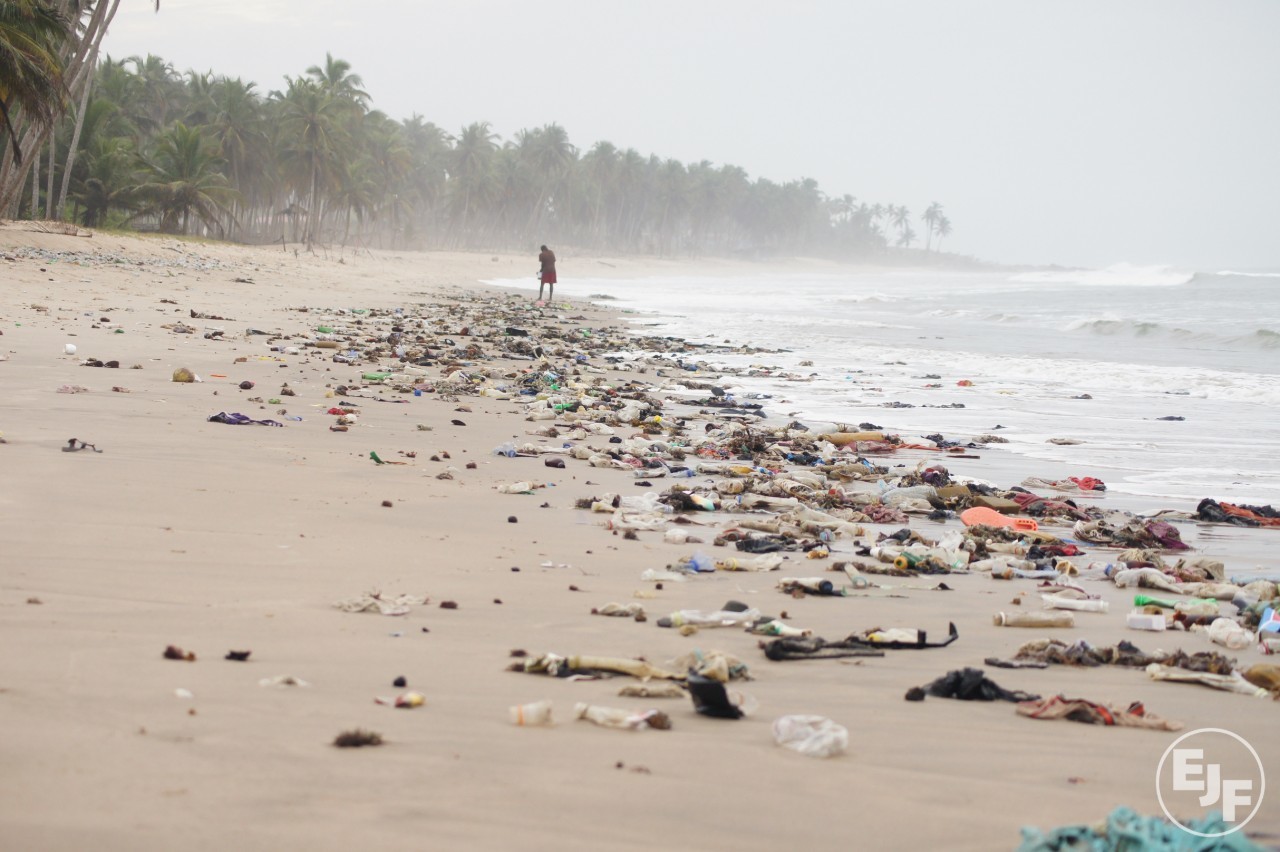 For International Coastal Cleanup Day, our local team co-ordinated a beach clean along Cape Coast in Ghana. Worldwide, 73% of beach litter is plastic: filters from cigarette butts, bottles, bottle caps, food wrappers, grocery bags, and polystyrene containers.
Keep an eye out for our next blog spotlighting Arctic warming and threats to marine mammals, with another brand new T-shirt collaboration...
How you can help save the sea:
Shop EJF's new range of 100% organic cotton, fairly traded designer T-shirts, with all profits going to Oceans campaigns around the world: protecting marine biodiversity, combatting illegal fishing and seafood slavery, and supporting sustainable – and plastic free – oceans.
Dine out and donate at the seafood restaurants demonstrating sustainable practices, and fundraising for EJF's Save the Sea campaign until 8th July.
Demand better from your retailers. Urge them to ensure their seafood is guaranteed to be from legal, ethical and sustainable sources.
Reject plastic whenever you can and always recycle your unavoidable plastic items.
Shop an EJF water bottle or coffee cup to reduce your use of plastic.
Join a beach clean – or even better, start your own, you just need a rubbish bin or box to start collecting plastic from beaches or rivers near you.
SIGN UP FOR OUR EMAILS AND STAY UP TO DATE WITH EJF'S NEWS AND EVENTS
By subscribing to our newsletter, you ensure that you will stay up-to-date with latest news on our work and our campaigns, as well as how you have been part of achieving those goals. We carefully select what goes into our emails so that you will only receive relevant and interesting news about our campaigns. We will let you know when we have exposed a critical environmental issue or uncovered human rights abuses. We will ask you to get involved when your actions can make a difference, and we look forward to inviting you to our events.