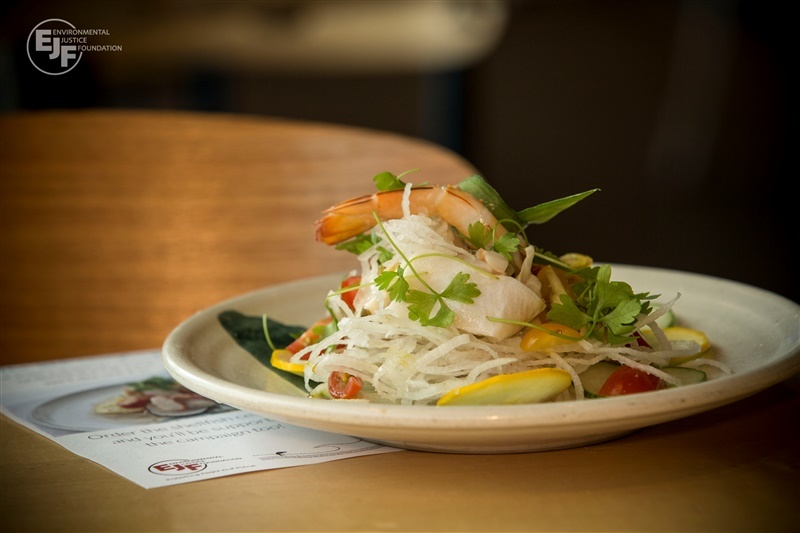 Jun 07, 2019
World Oceans Day: how top restaurants are making waves to Save the Sea
In celebration of World Oceans Day, a host of the UK's top ethical seafood restaurants have joined forces with EJF, advocating for the protection of the world's oceans.
Throughout the coming month, you can help to support the conservation of precious marine environments, simply by eating out. Beginning on World Oceans Day (8 June), all customers visiting these ethical restaurants will have the chance to contribute to saving the sea. Diners will be asked to add a donation to their bill or given the opportunity to purchase a seafood dish, the profits from which will support EJF's work protecting oceans globally.
By dining and donating, you will be directly contributing to EJF's work. Help us to combat illegal fishing, to stand against seafood slavery and to conserve marine environments so that diverse sea life and future generations can live and thrive.
Among the restaurant supporters are Restaurant Martin Wishart, The Honours, Lussmanns Sustainable Fish & Grill, Firmdale Hotels, The Peat Inn and Seafoods Fish & Chips. From Michelin starred restaurants by the North Sea, to a fish and chip takeaway in Somerset, these eateries' ethical fish-sourcing practices show that size and location are no obstacle when it comes to serving sustainable seafood.
Andrei Lussmann, founder of the first restaurant group in the UK to serve a 100% Marine Stewardship Council (MSC) certified menu, said:
"We're supporting EJF's campaign because we need seas that are without plastic, we need fisheries that are full. It's quite clear that we don't have enough fish in the sea if we carry on buying fishing that's not been certified."
We're grateful to our partners for the opportunity to spread the message to new audiences and show that we can all be involved in ocean conservation, wherever we live.

Over 3 billion people globally rely on the oceans for their primary source of protein. Yet our oceans are increasingly under threat. Illegal fishing, plastic pollution, habitat destruction, the list goes on. This disregard for ocean sustainability could soon have devastating implications for both people and wildlife.
But we can make a difference. From 8 June – 8 July 2019, EJF will be campaigning daily to fight for healthy, protected oceans. That's where you come in. Will you join the campaign to save the sea?
EJF Director, Steve Trent says
"It may come as a shock to some, but if a restaurant or retailer hasn't researched its supply chains, there's every chance their seafood was caught illegally or even by a slave. Consumers deserve to know what they're buying and eating. We must all be given the chance to make an informed choice!"
So, what can you do?
You can dine out and donate at one of EJF's partner restaurants.
You can donate online and directly support EJF's oceans campaign.
You can buy one of our brand-new designer t-shirts, the proceeds of which support the campaign.
You can lobby restaurants and retailers to clean up their supply chains. Signing our petition to the major supermarkets is a good place to start.
Together, we have achieved lasting global change, securing sustainable fisheries and protecting ocean ecosystems. This year help us to make an even greater impact. Help us to #SaveTheSea.
---
Full list of restaurant partners:
SIGN UP FOR OUR EMAILS AND STAY UP TO DATE WITH EJF'S NEWS AND EVENTS
By subscribing to our newsletter, you ensure that you will stay up-to-date with latest news on our work and our campaigns, as well as how you have been part of achieving those goals. We carefully select what goes into our emails so that you will only receive relevant and interesting news about our campaigns. We will let you know when we have exposed a critical environmental issue or uncovered human rights abuses. We will ask you to get involved when your actions can make a difference, and we look forward to inviting you to our events.