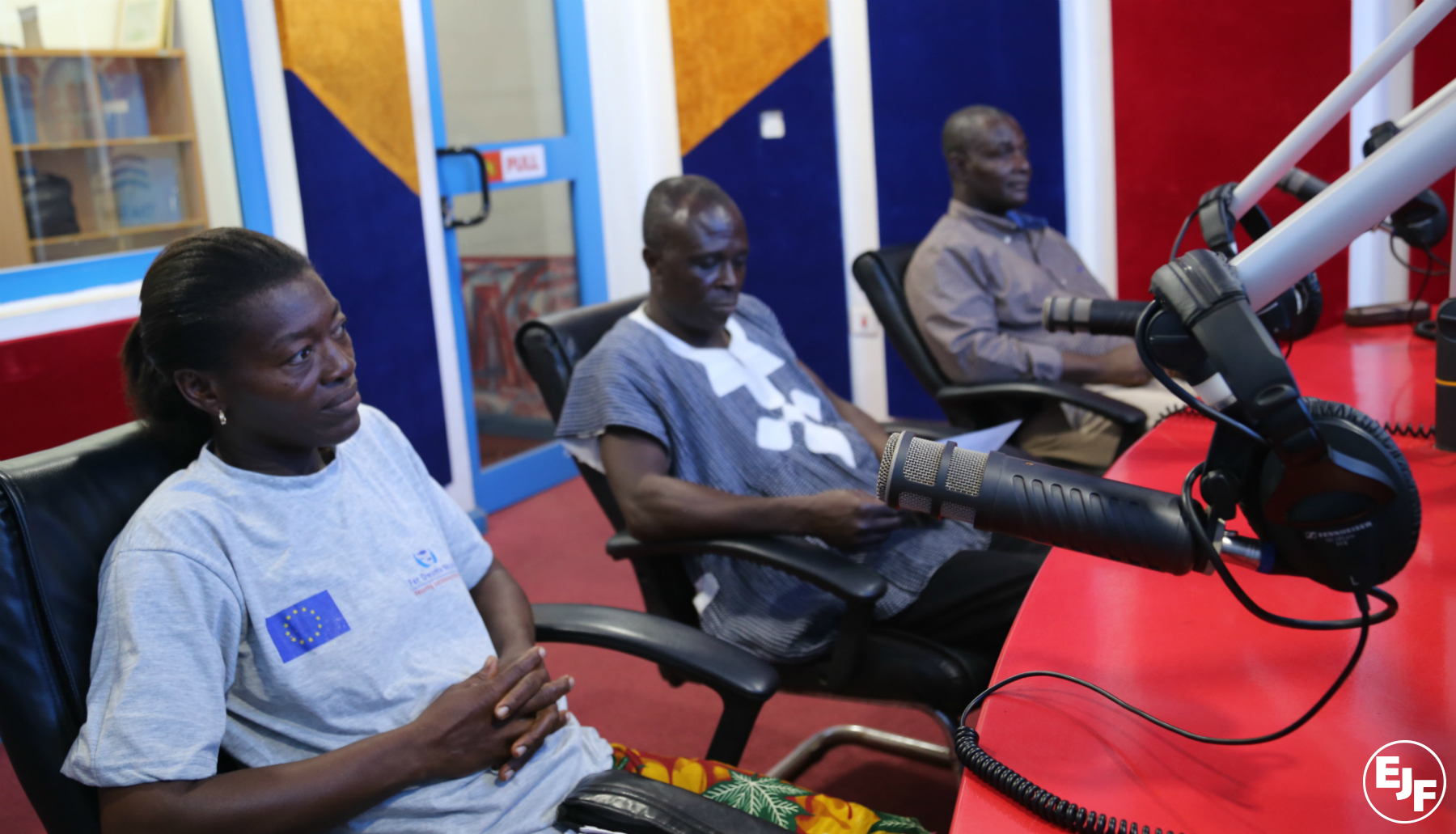 Oct 15, 2018
EJF and partners Hen Mpoano launch regular radio show in Cape Coast, Ghana
In the first of a new series of radio programmes, fishermen from Elmina in Ghana have said that community engagement is key to managing the country's fisheries.
Justice Raymond Prah, speaking on the programme, has called on Ghana's Ministry of Fisheries and Aquaculture Development, the Fisheries Commission and civil society organizations to step up their engagement with fisher folk across the country.
This year the proposed closed season for fisheries, designed to help the coastal ecosystems recover and ensure the health of the fisheries, was postponed. This could have been avoided with better communication and planning, Justice Raymond Prah argued.
One fact is now abundantly clear: better, deeper engagement and communication with local fishing communities is essential to ensuring a successful closed season in 2019.
Mr Prah made these statements on ATL FM during the Wednesday morning show. The show marks the start of a series of monthly radio programmes on ATL FM sponsored by the Far Dwuma Nkodo project, a three-year sustainable fisheries project funded by the European Union, and implemented by EJF and Hen Mpoano.
The programmes will discuss issues affecting fishing communities, including the fight against illegal fishing, the role of closed seasons in the recovery of fish stocks, and how communities and government can work together.
The radio shows will raise awareness of the importance of Ghana's fisheries sector for national food security and income, and the challenges facing fishing communities today. Declining fish stocks and increasing competition between local and industrial fishing boats are contributing to the tensions in Ghana's fishing communities .
Working with communities in Ghana
EJF is working with local partner Hen Mpoano to improve the lives of fishers and promote food security across Ghana.
We will be working with almost 60 communities across the 10 districts in Ghana's Central Region and in the Volta Estuary. We aim to improve the health of the oceans, and ensure that current and future generations can rely on fishing for the livelihoods.
We aim to:
empower local communities to take a stand against illegal fishing activities, providing the much-needed evidence for the government to take action against these illicit practices
train local fisherman to understand and protect their rights in fisheries management
promote the fair allocation of tenure rights to protect fishers' landing sites from the encroachment of tourism and other industrial activities
identify and promote alternative livelihoods to help broaden fisher communities' economic basis and support the long term sustainability of Ghana's fish stocks.
The discussion in depth
Panelists on this week's show were:
Papa Yaw Atobrah, Regional Director of the Fisheries Commission in the Central Region
Kofi Agbogah, Director of Hen Mpoano
Justice Raymond Prah, Fisherman from Elmina and member of the Ghana National Canoe Fishermen Council.
They discussed what marred the 2018 closed season and shared ideas on how to plan for a successful closed season next year.
Mr Prah said that chief fishermen do not always feed information back to their communities after consultations, making it very difficult for fishermen and fishmongers to keep abreast of the issues. He added that fishers are not against the closed season as it is in their interest for fish stocks to recover and they would even embrace a three-month closure.
However, there needs to be more communication on the issue so that fishers understand the reason for the closed season and are able to prepare adequately. They also want government to take a strong stance on all forms of illegal fishing.
Director of Hen Mpoano, Kofi Agbogah, said that consultations and other communication activities on the closed season started back in 2015. He called for the involvement of all stakeholders in educating and consulting with fishermen so that they understand the state of the country's fisheries and embrace the closed season in 2019.
Mr Agbogah called for a meeting with all stakeholders to decide on how to make the 2019 closed season a success, adding that the CSOs are ready to work with the Fisheries Commission in achieving this.
For his part, the Central Regional Director of the Fisheries Commission, Papa Yaw Atobrah, indicated that fisheries are a renewable natural resource that need to be managed in a sustainable manner to benefit future generations. He said the ultimate aim is to manage the resources to secure food security and livelihoods, provide nutritional requirements and help in the economic growth of Ghana.
He explained that the tuna fisheries have an annual moratorium on fishing under regional ICCAT rules, while industrial trawlers have been observing closed seasons for the past three years.
Mr Atobrah said it is the first time that artisanal fishers will be observing a closed season, hence the duration of one month. This could then be extended as fishers reap the benefits. He added that technically a one-month closed season is not enough if we want to see meaningful results.
The discussions will take place once a month in English on the ATL FM morning show and in Fante on the Tuesday afternoon Egyanom Afarfo show.
Image: Taken by EJF at ATL FM studios. From left to right: Gifty Anamoah Mensah - member of national fishmongers and processors association, Justice Raymond Prah, a member of the Ghana National Canoe Fishermen Council and Papa Yaw Atobrah - Regional Director of the Fisheries Commission.