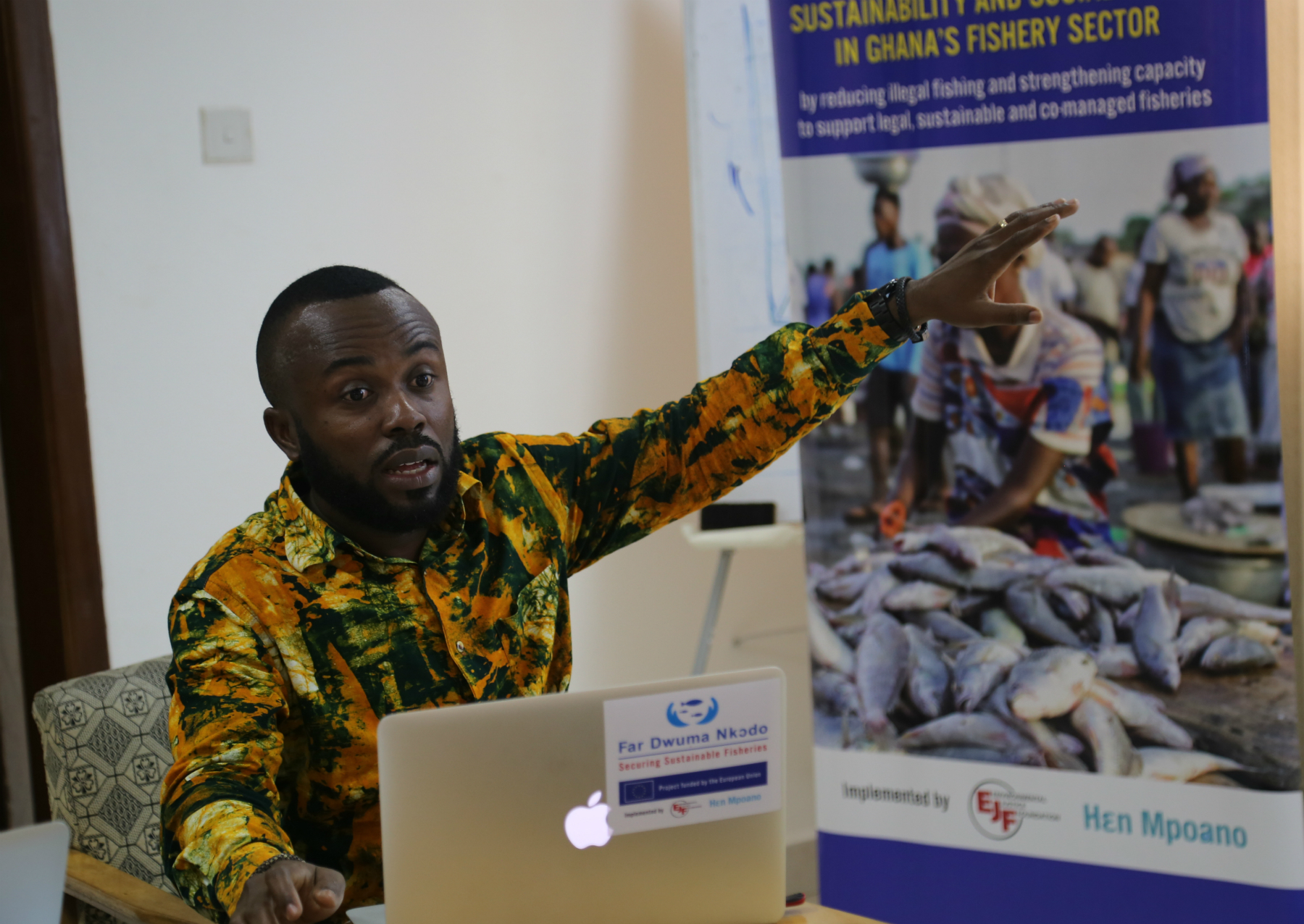 Sep 04, 2018
Supporting journalism in Ghana
EJF and our partner, Hen Mpoano, are training journalists in Ghana. By working closely with journalists, we aim to ensure the issues facing Ghana's fisheries are more widely understood, better communicated and, most importantly, that positive changes are made.
We are providing support to two journalists to research and write about key issues facing Ghana's fisheries.
This follows an initial training session which took place in May, that focused on challenges facing small-scale fishing communities including the illegal trade in fish, known locally as "Saiko" and the struggles over rights of access to fisheries.
The training also looked at how these issues can be addressed, including the vital role of communities in management and implementation of global guidelines on fair and sustainable fisheries.
Eleven journalists joined the training from media outlets across the country and afterwards they were invited to submit their proposals for potential stories and issues to cover.
Obrempong Yaw Ampofo will be concentrating on conflicts at sea between local fishers and oil companies, and Shirley Asiedu-Addo will be looking at the impact of illegal "saiko" fishing by industrial trawlers.
Fishing has always been an important part of Ghana's culture and economy, but there is limited awareness of the problems coastal communities face.
Over two million people, or around 10% of the population rely, directly or indirectly, on fisheries for their livelihoods, and there are few alternative livelihoods open to them. Yet Ghana's fishing communities are increasingly vulnerable, not least because poor management and the resulting over-fishing is leading to devastating declines in fish stocks.
The average annual income for each traditional fishing canoe has dropped by as much as 40% in the last 10 to 15 years, and landings of small pelagic fish – key for local consumption – are at their lowest recorded level since 1980.
Conflicts over oil
Offshore oil production in Ghana is booming. This has led to intense competition for space between oil operations and fishers, and increasing conflicts. This story will look at the impacts of oil operations on fishing communities, with a focus on collisions between fishing canoes and oil supply vessels.
Saiko
Saiko – is a highly lucrative, but also damaging illegal fishing activity undertaken by industrial trawlers – many foreign owned - in Ghana. The trawlers sell fish illegally to specially adapted canoes at sea which in turn take the fish to sell in the local markets. This practice is a key driver in the collapse of Ghana's inshore fishery, on which millions of Ghanaians rely for food security and income.
This story will look at how saiko affects the lives of coastal communities in Ghana, and examine efforts to end it.
Follow the reporters
We will continue to support journalism and access to information to benefit the people of Ghana and the environment. We will be accompanying the journalists we are working with to meet fishing communities and will be sharing some of the key moments on Facebook and Instagram. Follow us as we share their experiences.
SIGN UP FOR OUR EMAILS AND STAY UP TO DATE WITH EJF'S NEWS AND EVENTS
By subscribing to our newsletter, you ensure that you will stay up-to-date with latest news on our work and our campaigns, as well as how you have been part of achieving those goals. We carefully select what goes into our emails so that you will only receive relevant and interesting news about our campaigns. We will let you know when we have exposed a critical environmental issue or uncovered human rights abuses. We will ask you to get involved when your actions can make a difference, and we look forward to inviting you to our events.