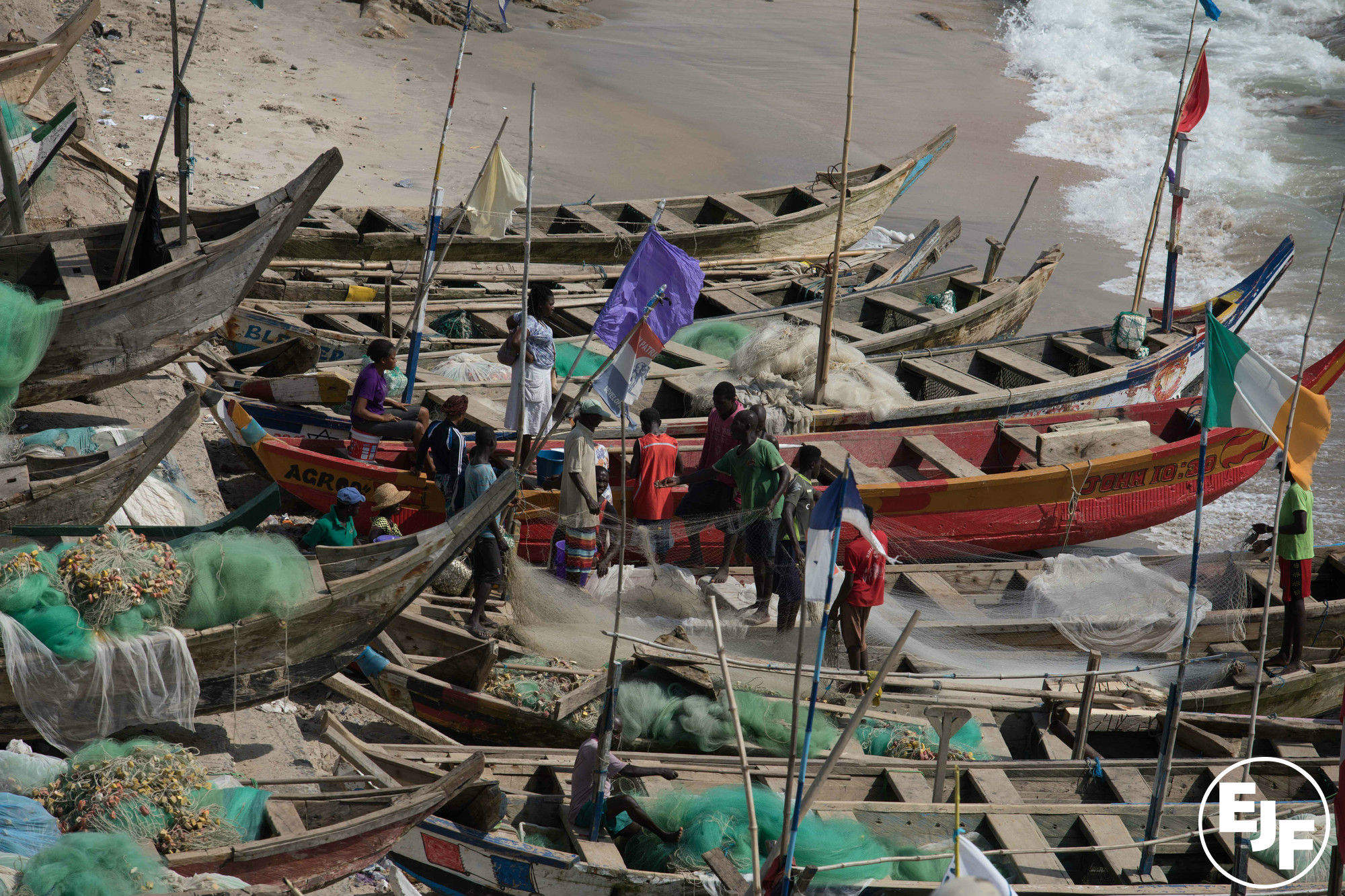 Jul 16, 2018
Fair fisheries for Ghana: New report
Fair access rights to land, fish stocks and forests are crucial for people all over the world. This week the Environmental Justice Foundation (EJF) and partner Hen Mpoano published a new report exploring the steps Ghana can take towards securing these 'tenure rights' to create more sustainable and equitable fisheries.
Rights of access to land, fish stocks and forests are not always guaranteed. Often local communities have informal systems for granting access and responsibility, but these are not enshrined in the law. As times change and conflicts arise, there is the potential that those with the least power will have their rights eroded. In Ghana, this represents a real threat to national food security.
Small-scale fishers, for instance, face loss of access to landing sites as a result of coastal development, and encroachment by offshore oil development into traditional fishing grounds. The illegal and destructive practices of industrial fishing vessels have also increasingly impinged on fishing communities.
The report is based on a meeting which brought together traditional authorities, fishers and fish processors, local and national government, academics and others to discuss the global guidelines on fair tenure rights and how they could help to restore Ghana's fisheries and safeguard national food security.
"Tenure rights are not an abstract concept. In Ghana they are vital to millions of people's livelihoods, and indeed the food security of the entire nation", EJF's Executive Director Steve Trent says. "Ghana's fisheries laws are currently undergoing revision, presenting a crucial opportunity to incorporate these global guidelines for a more sustainable and equitable fisheries sector."
The UN Food and Agriculture Organization has already begun to analyse Ghana's fisheries law and policy framework to assess how the guidelines can best be integrated. As part of the Far Dwuma Nkodo project, EJF and Hen Mpoano have been working towards fair access rights by mapping traditional landing sites and helping local fishing communities to make their voices heard in decision-making processes.
The report highlighted several key factors for the future:
Allocating space for different users – either on the coast or at sea – must be carefully planned.
Revision of the fisheries law alone is not enough. Other laws such as the Petroleum Exploration Act, which excludes fishers from buffer zones around oil rigs, must be examined, and the petroleum industry must be involved in discussions.
Local practices must be considered, along with broad consultation of stakeholders.
Securing fair tenure rights requires research and capacity building, and ensuring stakeholders are familiar with the principles set out in the guidelines.
Many issues that affect fisheries cut across multiple government departments, this must be considered in discussions.
Fair access to crucial resources will safeguard livelihoods and food security in Ghana. EJF urges the Ghanaian government to seize this opportunity to enshrine these rights in law.
SIGN UP FOR OUR EMAILS AND STAY UP TO DATE WITH EJF'S NEWS AND EVENTS
By subscribing to our newsletter, you ensure that you will stay up-to-date with latest news on our work and our campaigns, as well as how you have been part of achieving those goals. We carefully select what goes into our emails so that you will only receive relevant and interesting news about our campaigns. We will let you know when we have exposed a critical environmental issue or uncovered human rights abuses. We will ask you to get involved when your actions can make a difference, and we look forward to inviting you to our events.