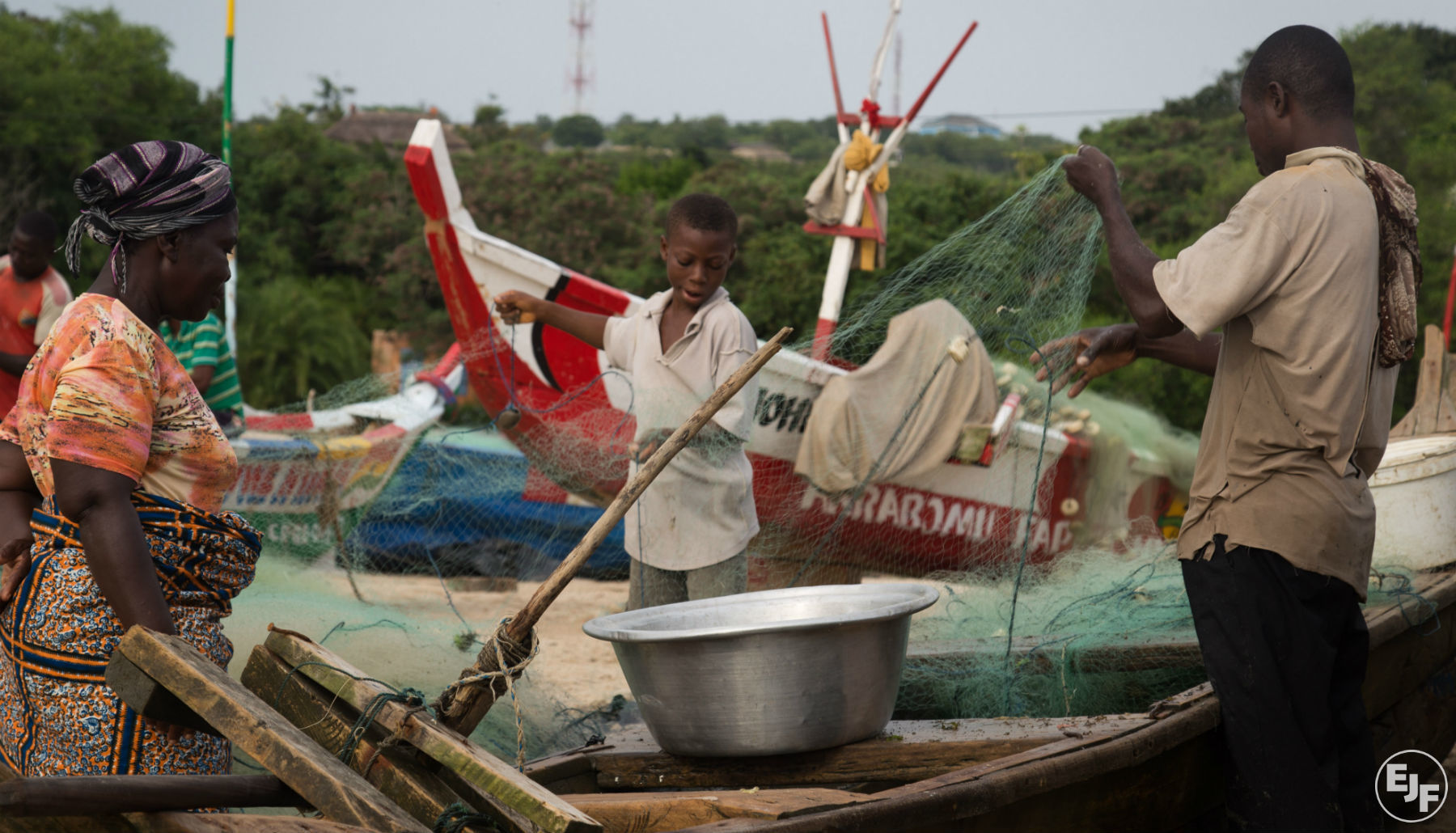 Apr 17, 2018
Engaging local communities in reforming Ghana's fishing laws
After fifteen years of operation Ghana's 2002 Fisheries Act is under review. This is an opportunity to ensure that fishing communities, who are struggling to maintain their livelihoods, can have real influence over the process.

The revision of Ghana's fisheries laws comes at a time of intense illegal fishing in Ghana's marine waters, as well as vast over capacity in the artisanal and industrial sectors that have pushed Ghana's fisheries to the brink of collapse.
By organising local consultation meetings to inform fishers of their rights, responsibilities and opportunities for involvement, the Far Dwuma Nkɔdo project, implemented by EJF and partners Hen Mpoano and with funding from the European Union, is working to ensure that revisions to the Fisheries Act address the concerns of Ghana's artisanal fishing communities. We will be making sure that all opinions are given space, and that the voices of local communities are heard. The aim is to empower more than 400 people to understand their rights and responsibilities and have their say.
Inputs from local fishermen, fishmongers, boat owners, community law enforcers, processors and crew will be collated and submitted to the Ministry of Fisheries and Aquaculture Development to inform the drafting of the Fisheries Bill, to be submitted to parliament later this year.
We aim to promote ownership of the laws and secure voluntary compliance, in a context where illegal fishing is rife, traditional ways of managing Ghana's fisheries have been eroded, and enforcement resources are stretched to their limit.
Since the 2002 law was adopted, Ghana's fishing industry has seen multiple challenges. Not least is the rapid expansion of offshore oil installations that have encroached on traditional fishing grounds, especially in the country's Western Region, as well as the loss of landing sites to coastal development. In these decisions, small-scale fishers are rarely engaged in a meaningful way to ensure their interests are represented.
At the same time, laws and guidelines on responsible fisheries governance have proliferated at the international level over the past decade. These include standards on fisheries transparency, measures to combat illegal fishing and guidelines on securing small-scale fisheries in the face of competing interests.
The revision of Ghana's fisheries laws offers a crucial opportunity to ensure a robust and ambitious legal framework that addresses current loopholes, tackles emerging threats and is in line with global best practices. All of these elements are crucial for the long-term sustainability of Ghana's fishing industry.
With funding from the European Union, the Far Dwuma Nkɔdo project, implemented by EJF and Hen Mpoano, is organising local level consultations to gather input from fishermen, fishmongers and processors in coastal communities across Ghana's Central Region.
The consultations are being held in partnership with fisheries organisations including the Central and Western Fishmongers Improvement Association, the National Fish Processors and Traders Association, and the Ghana National Canoe Fishermen Council, and with the support of Fisheries Commission staff in the Central Region.
In the first round of consultations, being held in March and early April, the project team is visiting fishing communities in Komenda, Elmina, Cape Coast, Moree, Saltpond-Ankaful, Apam-Mumford, Senya Beraku, and Winneba to gather inputs for the drafting of the new Fisheries Bill.
Over the course of these consultations, the project team will take fishers through the existing laws, to allow them to make informed proposals as to whether they should be maintained or revised.
The discussions will allow fishers to understand and input on:
Permitted and prohibited fishing gears and methods
Levels of fines and sanctions
The management of fishing and landing zones, including designation of the Inshore Exclusion Zone reserved for artisanal fishers
Implementation of closed seasons and fishing holidays
Provisions relating to fisheries management and enforcement at the local level
Processes for resolving conflicts at sea and the right to compensation
Rights of access to fisheries-related information and transparency
Procedures and requirements for the registration and licensing of canoes
Ghana's law making process rarely involves meaningful participation from local communities. It is positive that in the current legal reform, Ghana's Fisheries Ministry is promoting an open and inclusive approach by encouraging submissions from civil society organisations and fisheries associations early in the process.
EJF and Hen Mpoano welcome this approach, which is in line with international best practices concerning transparent and accountable decision-making, and a collaborative approach to fisheries management. These elements are crucial if the sustainable and equitable distribution of benefits from marine resources, and thriving ocean ecosystems, are to be secured for future generations.
SIGN UP FOR OUR EMAILS AND STAY UP TO DATE WITH EJF'S NEWS AND EVENTS
By subscribing to our newsletter, you ensure that you will stay up-to-date with latest news on our work and our campaigns, as well as how you have been part of achieving those goals. We carefully select what goes into our emails so that you will only receive relevant and interesting news about our campaigns. We will let you know when we have exposed a critical environmental issue or uncovered human rights abuses. We will ask you to get involved when your actions can make a difference, and we look forward to inviting you to our events.