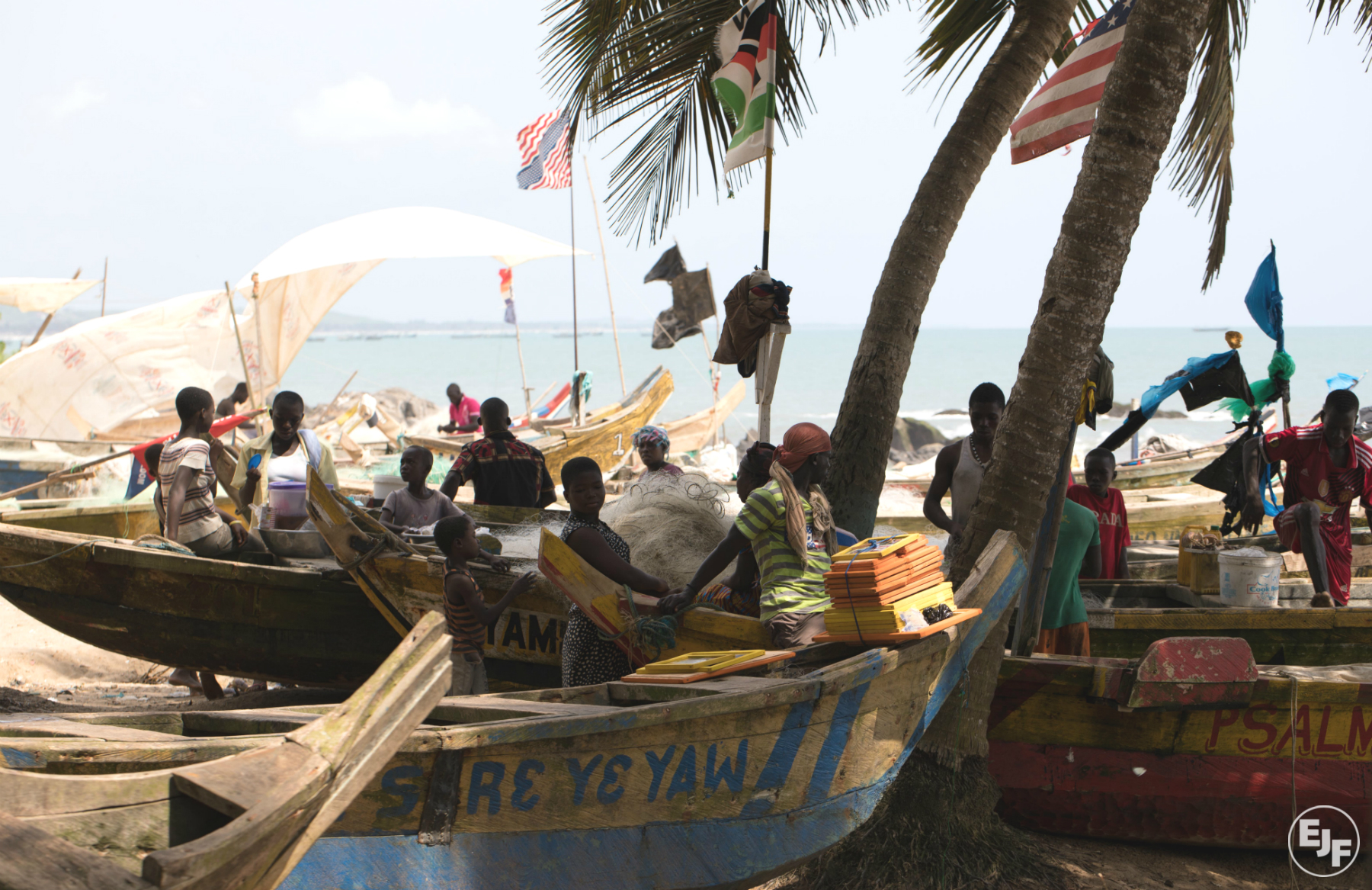 Jun 26, 2018
Ghana's small-scale fishing industry makes its voice heard in fisheries law reforms
Ghana's small-scale fishers, fish traders and processors came together this week to make their priorities clear as the country's fisheries laws are reformed. EJF supports the recommendations in this communiqué as essential steps to rescue Ghana's struggling fisheries.
Ghana is currently undergoing a review of its national fisheries law framework, and this week small-scale fishers, fish traders and processors – represented by the Ghana National Canoe Fishermen Council and the National Fish Processors and Traders Association – presented a ten-point communiqué to the Ministry of Fisheries and Aquaculture Development.
The communiqué calls for a number of measures which will help the country's struggling fishing industry.
Amongst their asks are:
Stricter penalties for fishing with light, chemicals and explosives
Mitigation of impacts from offshore oil development
An end to the damaging illegal practice known as 'saiko'
Empowering local communities to enforce fisheries law at the local level
Compensation for damage to fishing gear due to trawler activity
Consultation of fishing communities in management decisions
Ghana's fishing communities are becoming increasingly vulnerable. The average annual income per traditional fishing canoe has dropped by as much as 40% in the last 10 to 15 years, and landings of small pelagic fish – key for local consumption – are at their lowest recorded level since 1980.
EJF's Executive Director, Steve Trent said:
"EJF fully supports the recommendations made in the communiqué. Small-scale fishers, traders and processors are a crucial part of the industry and must be heard when it comes to designing fair, legal and equitable fisheries management for Ghana."
The fishers have also emphasised the need to end the illegal practice of saiko. Originally an informal trading system, where unwanted bycatch would be exchanged at sea for fruit and livestock brought by canoes. Yet now industrial trawlers are deliberately, and illegally, catching fish that coastal communities rely on, and selling it through saiko for an increased price.
This puts industrial fishing vessels in direct competition with small-scale fishers for catches of species such as sardinella that are a staple food for local communities. Having effectively 'stolen' fish from artisanal fishers, saiko operators sell these back to the same fishing communities for profit.
The fishing communities strongly recommend that the current law prohibiting saiko be upheld and strictly enforced, along with gear restrictions to prevent trawlers from targeting juvenile fish and species meant for canoe fishermen.
Due to declining fish populations and competition from trawlers, small-scale fishers are increasingly driven to illegal measures to compete. In order to address this the recommendations include expanding the inshore exclusion zone reserved for canoe fishing, as well as lengthening the closed season for trawlers and reducing their numbers.
These measures, proposed by fisherfolks, would help Ghana's fish stocks to recover, and encourage coastal communities to comply with fisheries law.
SIGN UP FOR OUR EMAILS AND STAY UP TO DATE WITH EJF'S NEWS AND EVENTS
By subscribing to our newsletter, you ensure that you will stay up-to-date with latest news on our work and our campaigns, as well as how you have been part of achieving those goals. We carefully select what goes into our emails so that you will only receive relevant and interesting news about our campaigns. We will let you know when we have exposed a critical environmental issue or uncovered human rights abuses. We will ask you to get involved when your actions can make a difference, and we look forward to inviting you to our events.