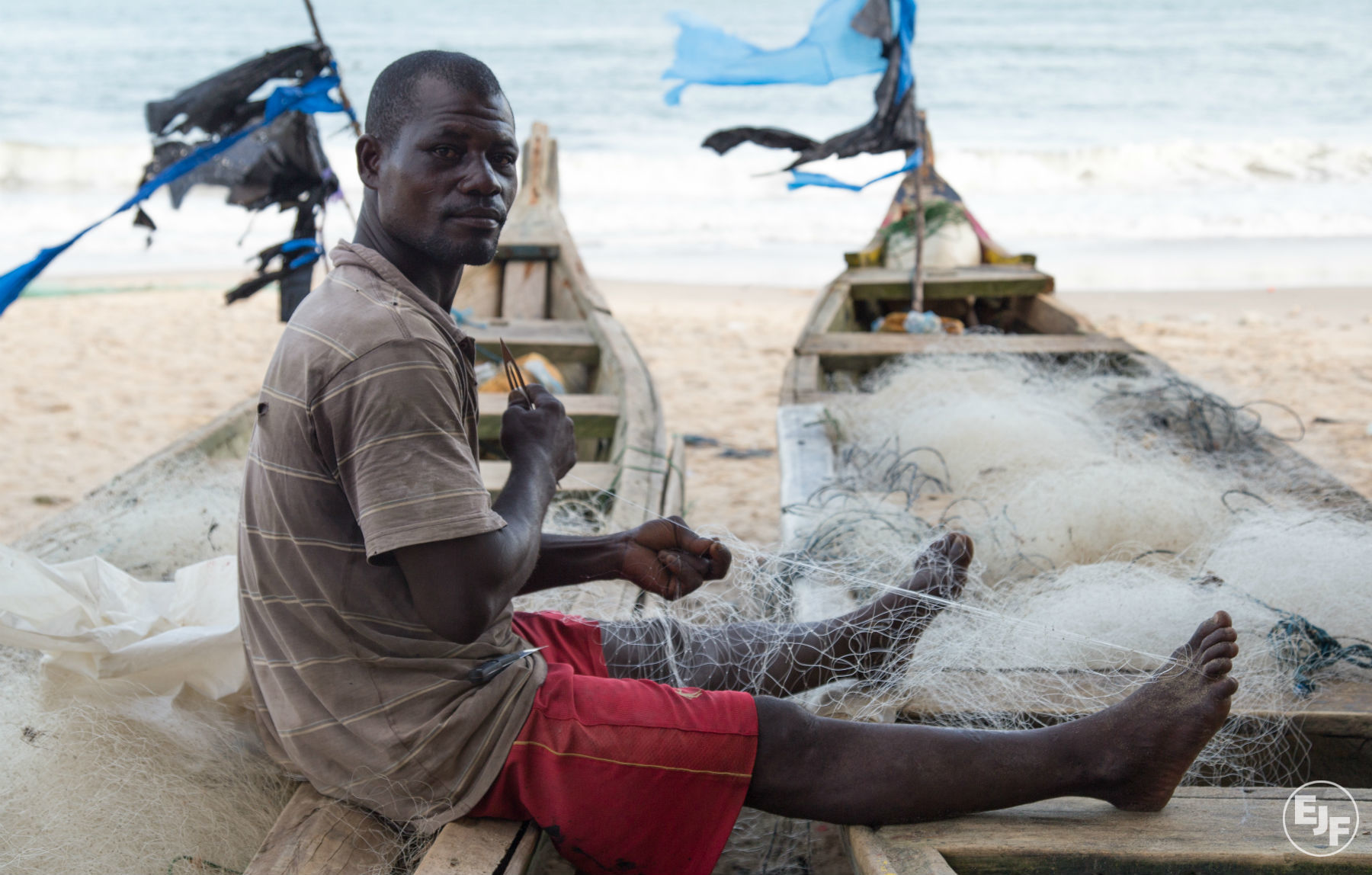 Nov 09, 2017
Fisheries project in Ghana hears of conflict between local fishing communities and industrial vessels
EJF's Ghana office received visitors from the EU last week as a three-year project to secure equitable and sustainable fisheries in Ghana gathers momentum.
The project, entitled "Far Dwuma Nkɔdo" in Fante, or "Securing Sustainable Fisheries" in English, was formally launched in April 2017. EJF is implementing the project in collaboration with local NGO, Hen Mpoano.
This visit took EJF, Hen Mpoano and visitors from the EU to two destinations in the Central Region of Ghana. First, to Egyaa in Mfantsiman district and then on to Gomoa Fetteh in the Gomoa West district.
Both of these towns rely heavily on fishing for nutrition and livelihoods, and as a key aspect of community life. But the sustainability of the fishing communities here are under threat from industrial activity which has led to overfishing, and consequently to conflict between local, small-scale fishers and the large industrial vessels.
The growing conflict between artisanal canoe fishermen and industrial fishing vessels was a key part of discussions during these visits, and will be a priority for the project over the coming years.
The EU delegation heard how canoes and industrial boats compete for space in Ghana's over-fished waters, with small-scale fishers venturing further afield in search of fish, and trawlers coming close to the shore - in some cases entering the zone reserved for artisanal fishers.
Canoe fishermen reported frequent collisions with trawlers and the destruction of their fishing gear, for which they are rarely compensated due to lack of evidence. The project's first survey of communities in Ghana's Central Region revealed that these conflicts are more common than previously thought.
Fishermen in Egyaa rely on fishing as their only source of income, but overfishing is taking its toll:
"Now we don't get fish when we go to the sea and if we go very far the vessels will crush our boat, sail through our nets, and the crew sometimes threaten us with guns or spray hot water on us."
As the competition for space and resources increases, the impact on the environment is becoming increasingly apparent.
Illegal and destructive practices by trawlers have forced some fishers to undertake extreme measures, such as the use of explosives, poisons and light fishing.
This has further depleted fish stocks, and negatively impacted communities along the coast who are trying to fish sustainably and legally.
Affected communities want to address these issues, and this project is dedicated to empowering them to do so, to create sustainable fishing in Ghana for the long term.
The Far Dwuma Nkɔdo project intends to empower local communities to take their challenges to the authorities. The people we spoke to were enthusiastic about this idea, and were confident it would be an effective way to eliminate bad fishing practices.
Antoine Rougier, EJF's project coordinator took the chance to explain to the communities that small-scale fishers, vulnerable and marginalised groups would be empowered to advocate for their interests in on-going policy reforms in Ghana's fisheries sector and to implement fisheries co-management.
He said: "We will use a unique combination of community surveillance and remote monitoring to empower communities to document and prosecute illegal fishing activities", he added.
Representatives of the EU delegation urged the fishermen to stand united in the fight against illegal fishing practices and act as advocates for change.
Later this month, the project partners will be organising a meeting which will bring together people from local communities, government and academic institutions to discuss the project's early findings.
EJF is calling for increased transparency in the allocation of licences to industrial vessels fishing in Ghana's waters and the prioritisation of artisanal fisheries.