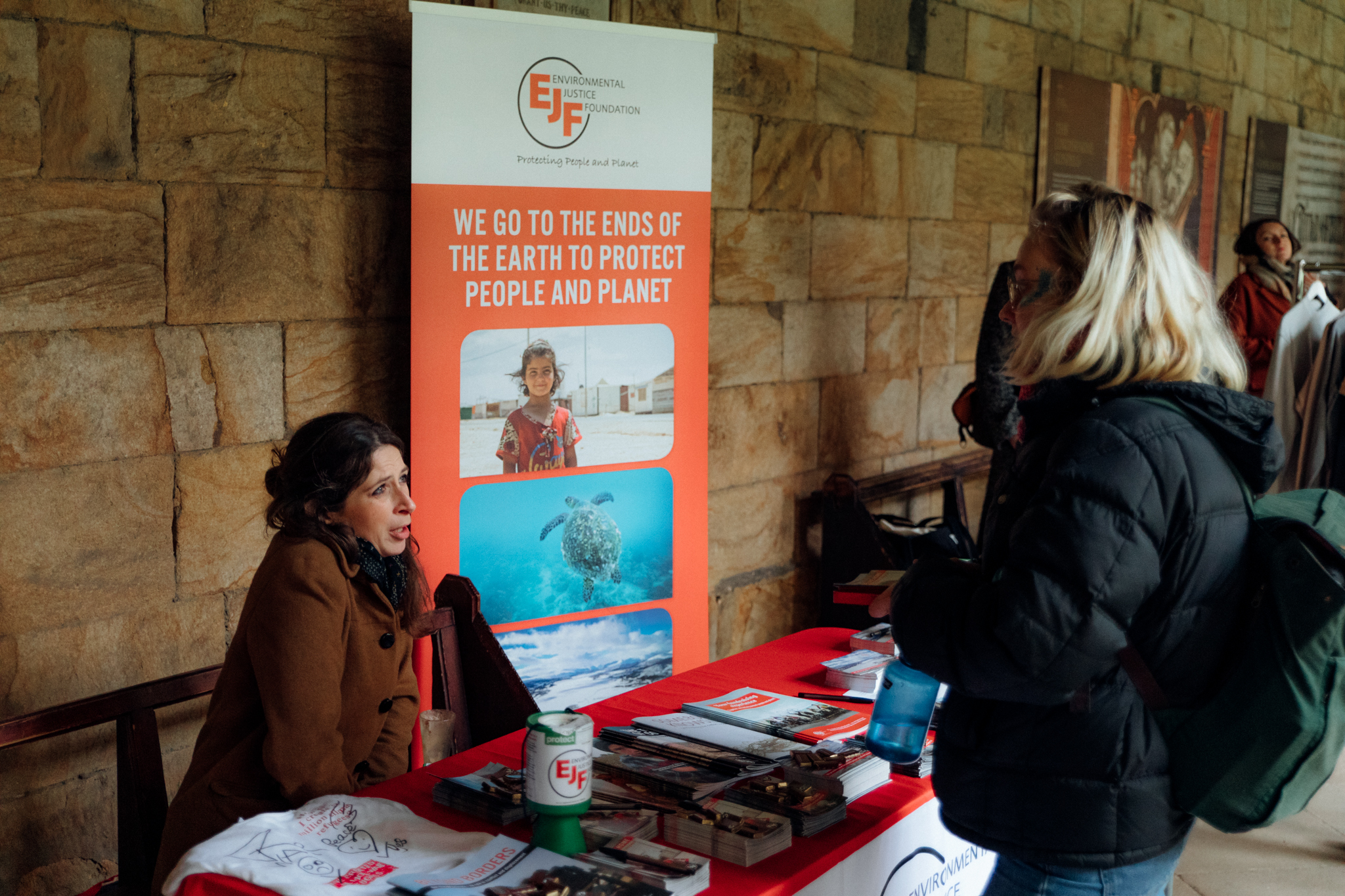 Jan 31, 2019
Festival of Sustainability: DUCFS pulls it off for EJF
Last weekend EJF was in Durham Cathedral for the student-run Festival of Sustainability, sparking discussions with up-and-coming environmental activists among the students.
Durham University Charity Fashion Show is the student showstopper raising vital funds for EJF's campaigns to build environmental security around the world. This year's theme of 'pulling the thread' has taken the show in new directions, with DUCFS's Festival of Sustainability encouraging thought and debate about where our clothes come from, and how we can make more informed fashion decisions.
On a blustery day in Durham, EJF's Executive Director Steve Trent opened discussions, highlighting the radical power – and responsibility – that we have to demand better from our retailers, and the hope represented by the engaged student audience.
Other expert speakers offered different perspectives on sustainability – from academia, the fashion industry and frontiers of textile technology – giving attendees plenty to think about, and act on.
At the EJF stand in the beautiful Cathedral cloisters we enjoyed chatting to students and the public about our campaigns. Conversations were sparked between eco-conscience groups, students of sustainability, and activists about our shared concerns for People and Planet. The Fashion Revolution foundation was in attendance, with a rallying cry of #whomademyclothes, alongside students selling beautiful organic wares.
Many pledged their support for our climate refugees petition, which calls on governments to tackle global emissions – 10% of which come directly from the fashion industry – and to provide a new legal framework for the millions of people displaced by climate change.
Inviting wide-ranging discussions, the Sustainability Festival felt part of a growing movement of people raising questions, refusing to accept inhumane and damaging working conditions at any stage in the cotton supply chain, and pushing for better ideas.
Our thanks and congratulations go to the amazing DUCFS Committee for putting together this wonderful Festival – a fitting prelude to the main fashion show taking place this Thursday 31st January - 2nd February – and sowing the seeds for future sustainable collaborations.
Find out about EJF's role in exposing the exploitation of children and natural resources in Uzbekistan's cotton industry - detailed in our White Gold report.
Help support EJF's campaigns by buying one of our organic, fairly traded and climate neutral designer t-shirts
SIGN UP FOR OUR EMAILS AND STAY UP TO DATE WITH EJF'S NEWS AND EVENTS
By subscribing to our newsletter, you ensure that you will stay up-to-date with latest news on our work and our campaigns, as well as how you have been part of achieving those goals. We carefully select what goes into our emails so that you will only receive relevant and interesting news about our campaigns. We will let you know when we have exposed a critical environmental issue or uncovered human rights abuses. We will ask you to get involved when your actions can make a difference, and we look forward to inviting you to our events.