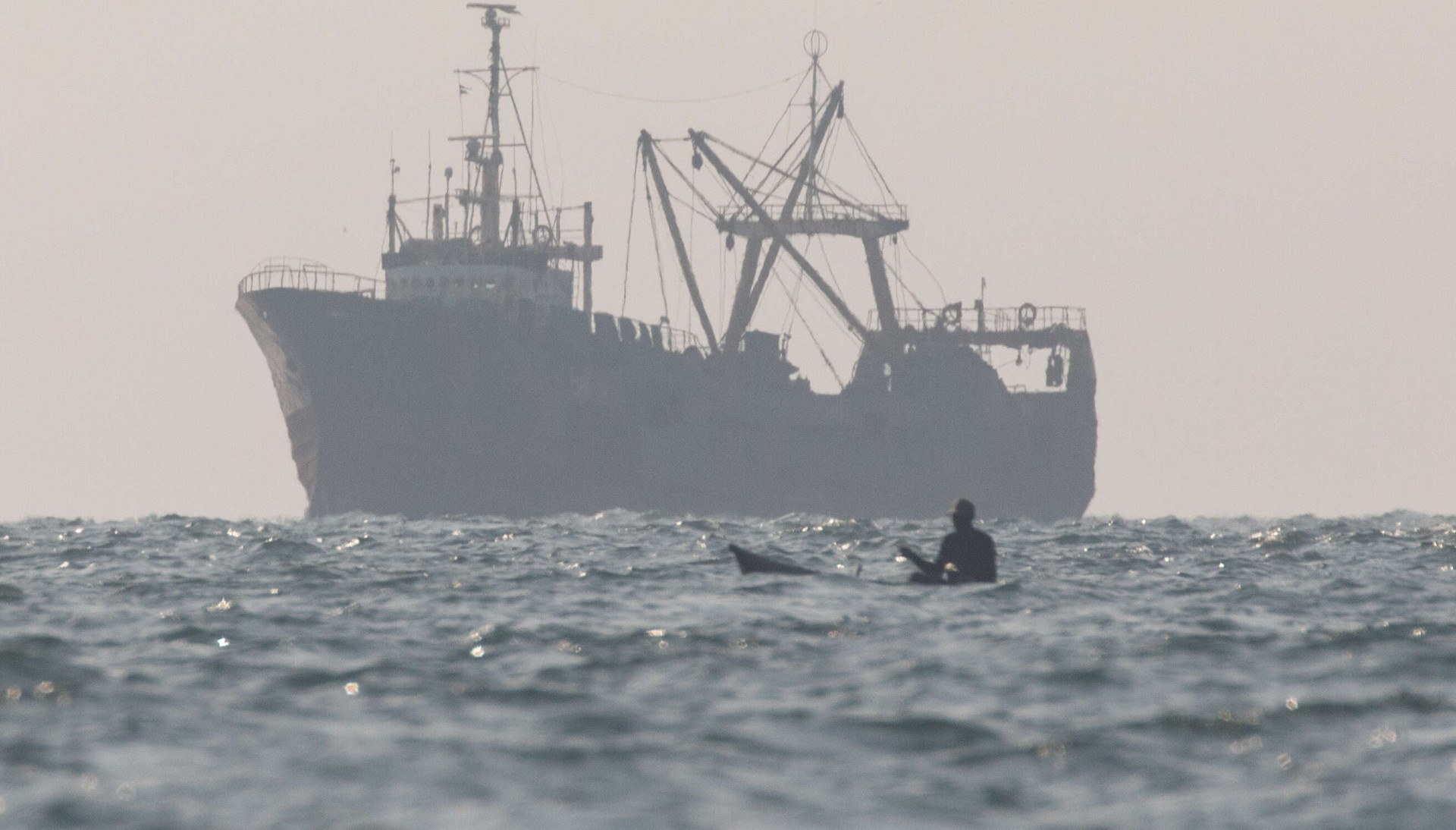 Sep 08, 2020
How to eradicate illegal fishing
Our oceans are being pushed to the brink. Illegal, unreported and unregulated fishing accounts for one in every five fish caught, and costs the world up to US$ 23 billion every year. 90% of the world's large ocean fish – such as sharks, cod and swordfish – have been lost since industrial fishing began in the early 1950s.
This abuse of the oceans goes hand in hand with abuse of people. As fish populations plummet and catches become smaller, unscrupulous operators turn to trafficking and slavery to make a profit.
How can we combat this devastation? The first crucial line of defence is surprisingly simple: transparency. This is the publishing and sharing of information – such as vessel license lists and full ownership details – which can help tighten the net around the offenders.
Without transparency, illegal operators are able to sow enormous confusion around their identities; escaping detection by changing vessel names; concealing ownership; flying different flags; or removing ships from registers entirely. With it in place, however, governments, law-abiding fishing companies, NGOs, retailers and even consumers can work together to rid our oceans of these damaging operators.
The Environmental Justice Foundation's Charter for Transparency consists of ten simple, low-cost measures that are well within the reach of any country and could play a pivotal role in the battle against illegal fishing and the human rights abuse that often accompanies it. Here, we explore two of the most crucial, using evidence from our investigations to show how these measures would make all the difference.
Publish lists of fishing licences and authorisations
This is an extraordinarily easy and essentially free measure. All governments will have their own fishing vessel registries, licence and authorisation lists – all they would need to do is upload them to the official website. This simple action could prevent vast amounts of fish being stolen from the seas.
How? Let's examine it with an example: In November 2018, Joseph Kamara, a member of EJF's Fisheries Information Network living in a remote part of Sierra Leone heard talk of a trawler in the country's inshore exclusion zone. This area is reserved for canoe fishers who rely on this protection to safeguard their livelihoods and food security. Kamara enlisted the help of the canoe fishers and put to sea, getting close enough to take good quality, geotagged photos.
Back at EJF HQ we pieced together the case: The vessel was the Mahawa, an industrial trawler believed to be registered in Guinea. After being alerted by EJF, the Guinean authorities initiated an investigation and found that the vessel was operating under both Guinean and Sierra Leonean flags. This is illegal under international maritime law.
Had both countries' fishing vessel registries been public, this 'double-flagging' could have been revealed sooner by cross-checking registries with the click of a mouse. This would have immediately raised the alarm that some potential wrong doing was taking place and this illegal fishing may have been prevented.
Publish punishments for illegal fishing and fisheries crimes
This is another simple and almost entirely cost-free measure. All governments have records of the sanctions they have imposed for illegal fishing and fisheries crimes. Simply adding them to a public register would allow other countries to make appropriate risk assessments when considering issuing fishing licenses to these vessels, or those operated by the same owner. The same is true for retailers considering using these companies as part of their supply chain.
Again, we can point to a real example that shows the value of this measure. Earlier this year, EJF raised the alarm regarding the threat posed by around fifty industrial fishing vessels that were requesting fishing licenses from the Senegalese authorities. We were able to show that several of the vessels had records of illegal fishing. However, the investigation was arduous, and a significant amount of time was wasted because no official information on their history of non-compliance had been made publicly available by the relevant states.
After Senegalese small-scale fishers and industrial shipowners raised the alarm, Senegal eventually rejected the requests. Had the history of these vessels been public the Senegalese government would have had this information immediately, allowing them to make a swift and considered decision.
Ultimately, eradicating illegal fishing requires a carefully thought-out raft of policies and international agreements which work together in harmony. However, implementing transparency measures like this is an easy, effective and immediate action that means the illegal vessels that rely on operating in the shadows will finally have nowhere to hide.